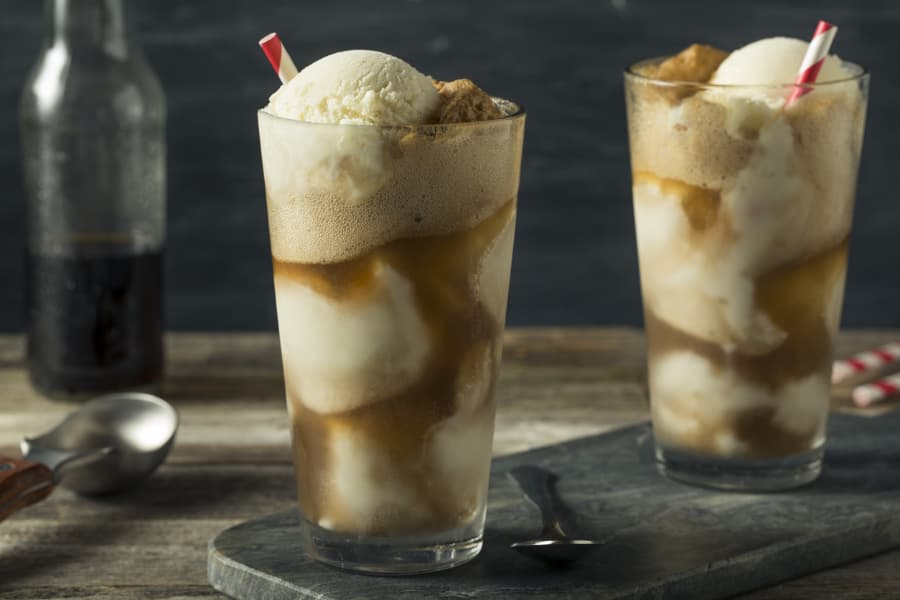 When it comes to ice cream floats, most people use root beer for the liquid portion of this tasty treat. But, did you know there's an alcoholic twist that can be just as good by dropping the scoops of ice cream into a glass of beer instead? From stouts to hefeweizens, there's a wide variety of mouth-watering floats you can craft with different types of beer. With over 260 brands, Columbia Distributing is one of the largest beer distributors in the Pacific Northwest. Here, we serve up some recipes of tasty beer floats to try.
Floats Made with Stouts and Porters
Most beer floats use dark beers as a base since the full-body and malty flavors of the beer pair well with the creaminess and sweetness of ice cream. While vanilla is usually the go-to ice cream flavor for a float made with darker beers, chocolate or mint chocolate chip can be great alternatives. Pairing suggestions include:
Barrel-Aged Chocolate Stout Float
Chocolate ice cream pairs perfectly with the coffee and whiskey flavors of a barrel-aged stout. All you need is two scoops of chocolate ice cream, one bottle of stout, and a chilled glass before you're off to chocoholic heaven.
Porter & Chocolate Ice Cream
Porter is another style of beer that pairs well with chocolate ice cream. When the two are brought together as a float, the flavors are reminiscent of a classic chocolate malt.
Minty Pastry Stout Float
Mint ice cream tastes best with a rich slice of cake, so it only makes sense to pair mint chocolate chip ice cream with a pastry-like stout, which is essentially cake in beer form. With just two scoops of ice cream and a bottle of stout, your chocolate cake-sized sweet tooth is guaranteed to be satisfied.
Floats Made with Fruit-Flavored Beers
If you prefer more of a tang to your ice cream, you're sure to like these fruit-flavored beer floats. From orange sherbet to strawberry cheesecake, there's a rainbow of fruity beer floats to choose from, such as:
Berries 'n Cream Weiss Float
The tangy, tart taste of a fruit-flavored Berliner Weiss makes it ideal for making beer float. When made with one scoop of vanilla ice cream and one scoop of a fruity ice cream flavor, this float is sure to chill you out on a hot summer day.
Milkshake IPA Creamsicle Float
It might be hard to decide between a milkshake and ice cream, so why not have both? Adding a scoop of vanilla and a scoop of orange sherbet to a chilled glass of milkshake IPA offers the best of both worlds, so you can enjoy both desserts at once.
Hefeweizen and Strawberry Cheesecake Ice Cream
This beer float is for true fruit lovers. It combines the creamy taste of strawberry cheesecake ice cream with the delicate flavors of clove and bananas of a hefeweizen into an irresistible summer treat.
Get the Beer for Your Float from Columbia Distributing
When you need the perfect beer to pair with ice cream to make a delicious beer float, Columbia Distributing is available to ensure you have a well-stocked and diverse selection of alcoholic beverages. In business for over 80 years, we provide our retail partners in California, Oregon, and Washington with exceptional customer service and fast delivery. Contact us today to learn more about the alcoholic beverages we offer.