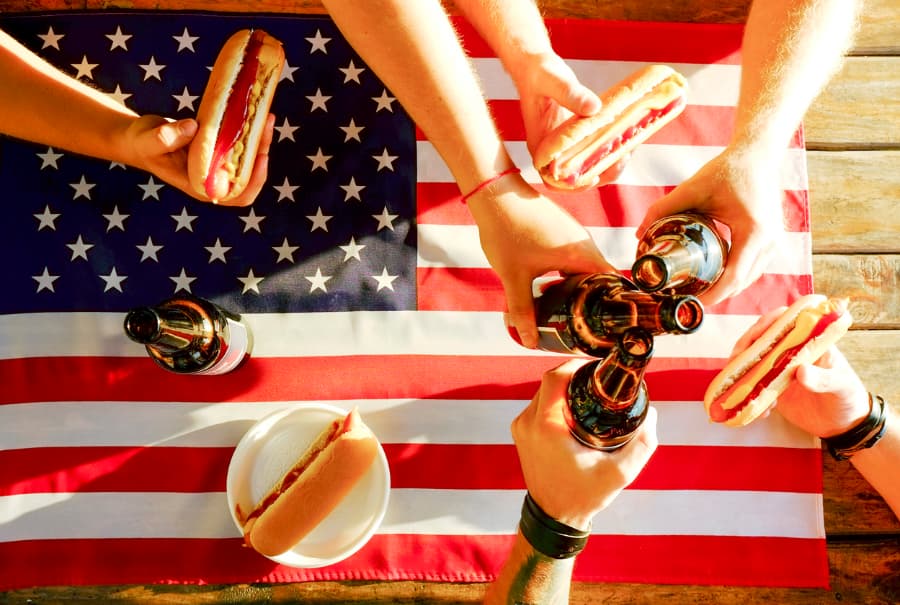 Independence Day is the occasion for some of the biggest celebrations of the year. From backyard barbecues to larger gatherings at local eateries and special events, there are many ways to make the most of the holiday with friends and family. Here, Columbia Distributing offers tips for toasting to America while staying safe on the Fourth of July and beyond.
Find Brews for Your Barbecues
Crack open a cold one with friends and family this July Fourth. While prepping the hot dogs and burgers for your cookout, fill your cooler with a selection of domestic, imported, and craft beers. Whether you're serving pulled pork, seafood tacos, or summer salads, put perfect pairings at your guests' fingertips. Popular beer styles for summer include:
New England IPA
American amber ale
Shandy
When it comes to the younger crowd, keep plenty of non-alcoholic selections handy. Sodas and juices offer solid choices and water can help everyone stay hydrated under the hot summer sun. If you're also looking for low/non-alcoholic beverages for the grown-ups, your cooler can contain:
Kombucha
Wellness drinks
Non-alcoholic beer
Sip Seasonal Favorites
Are you a wine lover? Prepare sangria and slushies with your favorite bottled wines, Whether you prefer a dry white wine or a fruity rosé, local and national vineyards aim to please with an array of choices for casual wine lovers and seasoned sippers alike. If you're in the market for something carbonated that's not from the beer family, keep in mind that vino and malts aren't just for the bar. They can also fill your cooler by the single-serve box or can. Add a trendy twist to your wine pairings with choices like:
Sparkling wine cocktails
Flavored malt beverages
Wine spritzers
Tips for Celebrating Responsibly
Plan ahead for a fun celebration this year and every year. Start by preventing the hot summer sun and the beer cooler from getting the best of you. Between the picnics, barbecues, and happy hours on your social calendar, hydrate to help keep you going throughout the holiday weekend. What's more, it's a good idea to organize a crew of designated drivers in advance. Whether you're on the water or on the road, making sure you have a clear-headed captain to lead the way is your best bet.
If making a splash is on the agenda, be sure to swim safely with friends and family. Celebrating by the pool or on the lake is a great way to cool off during the festivities. While handing out pints to the adults, be mindful to also hand out personal floatation devices (PFDs) to the little ones. After everyone's dry and the sun starts to set, choose to gather with your community to watch professional fireworks in the area. Almost every Independence Day celebration leads up to a light show in the sky. Leaving the pyrotechnics to the pros is one of the best ways to keep everyone safe.
Plan Ahead for Your July Fourth Barbecue
When it comes to brews, BBQs, and basic safety, a little forethought can help make this Fourth of July a memorable event for all. Serve some fun in the sun with help from Columbia Distributing. We can help you navigate our extensive inventory of beverages for Independence Day. Contact us today to learn more about the brands we carry and distribute to businesses throughout the Pacific Northwest.