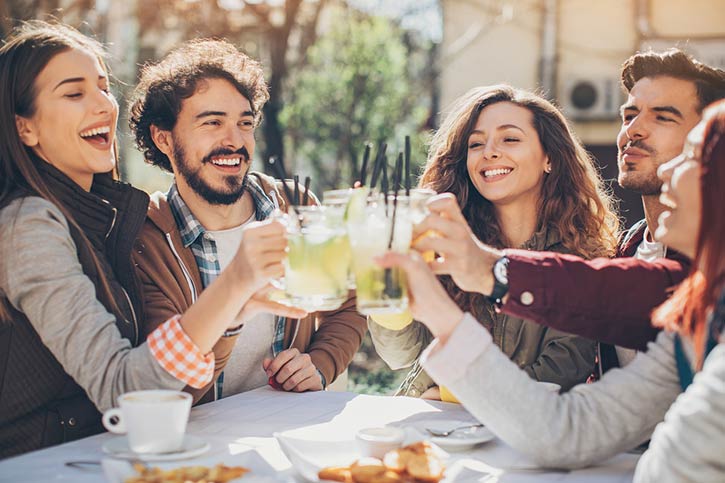 What's brunch without a cocktail? The most important meal of the day deserves drinks that are just as exciting as the food served, so Columbia Distributing has put together a few delicious brunch cocktails for your guests to enjoy. Mix some up at your next brunch, or try them out any time – with creative flavors and classic recipes, you can't go wrong.
Sweet Tea Sangria
Red and white wine sangrias can get predictable. Make brunch a bit more exciting with a drink that your guests won't be expecting. You can include all of your favorite fruits, or use our suggestions.
750mL bottle of white wine
1/4 cup triple sec
4 cups of sweet tea
4 cups of mixed raspberries, peaches, apples, and blackberries
Mix all of the ingredients in a pitcher for an authentic sweet tea feel. Your guests can self-serve this cocktail (so they can grab enough fruit) and scoop it into wine glasses just like traditional sangria.
Piña Colada Mimosas
Mimosas are a classic, but you can make them more exciting. This updated take will leave your guests feeling like they just arrived at the beach.
750mL bottle of champagne or Prosecco
1/2 cup coconut rum
1 cup pineapple juice
1 cup sugar
Pineapple wedges and maraschino cherries
Pour an equal amount of sparkling wine into your champagne glasses, filling them about halfway. Follow with a shot of rum and top with pineapple juice. Garnish each drink with pineapple wedges and cherries for tropical flair.
Boozy Coffee Milkshake
This drink is sure to be a hit with all of your coffee-loving guests. It's just the right combination of caffeine and spirits to get your brunch going.
2 cups of coffee ice cream
2 ounces Kahlua
1/2 cup milk
4 teaspoons unsweetened cocoa
Put all of your ingredients into a blender and pulse until smooth. If the milkshake is too thick, feel free to add a splash of milk – or Irish cream liqueur for an added kick. Pour into fountain glasses for a genuine soda fountain milkshake feel.
Melon Patch
For brunch, you want something that will feel light and uplifting. Your guests will love the sweet, refreshing flavor of this cocktail, especially just as spring or summer approaches.
4 ounces melon liquor
2 ounces triple sec
4 ounces cucumber vodka
8 ounces club soda
Combine all of your ingredients in a large pitcher. You can then pour the drink into individual highball glasses.
Pomegranate Punch
A great accompaniment for special occasion brunches, this punch is deliciously fizzy and festive. Its refreshing fruit flavor is complemented by the sweetness and sparkle of two types of wine.
3/4 cups Riesling
Two 750mL bottles of sparkling wine
3 tbsp sugar
1 cup diced pineapple
1 cup pomegranate juice
2 oranges, thinly sliced
1/4 cup pomegranate seeds
Mix all of your ingredients in a large punch bowl. Keep tumbler glasses and a ladle nearby for serving.
Supplies for Unforgettable Brunch Cocktails
Now that you have plenty of delicious brunch cocktails in mind, all that's left is planning the meal and serving your guests. Need more ideas for crafting the perfect brunch cocktails? Serving over 20,000 retailers and individuals throughout Washington, Oregon, and California, Columbia Distributing is your premier source for high-quality beverages. Contact us today for more information about the brands we carry or to place an order.