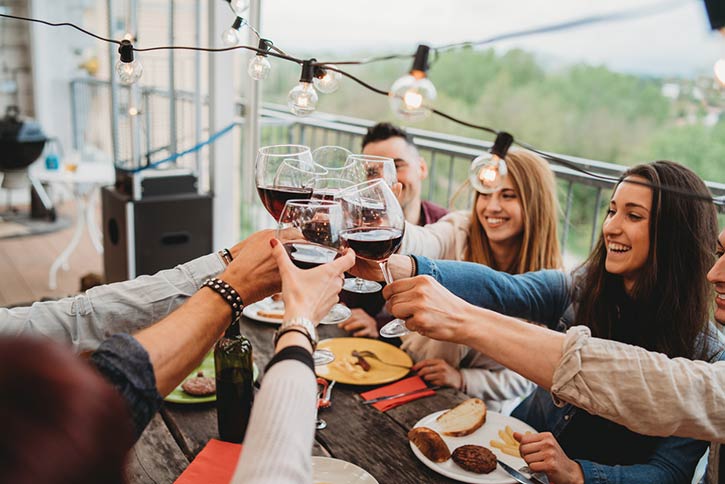 The great generational shift has shaken up several industries, and the wine industry is no stranger to this concept. As baby boomers retire and the next wave of consumers develops a passion for wine, quite a few new and exciting wine trends have emerged. From easily portable and disposable canned wines to CBD infusions, Columbia Distributing breaks down the top wine trends of today.
Canned Wines
Don't have the means to carry around a full bottle of wine, a corkscrew, and wine glasses to your favorite picnic spot or tailgate? Canned wines, like Crafters Union and C'est le Vin from Barnard Griffin, are here to save the day. This niche product is just now entering the mainstream and quickly growing in popularity.
According to Inkwood Research, the global sale of ready-to-drink (RTD) beverages is expected to grow at a compound annual growth rate (CAGR) of 3.32% between 2019 and 2027. There are a few reasons that drive this prediction. First and foremost, data shows an increased interest in drinks with low alcohol content.  New flavors, as well as growing demand from millennial drinkers, are also adding to the equation.
CBD-Infused Wines
Overall, alcohol consumption has declined among younger consumers. However, there's been a rise in CBD-infused beverages, thanks to the federal legalization of hemp under the 2018 United States farm bill and the legalization of cannabis by many states, including Washington, Oregon, and California.
Cannabidiol, or CBD, is one of 100+ different cannabinoids that can be found in the cannabis sativa plant. While there hasn't been extensive research into the health benefits of CBD, it's thought to help treat conditions, like insomnia, anxiety, seizures, inflammation, and chronic pain, as well as promote mild relaxation. When infused with wine, CBD can provide these same healthful benefits. Several winemakers have forayed into CBD-infused wines, both alcoholic and alcohol-free, and it's likely that we'll see more wines like these in the future.
Going Sustainable
Wine drinkers have always been aware of the environment that produces grapes, from the details of specific AVAs to the soil supporting the vines. Today, however, there's a growing concern with the impact of everything we consume on the planet, as well as an interest in the steps consumers can take to support sustainable practices with their shopping dollars. Wine is no exception, and many wineries are looking for new ways to make their operations more sustainable. The Dreaming Tree, for example, has achieved Certified California Sustainable Winegrowing status, relies on clean solar energy and packages wine in recyclable bottles that are lighter, requiring less fuel for transport. Even the labels contribute to this mission and are made from 100% recycled paper.
As the demand for eco-conscious products grows, the wine industry is poised to discover new, exciting ways to improve sustainability. In the coming years, we'll see more green practices behind wines on store shelves and wine lists everywhere.
Alcohol-Free Options
As evidenced by the growing consumption of sparkling water and the decrease in soda sales, consumers are motivated by making healthy choices. And this trend has carried over into the wine industry. In the coming years, expect to see an increasing number of low-alcohol and alcohol-free wines as consumers look to reduce their alcohol intake.
Stay Up to Date
The wine industry is always changing. Make sure you stay up to date on all the latest trends with help from Columbia Distributing. We offer a wide selection of wines to suit the ever-evolving tastes of your customers. Contact your nearest Washington, Oregon, or California location today.