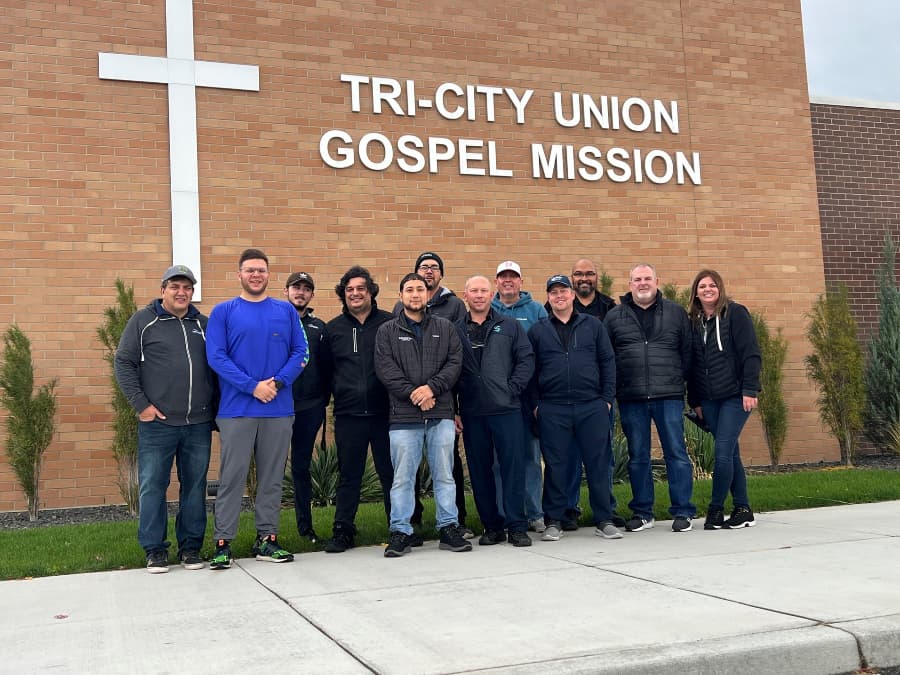 There is more to Columbia Distributing than just making a profit. The impact of our organization goes beyond supplying alcoholic beverages and other drinks to establishments throughout Washington and Oregon. We strive to give back to our local community as much as we can and help make a difference where it's needed.
"When you volunteer, and you can see it and see the effects, to me, that makes all the difference," says Cliff Kembel, director of sales at Columbia Distributing, whose team recently participated in a charity event. Here, we look at the event and the various ways Columbia Distributing is helping those in need.
Helping the Tri-City Union Gospel Mission
Charitable contributions can come in many forms. Rather than simply donating money, Kembel and his team chose to volunteer their time. In the fall of 2022, Kembel and his sales team reached out to Tri-City Union Gospel Mission and asked what they could do to help. The event was partly organized by team member Tyler Fidueroa, who assisted Columbia Distributing in connecting with the mission. On the day of the event, 15 volunteers rolled up their sleeves and got to work.
"We volunteered to help clean up their cooler and kitchen area. We swept, mopped, scrubbed floors, and did anything else we could to lend a helping hand," says Kembel.
Having been with the company now for almost 29 years, Kembel has seen the philanthropic efforts at Columbia Distributing firsthand but admits this was his first time being involved with an event like this.
"Most of our volunteer work has just been donation drives. We have never really done the physical work before," says Kembel. "We have so many people at Columbia. Something we can make a difference with is our number of people. Just give us a job and we can do it."
Importance of Philanthropic Work at Columbia Distributing
The vision and values of Columbia Distributing have always put community first. We are constantly looking for local organizations to aid in their efforts of fostering a community that works for all. While Columbia Distributing has continued to grow and develop one of the most diverse and robust portfolios in the country, our organization remains thoroughly involved in the local community. We believe making the world a better place begins with helping at home.
To encourage employees to participate, Columbia Distributing offers full-time employees paid hours to give back to the community. Employees have 12 hours every year to devote to serving at the 501c3 organizations of their choice. Kembel and his team were able to take advantage of this program by volunteering at Tri-City Union Gospel Mission. Furthermore, to show support for our employees who decide to give money to non-profits, Columbia Distributing will match a donation of up to $250 every year.
Plans for Future Volunteer Events
At Columbia Distributing, volunteering is in our DNA. With the success of our latest charity event and the volunteer efforts of Kembel and his team, we plan on doing more events of the same nature in the yew year.
"This was our first time volunteering our time like this, and everybody was very happy about it, with plans to do it again in 2023," says Kembel. "I haven't been able to do that before in my life. It just felt good to do something meaningful rather than simply dropping a check."
Columbia Distributing is constantly looking for organizations in our local community where we can provide aid. We look to focus our efforts on organizations in the following fields:
Health-related research and services
Education services and youth development
Economic impact and growth
Environmental stability
Relief efforts within our service footprint
Human and civil rights
If you believe your Washington- or Oregon-based organization aligns with the views and focuses of Columbia Distributing, we encourage you to learn about our corporate sponsorship program by filling out a charity partner application. To find out more about our past charitable contributions, along with upcoming events we have planned, contact us today.