The Fourth of July marks the highlight of summer for America and beer consumers. With the holiday quickly approaching, Columbia Distributing employees are delivering more than 300 brands to stores, bars and restaurants to provide a wide selection of beer for your holiday cookouts and parties!
If you aren't sure what to bring to this year's BBQ, here is a recipe that is sure to impress all your friends and family…
Chocolate Beer Cupcakes With Whisky Filling and Stout Frosting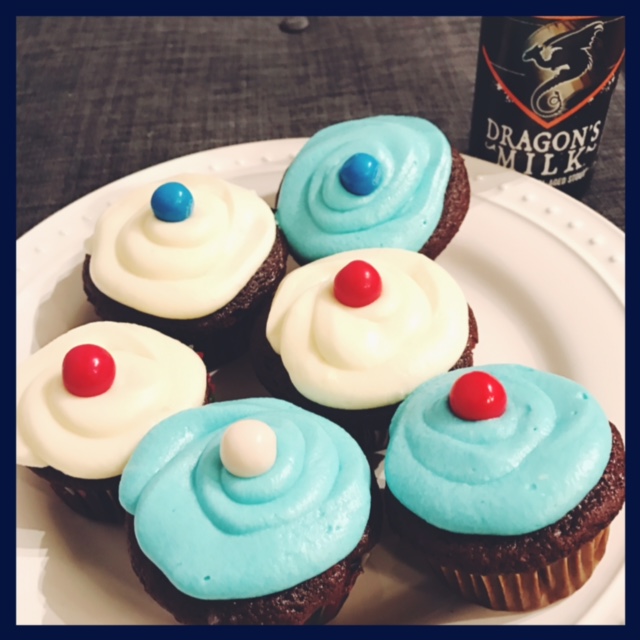 Recipe by Allison Wendt
INGREDIENTS
1 cup stout beer
1 cup butter
3/4 cup unsweetened cocoa powder
2 cups all-purpose flour
2 cups white sugar
1 1/2 teaspoons baking soda
3/4 teaspoon salt
2 large eggs
2/3 cup sour cream
2/3 cup heavy whipping cream
8 ounces semi-sweet chocolate, chopped
2 tablespoons butter
1 teaspoon whiskey, or more to taste
1/2 cup butter, softened
3 cups confectioners' sugar, or more as needed
3 tablespoons Stout beer
DIRECTIONS
Preheat oven to 350 degrees F
Line 24 muffin cups with paper liners.
Bring stout beer( I used New Holland's Dragon's Milk but you can also use Guinness Irish stout.) and 1 cup butter to a boil in a saucepan and set aside until butter has melted, stirring occasionally. Mix in cocoa powder until smooth.
Whisk together flour, sugar, baking soda, and salt in a bowl until thoroughly combined.
Beat eggs with sour cream in a large bowl with an electric mixer on low until well combined. Slowly beat in the beer mixture, then the flour mixture; beat until the batter is smooth.
Divide batter between the prepared cupcake cups, filling each cup about 2/3 full.
Bake in the preheated oven until a toothpick inserted into the center of a cupcake comes out clean, about 17 minutes.
Cool the cupcakes completely. Cut cores out of the center of each cupcake with a sharp paring knife. Discard cores.
Bring cream to a simmer in a saucepan over low heat; stir in semi-sweet chocolate until melted.
Mix in 2 tablespoons butter and whiskey until butter is melted; let the mixture cool to room temperature. Filling will thicken.
Spoon the filling into the cored cupcakes.
For frosting, whip 1/2 cup butter in a bowl with an electric mixer until fluffy, 2 to 3 minutes.
Set mixer to low speed and slowly beat in confectioners' sugar, 1 cup at a time, until frosting is smooth and spreadable. Beat in the stout beer; adjust the thickness of frosting with more confectioners' sugar if needed.
Spread frosting on filled cupcakes.
Prepare to be overwhelmed with tasty compliments!