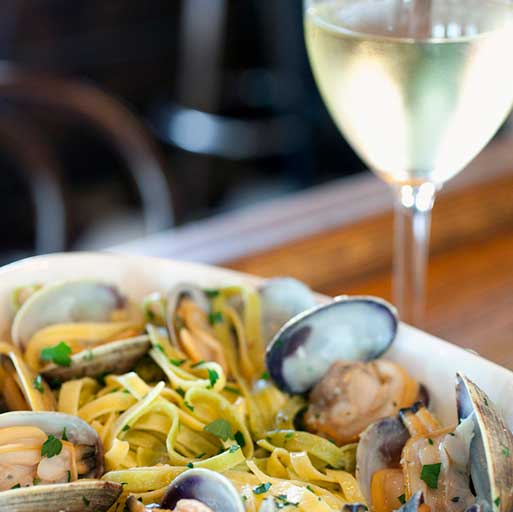 When you're hosting a dinner party or special event, there is already enough pressure to ensure everything runs smoothly. The last thing you want to worry about is whether the wines you chose will pair well with your intended menu. While the wrong wines can taint the flavors of your hard work in the kitchen, pairing your meals with the right wines can complement those flavors and create lasting memories. To help you choose the best wines for your best dishes, Columbia Distributing offers a simple introduction to the world of wine pairings.
Things to Consider
We've all heard things like "heavy wines for heavy foods" or "sweet wines for desserts," but those phrases can be misleading. In fact, it's actually much more complex than that. Striking the right balance between your food and wine will be much simpler if you take these steps when planning your meal:
Consider the cooking method. Lighter wines are more suitable for dishes that require stir-frying, steaming or poaching, while heavier wines are ideal for meals that involve frying, braising and roasting.
Match the flavors. The wine and food should have similar flavors and intensity and complement each other – not outshine each other. For instance, try pairing smoky foods with oaky wines.
Maintain acidity. In general, the wine should be more acidic than the food. However, a wine with high acidity will only pair well with a meal of equal acidity.
Balance sweetness. Similarly to matching the flavors, the food and wine should have an equal level of sweetness. If not, one may outshine the other.
Keep tannins in mind. Wines with higher tannins, or a bitter taste, call for the proper foods to balance them out. For example, a fatty protein, like duck and condensed sauces, would work well.
Opposites attract. A sweet wine will complement saltier foods, making for a sweet-and-sour experience on the palate.
Plan Your Meal with Columbia Distributing
Keep these tips in mind, and you're sure to please guests with your recipes and your wine selection. Need additional help? Contact Columbia Distributing to learn more about our selection of wines from the West Coast and beyond. As one of the largest beverage distributors in the U.S., we have the insights and expansive selection of beverages needed to meet your demands.