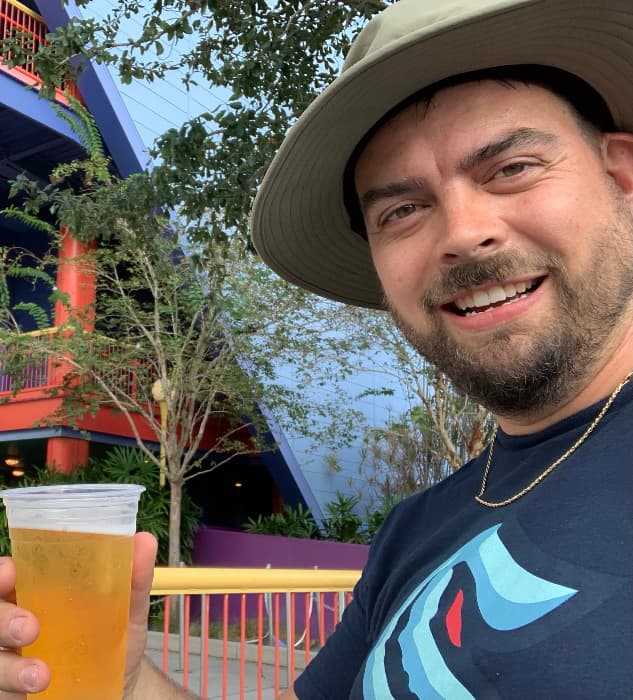 Josh Slighter is a sales representative for Columbia Distributing working out of the Everett, Washington, branch. The company provides alcoholic and non-alcoholic beverages to retailers, restaurants, and bars throughout the Pacific Northwest and northern California. With days that start at 5 a.m., Slighter runs sales for large chain grocery stores.
This sales representative's daily work includes visits to at least four stores. "Four on average, if not more," says Slighter. "Every day is different." Each store visit involves multiple tasks, such as checking the stock of beer and other beverages and making sure that Columbia Distributing merchandisers have sufficient supplies and instructions for the day.
Slighter also meets with store sales managers to make sales and write up new orders, as well as handle any complaints. "I like the face-to-face contact and get a lot of compliments from people in my stores, saying they appreciate seeing me and being able to communicate directly," he says. "I work to push our new programs, and it's fun."
Lending a Helping Hand
When teams are short-handed, Slighter pitches in with other tasks as needed. "Right now, we spend a lot of time throwing freight and helping our merchandisers throw loads, as well as servicing the stores," he says. There are also phone calls to field, such as from store managers who want to execute new beverage programs or revise current plans. Customer service is an important part of the daily routine, as well as solving problems and sorting out any misunderstandings.
Slighter is also training a sales associate. "He works with me, helps me out, and does all the same stuff," he says. Helping the trainee get ready for a potential sales representative position is all part of Slighter's responsibilities.
Career Paths at Columbia Distributing
Including initial time spent working through a temporary agency, Slighter has been at Columbia Distributing for 10 years. After working for years without benefits in the construction industry, joining the team at Columbia Distributing was a welcome change. "My wife and I started a family, and I needed a steady-pace job, something reliable," he says. "I knew I was dependable, a good worker, and I was happy to work for a corporate company that cared about employees."
Slighter advanced quickly through several job roles. After the first year spent in merchandising followed by moving to sales associate for the next two and a half years, Slighter then became a sales representative on the Mt. Vernon-Burlington route for five years. When the Marysville-Lake Stevens route opened, Slighter transferred. "I live in Marysville, so that saved an hour and a half off my commute every day," he says.
Supportive Environment at Columbia Distributing
"I've never had any sales experience because I never thought I would go into sales, but then I never knew what I wanted to do," says Slighter. However, management and team members helped to mold and shape his career path toward sales representative. "They've always pushed me in the right direction and supported me properly," he adds.
Slighter supports the business goals and core values at Columbia Distributing. "We are the best distributor in my opinion," he says. "We have the brands and I believe in our mission to have that total portfolio, a hand in every cookie jar." As a member of the Culture Committee, he also helps teammates explore diversity, equity, and inclusion in the work environment.
The industry is fun, too, adds Slighter. "Who doesn't like going out and having free beers at lunch meetings, and kickoffs, and all the promotional swag that comes with it? I do appreciate the spring events, the company picnics, and all the family events," he says.
But mostly, Slighter appreciates the people he works with every day. "For me right now, after being here for 10 years, it's the people, it's the progress, it's the direction we are headed, and knowing that people genuinely care," he says.
Advice for New Employees at Columbia Distributing
Slighter has lots of advice for potential and new employees. "One thing I tell people along the way is to not be afraid to use your voice, to ask questions," he says. "Do not be afraid that there's going to be backlash for that because it never hurts to ask. And oftentimes, you'll be surprised by what you find, or you'll learn something new."
For information on how to apply for an available position, contact Columbia Distributing today.