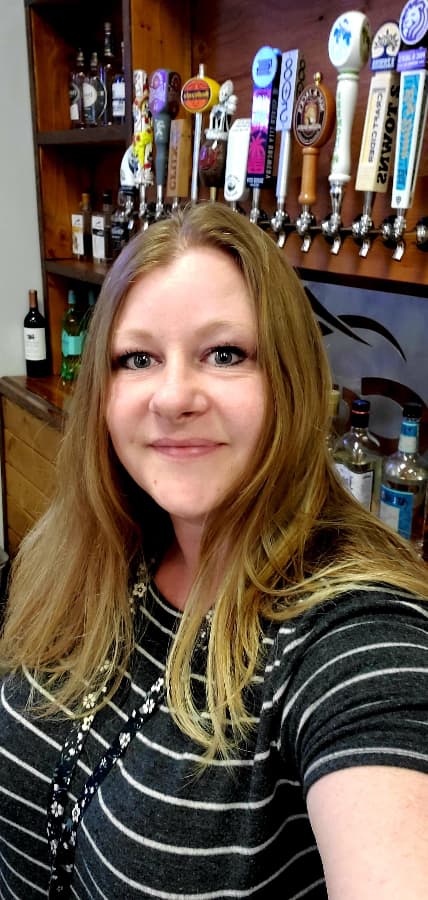 The Columbia Distributing location in Spokane, Washington, is small compared to others throughout the Pacific Northwest and northern California. That may be why Anna Galoosis is the only administrative assistant in the office, or maybe it's because this powerhouse of activity takes care of so many duties.
"So, I do everything: customer service, sales support, reconciliation, and administration. It's pretty busy," says Galoosis.
After moving to Spokane from California, Galoosis worked at a few other companies, including as a warranty manager for a large truck shop and an accounts receivables clerk at a car dealership. Working in the beverage industry with a position at the former Young's Market, Galoosis eventually started a career at Columbia Distributing. As of July 2022, she's been with the company for 10 years.
Columbuia Distributing dispenses alcoholic and non-alcoholic beverage brands to retailers, restaurants, and bars throughout the Pacific Northwest and northern California. Learn more about Galoosis's story with our company and why job seekers in our service areas should consider applying to Columbia Distributing.
Daily Administrative Tasks at Columbia Distributing
"My mornings are report driven," says Galoosis. Reconciling daily sales reports from the driver teams allows the branch to quickly post revenue numbers for the company. "We are a pretty small branch," Galoosis adds. "I have only about seven daily routes and few miscellaneous. But between that and customer service, it keeps me busy here by myself."
Other duties include rolling up all the qualifiers and incentives for the sales team. "It's more like a sales coordinator position," Galoosis says. Time is devoted to customer service both mornings and afternoons.
Never Looking Back
Galoosis wanted to work at Columbia Distributing because beer and beverage distribution sounded interesting. Now coworkers are a big reason for staying with the company. "Everybody in my branch is very close, we are very much part of a team," she says. "It's a family-friendly environment. We are here more than we are at home sometimes, so the people and friendliness are what keeps you sane."
Training Opportunities at Columbia Distributing
While initial training for Galoosis's position was with the former administrative assistant at the branch, there are more training opportunities available to employees at the company nowadays. "We have a dedicated team that launches training for us," says Galoosis. "We can go online and sign up for Microsoft Excel, management, or specific job title training."
Created in-house by the learning and development team, the training is administered via the third-party company Aspire. "The videos are rolled out to us so we can just go online and receive training," says Galoosis. There are also monthly safety training sessions, she says.
Company Culture at Columbia Distributing
Last year, Galoosis was recruited for the company-wide culture committee. It explores issues of diversity, equity, and inclusion in the work environment. "We just had our first 2022 Culture Committee Summit," says Galoosi. The summit took place in the new company offices in Wilsonville. "There was a presentation on culture and branch satisfaction, and improvement plans – what we could do to contribute to the branch and make everybody feel more welcome," she says. The information presented was based on a 2021 survey of all team members.
As Galoosis sees it, the overall goal of the culture committee is for members to bring the information back to each company branch. "It helps with communication between departments, creating and maintaining communication and brand values, and things like that," she says.
Advice for Prospective Employees
Galoosis has some ready advice for prospective employees: "Be willing to change, because, in this industry, it changes daily. If you can't roll with change, it's probably not the industry for you." She also recommends taking lots of notes.
Located in communities throughout Washington, Oregon, and northern California, employees with various skills work at Columbia Distributing. Positions include drivers, warehouse staff, salespeople, and administrative assistants. Contact Columbia Distributing to learn more about the company, including its vision, and values.
As for Galoosis, she has only positive words for the company. "I'm thankful for my job and I love my company. It's an amazing place to be!"