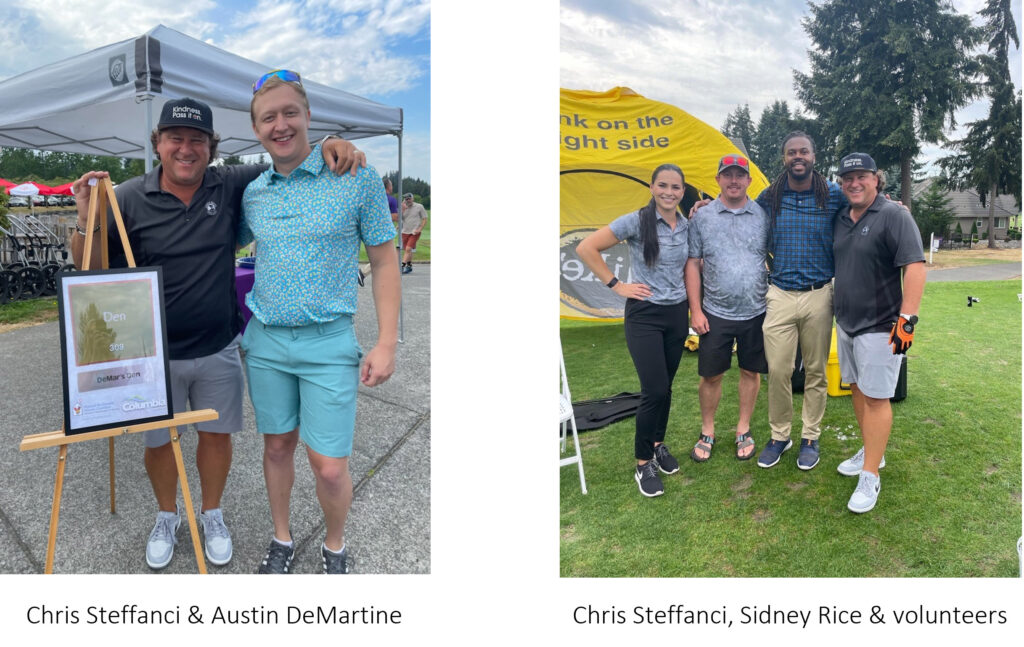 The vision and values of Columbia Distributing go well beyond the services we provide. While we are known for supplying a variety of well-known beverage brands throughout Washington, and Oregon, we also take great pride in giving back to the local communities.
"Giving back has always been very important to us. It's in our blood," says Lindsi Taylor, director of communications and diversity, equity, and inclusion strategy at Columbia Distributing. Every year for the past 11 years, Columbia Distributing has hosted the Scott DeMartine Memorial Golf Tournament to help raise funds for several charities, including the Ronald McDonald House Charities.
More About the Event
With a passion for giving back, Columbia Distributing decided to organize an annual golf tournament to help raise funds for charities that impact the local communities. The golf tournament is named after Scott DeMartine, who passed in 2018. DeMartine was known by his peers as a very charitable and passionate person, according to Taylor.
Suppliers sign up for foursome golf groups, with the money raised going to charity. At the event, games and raffles are available for guests. Most of the time, suppliers will have booths or tents with representatives to provide information about the company, pass out samples of products, and give out free swag.
The golf tournament is a great way for multiple groups to come together for a good cause, explains Taylor. "This event is a great opportunity for suppliers and the Columbia Distributing family to interact and get to know each other better while helping raise funds for charity," she says.
Highlights from This Year's Event
The 11th annual Scott DeMartine Memorial Golf Tournament was hosted on August 18 at the Washington National Golf Club. The event featured 31 different suppliers participating, including:
Molson Coors
Lemon Perfect
Mike's Hard Lemonade
Fremont Brewing
Red Bull
Seattle Cider
Rise Coffee
Deschutes Brewing
Throughout the tournament, Columbia Distributing leaders challenged each other's golf skills and fundraising abilities, including CEO Chris Steffanci whose "closest to the pin" challenge at the par-3 eighth hole raised $100,000 in donations. Also included in this year's tournament was a celebrity guest, former Seahawk wide receiver Sidney Rice, whose Team Rice Foundation focuses on providing underserved youth with footwear for sports.
After a day of fundraising and mulligans, Columbia Distributing was able to raise $280,000 for charity at this year's event. To make the day even more memorable, the Ronald McDonald House announced that a room in a newly-built RMHC home will be named in honor of Scott DeMartine. In attendance was DeMartine's son, who was on hand to receive the news and celebrate his father.
Philanthropy at Columbia Distributing
With a DNA of helping others, philanthropy and charitable acts are second nature at Columbia Distributing. We encourage all our employees to donate their time to their community and give back what they can. Every full-time employee has 12 hours available every year to donate their time during normal business hours to a 501c3 organization of their choice. To show support for our employees who decide to donate money to a non-profit, Columbia Distributing will match a donation of up to $250 every year.
At Columbia Distributing, we are committed to supporting meaningful causes that help make a difference in people's lives through corporate giving. We are continuously looking for new organizations to support with a focus on the following areas:
Health-related research and services
Education services and youth development
Economic impact and growth
Environmental stability
Relief efforts within our service footprint
Human and civil rights
Organizations in the Washington and Oregon area who believe their mission aligns with the views and focuses of Columbia Distributing can learn more about corporate sponsorship by filling out the charity partner application. To learn more about our upcoming charitable events, contact us today.