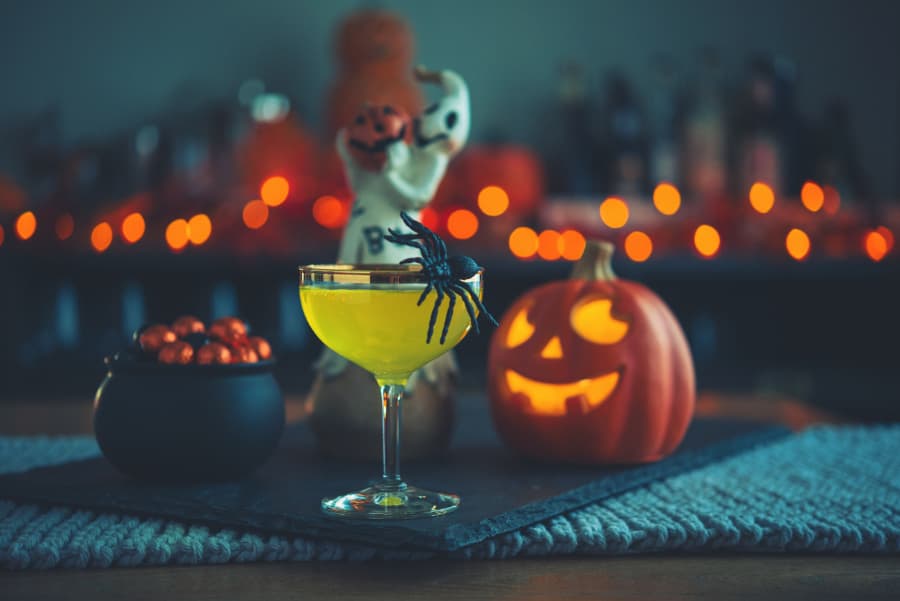 Halloween is all about spirits and candy treats. What could be more appropriate in October than mixing up some candy cocktails? There are no reasons adults can't enjoy both the sweet and scary sides of Halloween this year. Whether you're throwing a gathering to kick off the season or you want to wait for a final blast during the weekend of Halloween, stock up on beverages from Columbia Distributing and make these treat-inspired cocktails to share with your guests.
Fruit-Flavored Hard Candy Shots
What's your favorite hard candy? Use these fruit-flavored treats to make multicolored shots for your guests. You can line them up for an eye-catching display and host a fun taste test.
2 bags fruit-flavored hard candies
750 ml vodka
2 cups seltzer (or lemon-lime soda)
Make the flavored vodka by unwrapping 10 candies of each flavor and placing them in a large glass or jar. Divide the vodka among the five flavors (about 150 ml vodka in each jar). Cover with plastic wrap or jar lids. Place in refrigerator overnight so the candies can dissolve and infuse with the vodka.
Pour vodka into shot glasses, filling each halfway, and then top with cold seltzer or lemon-lime soda and serve.
Cookie and Caramel Cocktail
When a craving for caramel cookie chocolate bars strikes, use them in these drinks. Your guests will thank you for giving them an adult dessert. For each cocktail glass, you will need:
0.5 oz. vodka
1 oz. Irish cream liqueur
Crushed caramel cookie bars
Chocolate syrup
Caramel syrup
Dip the rim of the cocktail glass in the caramel syrup and line the rim of the glass with the crushed candy bars. Add caramel and chocolate syrup to the glass and give it a swirl. Mix Irish cream liqueur and vodka in a shaker with ice. Strain and pour over the prepared glass. Don't forget to garnish with more of the candy bars!
Drunken Gummy Bear Cocktail
Gummy bears are experiencing a resurgence in popularity, so they'll be a welcome decoration on top of this Halloween cocktail. Mix each of these coconut rum cocktails in a tall glass with ice:
2 oz. coconut rum
2 oz. pineapple juice (or passion fruit juice)
2 oz. coconut water
Gummy bears for garnish
Combine all ingredients and stir. Use a long toothpick to skewer a line of gummy bears and place it on top of the glass.
Hard Cider Ice Cream Float
What could be better than a delicious and refreshing cocktail made with ice cream? If you have guests who don't want alcohol, simply substitute this recipe with regular apple cider. Use two tall pint glasses to make this cocktail:
12 oz. bottle hard cider (or non-alcoholic cider if preferred)
1/2 cup ginger ale (or ginger beer)
Ground cinnamon
Vanilla ice cream
Add 2 small scoops of ice cream to the two tall pint glasses. Sprinkle cinnamon to taste in each glass. Evenly divide the ginger ale and cider between the glasses. Serve with a dash of cinnamon on top.
More Cocktail Recipes from Columbia Distributing
Start planning your Halloween party today! Your guests will thank you for treating them to these and other candy cocktails. If you're inspired to incorporate your favorite candy into a drink, Columbia Distributing is here to help with ideas for mixers, liquors, and other ingredients from top brands. We serve Oregon, Washington, and California with a variety of beers, ciders, teas, and other beverages. Contact us for more information.