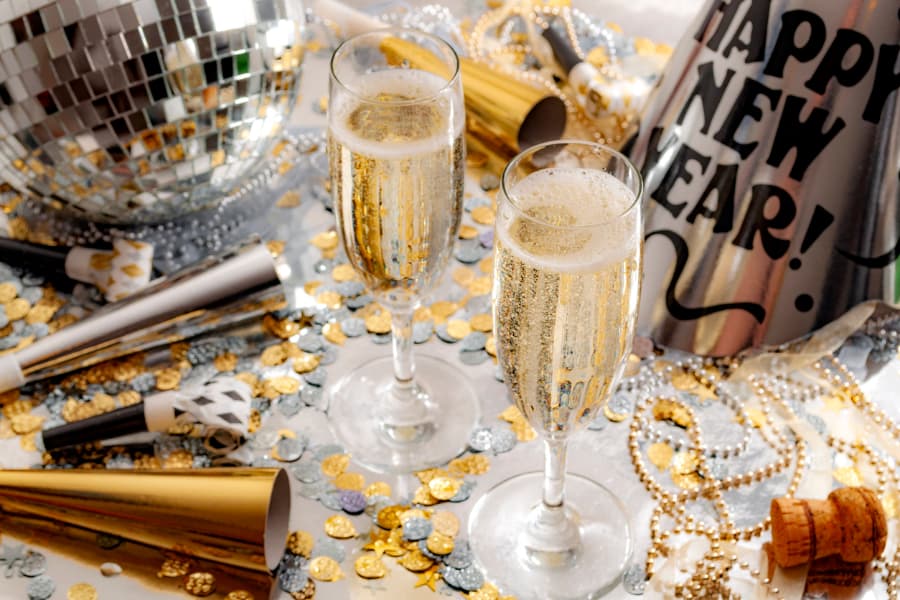 Ringing in the New Year isn't quite complete without Champagne. Whether you celebrate with a traditional toast or get inventive with sparkling cocktails, Champagne for New Year's Eve is essential. Columbia Distributing, the premier Northwest beverage distributor, offers a robust roster of Champagne and sparkling wine for you to bring the bubbly to a party however you like. Here, we provide a few suggestions that are sure to make your New Year's Eve one for the record books.
Celebrating with Champagne and Sparkling Wine
From weddings to anniversaries, Champagne toasts have long been a fixture of celebrations. This tradition holds especially true on New Year's Eve. There are many different ways to enjoy this effervescent elixir. Under French laws, only wines created in the Champagne region of France can be called Champagne, but sparkling wine by any other name still offers the bubbles you crave! Whether reaching for prosecco or Champagne, your thirst is sure to be quenched this New Year's Eve.
Mix Up a Champagne Cocktail
For a classic toast, the fizzy style of Champagne and sparkling wine lends itself best to a traditional flute glass. Alternatively, you could enhance your evening with a touch of Champagne or sparkling wine in an innovative cocktail! Here are a few recipes to help you shake things up on New Year's Eve:
French 75
The French 75 is a classic cocktail that combines the herbal punch of gin with sweet and citrus flavors, and of course, Champagne. To make this drink, combine the following ingredients in a shaker with ice and shake well until chilled:
1 oz. gin
½ oz. lemon juice, freshly squeezed
½ oz. simple syrup
Next, pour the contents into a flute and simply top with Champagne or sparkling wine, like Meiomi Sparkling Methode Champenoise. Garnish with a lemon twist and serve.
Champagne Margarita
Why choose between these two classics when you could make a delicious combination? Plus, you can easily pre-make this recipe ahead of the celebration to save time. To make a large batch of this cocktail, simply combine the following ingredients in a pitcher and stir well:
Prepare flute glasses for serving with your preferred garnish of salt, lime, or both.
Rose Champagne Punch
This spin on a classic holiday punch is perfect for New Year's Eve celebrations. In this recipe, a little bit of prep work can go a long way for a deliciously fruity and bubbly combination. These are the liquid ingredients you'll need:
1 bottle of Champagne
1 ½ oz. brandy
1 ½ oz. Cointreau
1 bottle club soda
Place strawberries into a large punch bowl and crush them into small pieces. Add ice to your bowl, and then add the Champagne, brandy, Cointreau, and club soda. Stir and garnish with an orange rind, sliced pineapple, and fresh mint to make all of these flavors pop.
Make a Toast to the New Year with Columbia Distributing
To prepare for a fresh start and close out this year with a bang, be sure to pop some sparkling wine or Champagne for New Year's Eve. Whether sticking with a traditional toast or mixing up something new, you can find a wide selection of sparkling wine and Champagne by shopping with retailers that carry brands from Columbia Distributing. To learn more about finding our products in Oregon, Washington, and California, contact us today.