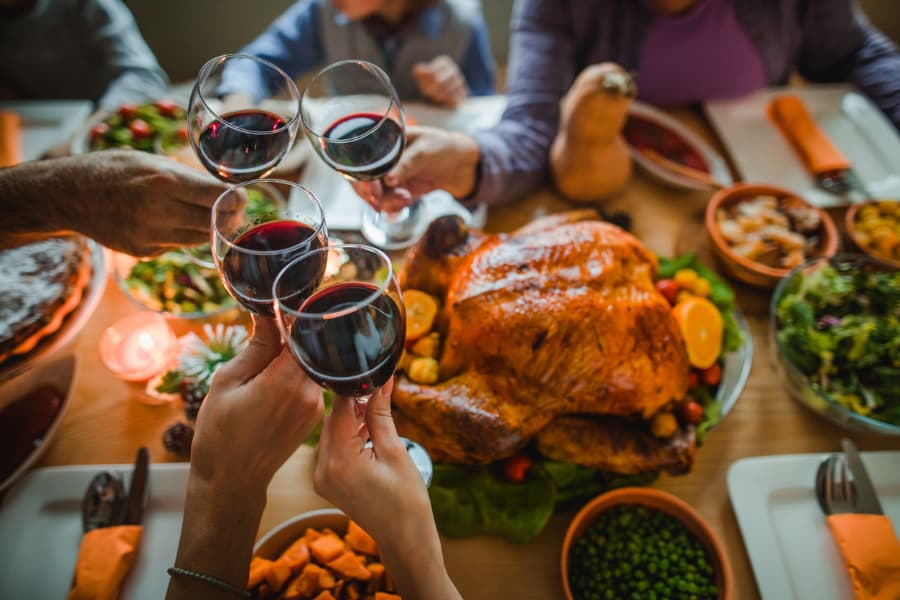 Are you planning to host a dinner party in the near future? While you have probably already thought about what food you are going to serve, figuring out which wine you are going to pair with it is just as important. Finding the right wine for your dinner party can take the experience to the next level and impress your guests. Columbia Distributing has put together this guide on choosing the right wine for dinner parties, so you can make sure the evening goes without a hitch.
When to Choose Red Wine
Red wine is a great choice to serve with your entrée, given its natural pairing with meat. So if you plan on serving beef, pork, chicken, or pasta with red sauce, red wine is a must. There are a wide variety of wines to choose from in this category. Cabernet sauvignon is a popular choice because of its broad popularity. The Robert Mondavi Private Selection out of California offers multiple selections of cabernet sauvignon, including one aged in bourbon barrels. For a more versatile choice, consider a merlot, which can be served with both red and white meat. The Toasted Head Merlot contains notes of fruit, vanilla, spice, and toasted oak for a complex flavor that pairs best with Italian dishes, chicken, and more.
When to Choose White Wine
Typically, white wine is reserved for fish entrées. Check out the Clos Du Bois Pinot Grigio, which has some acidity and citrus flavors that are great for pairing with seafood like oysters and clams. Heavier white wines, like the Woodbridge Rum Barrel Aged Chardonnay, taste great with pork or chicken, as well. If you don't have a fish or white meat entrée, then you can also reserve white wine for your appetizers. Light wines like Pinot Grigio pair well with soft cheese and sautéed or roasted vegetables.
Otherwise, sweet white wines pair well with both fruity and spicy foods. Moscato is a popular white wine on the sweet end of the spectrum that can be great for serving with a charcuterie board featuring fruits and cheeses. The variety of flavored Moscatos offered by Arbor Mist allows you to add another element to your food pairings.
When to Choose Sparkling Wine
Sparkling wines are a great way to kick off your meal, as they help kick-start the appetite with their carbonation. Plus, they're perfect for making dinner toasts, too. The Ruffino Prosecco uses grapes from the northeastern region of Italy and contains apple and peach flavors with lingering floral notes. While this wine can be used to start the meal, it also pairs well with Margherita pizza and shellfish. For people who aren't fans of the bubbly nature of sparkling wine, try serving something light like the Del Rio Grenache Rose.
Plan Your Dinner Party Right
When hosting a dinner party, there are so many details you have to pay attention to. Take one of those decisions off your plate by using this guide from Columbia Distributing to make the right choice about which wine is best for your dinner party. Keep in mind that you are not limited to just one wine. Break out a different type for each course to keep things fresh. If you want to explore more wine options, visit our inventory of brands, where you can also view our selection of beers and spirits.