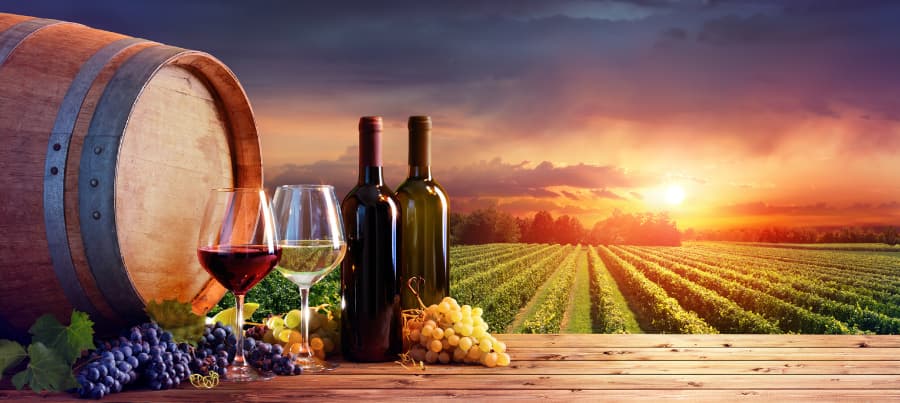 Spring has finally arrived, meaning that tasting rooms across the country will soon be bustling with tourists and wine fanatics yearning to sample the finest local vintages. While the taste of the wine usually matters most, staying on-trend with winery décor enhances the customer experience and can even lead to an increase in bottle and case sales. For over 80 years, Columbia Distributing has cultivated deep relationships with our retail partners, giving us an expert understanding of the most recent décor and atmosphere-building trends.

Don't Outshine the Wine
Creating a pleasing aesthetic with your winery décor should be a priority, but the true reason your customers are visiting is the wine. Because of this, the best dressed tasting rooms strike the right balance between wine and design. Let your winery's history, land and spirit create visual interest while providing insight into the winemaking process and setting an intimate tone of engagement with your customers. To accomplish this, consider incorporating the following in your décor:
Statement pieces, such as a bar made of blackened steel, that won't distract from the wine
Cozy furniture arrangements that will allow your staff to better interact with guests
A built-in speaker system to play a genre of music that best suits your brand
Seasonal touches, like flowers, covered outdoor seating or a fireplace
You can also take inspiration from your wine itself. Use the labels on your bottles as a starting point in choosing your color scheme and décor items to match.
Blending the New and Old
The most effective winery décor should emulate the years of hard work your business has put into preparing the land, harvesting the grapes and fermenting the wine. For brand-new buildings, adding historical touches, such as wood from a demolished town landmark or a barn that once stood on the property, will more deeply connect visitors to your wine. Older buildings also have a chance to stand out by incorporating modern design elements, such as tall glass front entry doors or bold lighting fixtures that draw attention to the tasting bar.
Express Your Brand
From their first experience to yearly visits, winery décor will influence your customers and further their interest in your products. The next step? Making sure they can purchase your wines at local shops and enjoy them at their favorite restaurants. To learn more about making your wines accessible throughout the Pacific Northwest, contact Columbia Distributing today.