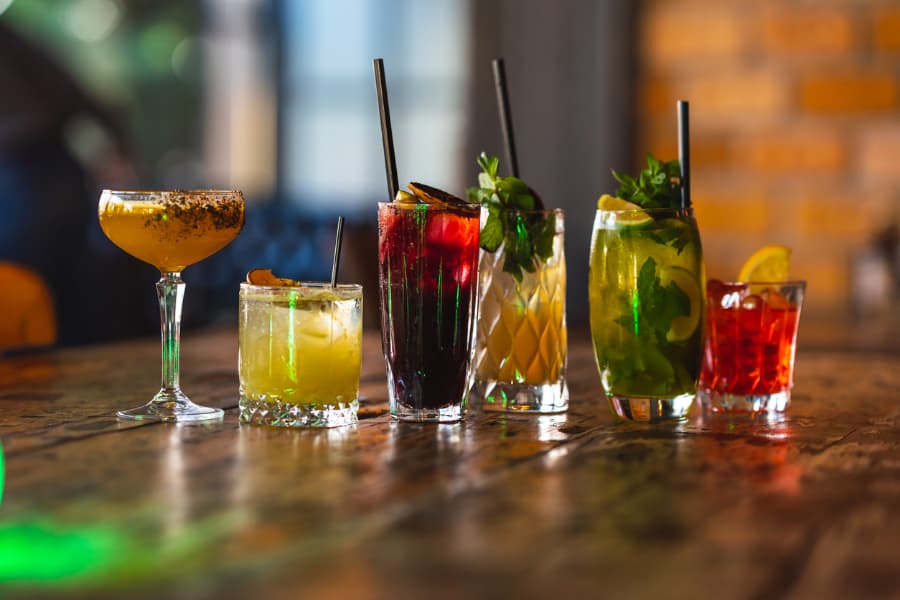 Transform your regular old cocktail into something worthy of a photo by simply adding a garnish. Not only does garnishing make the drink look pretty, though. They can also be functional and help enhance the cocktail's flavor, texture, or aroma. Here, Columbia Distributing, one of the country's largest distributors of alcoholic and nonalcoholic beverages, walks you through some unique cocktail garnish ideas to try.
Finding the Perfect Garnish
Like condiments for food, garnishes can add an extra element of flavor to make a good cocktail an excellent one. For instance, a mojito wouldn't be the same without the mint leaves, and a classic martini would look incomplete without an olive on the top. Each of those garnishes plays an important role in the taste of the drink. So, when choosing what to garnish your cocktail with, think about the flavors of the beverage and what would complement it best. Some examples of garnishes and drinks that work well together include:
Citrus and Vodka
A popular cocktail garnish is the use of citrus peels, zest, and slices. Since citrus is so strongly scented, it is a great addition to cocktails made with vodka, like screwdrivers and martinis. Vodka is very versatile and often relies on added flavor from juices and purees. Therefore, the powerful scent and taste of limes, lemons, and oranges create delicious citrus cocktails.
Herbs and Darker Liquors
Create a multi-sensory cocktail experience by garnishing with herbs. Drinks like a mint julep, whiskey smash, and gin and tonic with rosemary are all great examples of cocktails that pair perfectly with herbal garnish. The use of fresh herbs as a cocktail garnish allows the oils from the herbs to seep into the drink and the fragrance to fill your nose with each sip, creating an awesome cocktail-tasting experience.
Fruits with Rums, Whiskeys, or Bourbons
Fresh fruits like cherries, strawberries, and blackberries are great cocktail garnish ideas for cocktails containing rum, malt whiskey, or bourbon. Fruit also pairs beautifully with wine and sparkling spirits to create sangria.
Discover various brands and the types of alcohol carried by Columbia Distributing so you can plan out the best ingredients for all your cocktail-making needs.
Getting Creative with Cocktail Garnish Ideas
Garnishing is a lot of fun, and there are endless ways to do it. Some unique cocktail garnish tricks to try include:
Ice Cube Garnish
If you are serving cocktails on a hot summer day by the pool, try garnishing with ice cubes. To do this, just take an ice cube tray and fill it with water, drop in your chosen herb, fruit, or citrus peel, and then pop the tray in the freezer. Once frozen, you can drop the ice cubes into your cocktail. As they melt, the garnishes will be released into the drink, plus you'll have an ice-cold drink! To get even more creative, use molds to make fun shapes out of your ice cubes. From hearts to spheres, the possibilities are endless.
Edible Ribbon
Spruce up your favorite party cocktails by threading a citrus peel or cucumber slice onto a skewer. You can easily create long, thin strips of cucumber or citrus peels with the use of a vegetable peeler. Then, take your skewer, and starting at the bottom, stick the center of the strip through. Next, go back through the top, continuing in a wavy pattern. You'll be left with a unique, ribbon-like garnish to add to your drink.
Fun-Shaped Fruits
This one is super quick and easy to do but delivers a stunning display. When garnishing mixed drinks with fruits like watermelon, pineapple, strawberries, or oranges, use mini cookie cutters to create fun shapes to stick on the side of the glass. Melon and citrus are easy to slice into strips and cut out with cookie cutters.
Strawberries are a bit tricky to use with cookie cutters since they are so small, but they are perfect for making little hearts. To do this, simply slice the top of the strawberry off, then carefully cut a "V" shape into the top of the berry and cut it into three to four slices.
Make Creative Cocktails with the Help of Columbia Distributing
There are so many ways to garnish your cocktails that you wouldn't normally think of. With a little fun and creativity, you can elevate plain drinks to unique cocktails with original garnishes. Contact us today to learn more about Columbia Distributing's service areas, brands, and products.