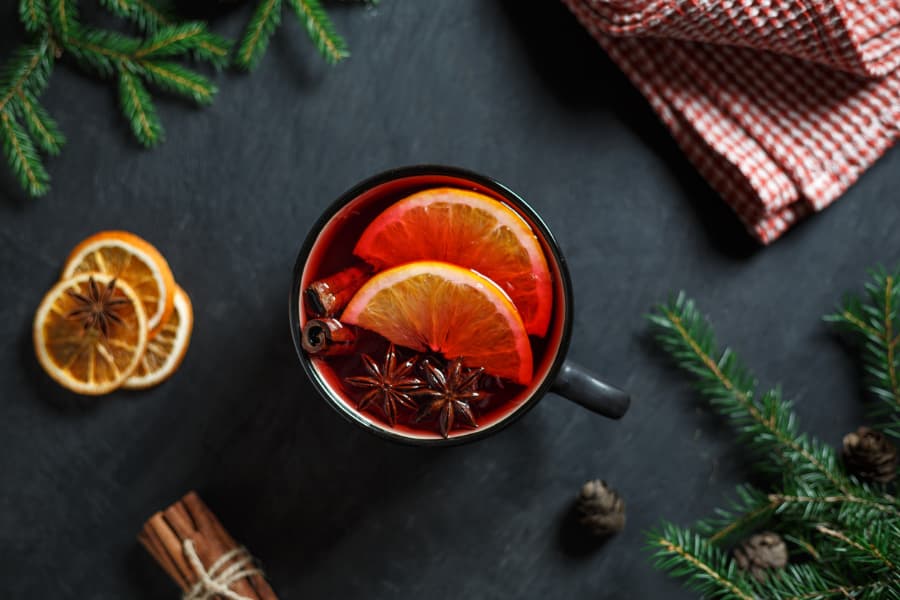 Winter is a time for gathering with loved ones and celebrating all of the joys life has to offer. One of the best ways to accentuate your wintertime dinner is with delicious alcoholic and non-alcoholic beverages. Learn how to craft the perfect cold-weather cocktail or mocktail with this list of recipes that are sure to be crowd-pleasers.
Apple Cider Moscow Mule
Apple cider is one of the staple beverages of wintertime. When the snow starts to fly, a warm mug of apple cider can be just the thing to brighten your spirits and is always a hit with family and friends. Try out this new take on an old favorite:
4 oz. ginger beer
4 oz. fresh or hard apple cider
2 oz. vodka
Apple slices
Ground cinnamon
Juice of half a lime
Ice
Crushed ice
First, fill a glass with crushed ice. Then, combine cider, ginger beer, vodka, lime juice, and a dash of cinnamon into a cocktail shaker. Shake for 10 to 15 seconds, and then pour it into the glass. Garnish the rim of your glass with an apple slice and ground cinnamon to taste.
Hot Buttered Rum
If you're looking for a desert-like beverage after dinner, then Hot Buttered Rum is certainly a drink you'll want to try. This delicious cocktail combines sweet and savory flavors, and it's sure to be a hit during winter. Before making your cocktail, start by crafting the hot buttered rum batter ahead of time:
1 lb. brown sugar
1 lb. butter
1 lb. sugar
1 tsp. cinnamon
1 tsp. ground clove
1 tsp. ground nutmeg
1 qt. softened vanilla ice cream
In a large bowl, combine all ingredients except the ice cream. After the ingredients are mixed, add the ice cream to the bowl. Stir again until it's well incorporated. Store the batter in a sealable container in the freezer.
To make the cocktail, the ingredients you'll need include:
2 oz. gold rum
1 tsp. hot buttered rum batter
Boiling water
Freshly grated nutmeg
Cinnamon stick
Pour the rum into a mug and add the hot buttered rum batter. Fill the mug with boiling water and stir until it's fully mixed. Garnish with a cinnamon stick and a dusting of freshly grated nutmeg.
Mulled Apple Cider
If you're looking for a delicious mocktail recipe for children and others who don't consume alcohol, this Mulled Apple Cider recipe is the perfect solution. This savory drink delivers warm winter flavors that will be perfect alongside your dinner. 
1 gal. apple cider
2 peeled apples, whole
3 cinnamon sticks
10 whole cloves
¼ c dark brown sugar
Nutmeg
First, core the peeled apples and place the cloves in the center of the apples. Next, combine all the ingredients into a slow cooker and cook on low for four hours. After the four hours have passed, reduce the heat to warm. Serve your drink right from your slow cooker, and garnish with freshly grated nutmeg.
Pumpkin Pie Punch
If you enjoy tasty pumpkin flavors but are looking to skip the pie, this Pumpkin Pie Punch is the perfect candidate for a winter treat.
2 L cream soda
1 L ginger ale
750 mL sparkling apple cider
15 oz. pumpkin puree
1 tsp. pumpkin pie seasoning
Add ice to your punch bowl. Then, mix the cream soda, pumpkin puree, and pumpkin spice seasoning in a separate bowl. Pour this mixture into your punch bowl, adding ginger ale and sparkling cider as you go. Mix the ingredients until they're ready to serve.
Find More Cocktail Recipes
Make your winter gathering a hit with a thoughtful beverage menu. At Columbia Distributing, we deliver a variety of beers, ciders, teas, and other beverages across the Pacific Northwest. Contact us today.