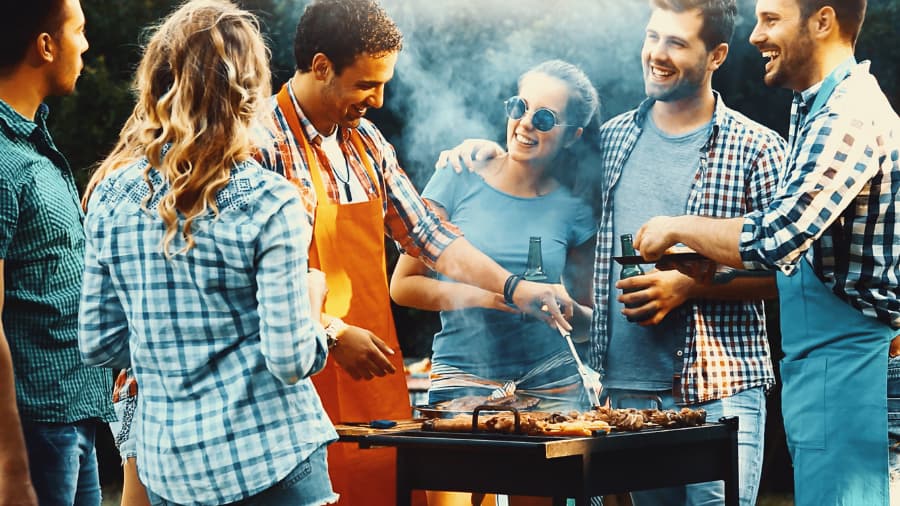 When you think of summer get-togethers, you probably imagine a barbeque. Even as we're social distancing and wearing masks to prevent the spread of COVID-19, it's an American tradition to gather outdoors, enjoy great food, and make memories with loved ones. Food isn't the only thing that makes a barbeque, though – you also need quality brews to match. This guide from the West Coast's Columbia Distributing can help you pair beers for BBQs of all kinds, from delicate and sweet to savory and everything between.
Beers for Keeping Cool
While you're working the grill or soaking up the sun, stay cool with an ice-cold lager or pilsner. It's refreshingly crisp, clean, and typically lower in alcohol by volume (AVB) – perfect for beating the heat. Plus, the light and delicate flavor won't overwhelm more the foods you're preparing, and it's also great with grilled chicken or fish.
We recommend the Yellow Snow Pilsner from Rogue Ales. Brewed with spruce tips, it's as refreshing as a breath of cool mountain air.
Pairing with Fatty Foods
We all love the pleasures of juicy meats and sweet treats, but pairing beers with fatty foods can be tricky. For barbeques that are heavy on the grease, sour beer is the way to go. We recommend something trendy and experimental, like the Fremont Sour Weisse Kettle Sour. The funky, tangy flavor brightens the meal and makes a great cleanser. While still on the light side, it's sharp enough to cut through fat, refreshing your palate for another bite without weighing you down.
Something for Savory Meals
If anything defines a barbeque, it's flavor – and lots of it. From sausages to chicken marinades to the wide array of sauces for ribs and kebabs, barbeques don't hold back on opportunities for indulgence. If you're a lover of sauces and spice, you can't go wrong with an India pale ale (IPA). The bitter hops offer the perfect way to balance sweet and tangy sauces and marinades. It can also stand up to the most powerful flavors, like steaks, aged cheeses, and any food with a kick.
Look for an IPA that's heavy on the hops, like the Stone IPA. Made by one of the most respected breweries in the world, it's assertive and refreshingly bitter – a great pairing for your favorite savory meals.
Balancing Smoky and Rich Flavors
We've covered drinks for herby, fatty, and saucy entrees, but what about the barbecued meats that are rich, smoky, and full of natural flavor? It takes skill and patience to achieve that deep, perfect char, so when you do, it deserves a drink to match. A dark porter might not be your first choice on a hot summer afternoon, but once you sit down to feast, it can be surprisingly good with meats of all kinds.
For the best of what porter has to offer, we recommend the ever-popular Deschutes Black Butte Porter. It's rich and creamy, with deep chocolate and coffee notes to complement a charred brisket or perfectly-seared burger.
Order Now from Columbia Distributing
The next time you need beer for your BBQ, stock your coolers with high-quality brews from Columbia Distributing. We distribute a variety of top and niche brews to retailers in Oregon, Washington, and California. To find out more or to ask whether we distribute to your area, contact us today.