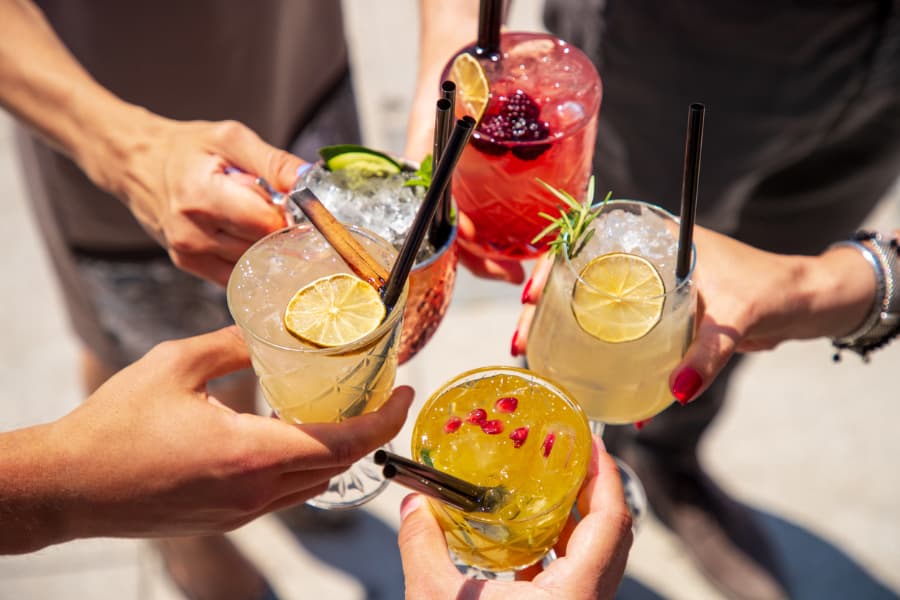 Whether you're having dinner with family or throwing a gathering with friends, it's always important to have beverages on hand that your guests will enjoy. While beer, wine, or cocktails are usually fine, some guests can't have or don't prefer alcoholic beverages. Instead of limiting their choices to just water or soft drinks, it's always a good idea to offer up a fun mocktail. At Columbia Distributing, we know how important a feeling of togetherness and inclusion is at a gathering. Here, we offer up a few mocktail recipes that will work for all your guests, no matter their age or alcohol preference.
Blueberry Guava Mocktail
With its bright and fruit-forward flavors, this mocktail is great for brunch gatherings.
Ingredients
2 oz. lemon/lime-flavored soda
5 oz. blueberry simple syrup
5 to 2 oz. guava juice
Seltzer
Ice
Instructions
Fill a tall glass with ice.
Combine the blueberry simple syrup, lemon-lime flavored soda, and guava juice.
Top with seltzer.
Garnish the leftover blueberry simple syrup.
Non-Alcoholic Sangria
Sangria is always a refreshing crowdpleaser at events and functions. This non-alcoholic sangria comes very close to the taste you get from a traditional one.
Ingredients
2 cups boiling water
2 black tea bags
2 cinnamon sticks
1/2 cup granulated sugar
3 cups pomegranate juice
1 cup freshly squeezed orange juice
1 thinly sliced orange
1 thinly sliced lemon
1 thinly sliced lime
1 apple, cored and cubed
3 cups cold sparkling water or club soda
Instructions
Steep the black tea bags and cinnamon in boiling water for five minutes.
Remove and discard the tea bags.
Stir in sugar until it dissolves.
In a large pitcher, combine tea and cinnamon sticks with the pomegranate juice, orange juice, and sliced fruit.
Refrigerate for at least one hour or overnight for a more intense flavor. 
Add sparkling water to the pitcher before serving.
Serve in glasses over ice.
7UP and Watermelon Float
This sweet, brightly colored drink is sure to be a hit with everyone, especially the children. It's a fast, easy twist on the traditional root beer float.
Ingredients
Cherry 7UP
Concentrated fruit juice with a watermelon flavor
Vanilla ice cream
Instructions
Fill the glass halfway with Cherry 7UP.
Add three to five drops of the fruit juice concentrate and stir.
Place roughly two scoops of ice cream on top, or until the drink reaches the brim.
For More Mocktail Recipes, Contact Columbia Distributing
When throwing a gathering, be sure to serve beverages that everyone can enjoy. Making family-friendly mocktails is the perfect way to accomplish this. And with the wide variety of brands available through Columbia Distributing, your business will never be short on the supplies your customers need for their celebrations. Contact us today for more information about our beverage distribution services throughout Oregon, California, and Washington.