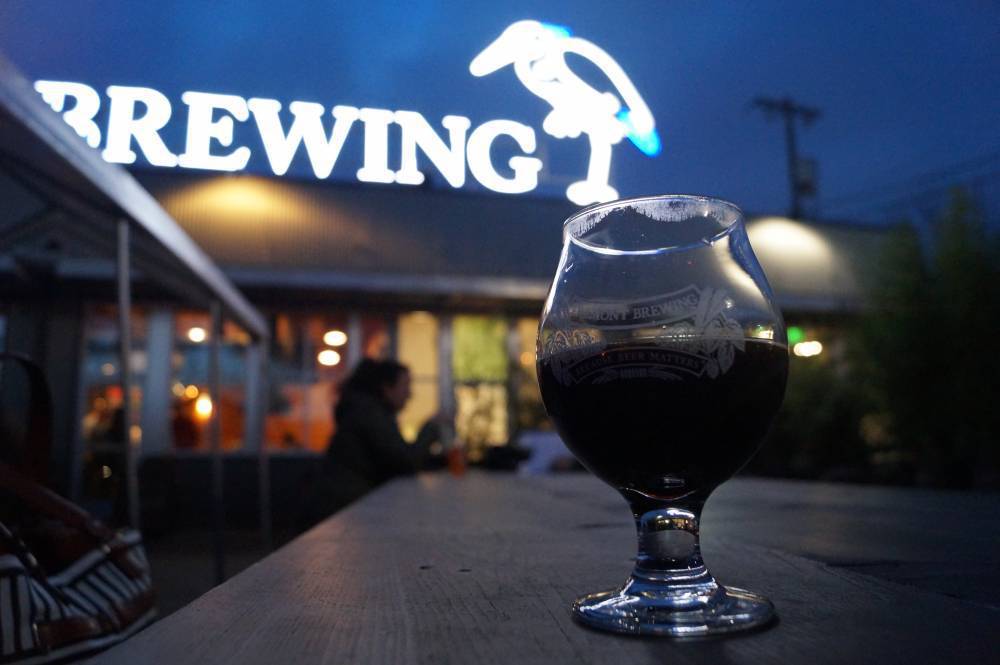 Beer drinkers have been embracing microbrews since small, independent brewers began creating their unique hoptastic flavors in the early '80s. Now referred to as craft beers, microbrews no longer make up a tiny segment of the beer industry. By the end of 2016, craft beer makers accounted for 5,234 of the 5,301 breweries in the U.S. While this is great for beer connoisseurs, craft brewers find themselves in a very competitive landscape. This makes it difficult for brewers to come up with a truly unique beer, so many strive for a little weirdness to grab consumers' attention. If you're looking for a slightly crazy concoction, consider one of these strange fermented brews.
Rogue Brewing | Newport, Oregon
Voodoo Doughnut Grape Guerrilla
ABV: 7.5 percent
Part of Rogue's line of doughnut-inspired beers, this ale was inspired by the Grape Ape doughnut by Voodoo Doughnut, which features vanilla frosting topped with purple sprinkles and grape dust. Their iconic bright pink bottle features a purple gorilla for this strange brew. Many beer raters agree it's a good attempt at a jelly doughnut with a grape soda zing.
Voodoo Doughnut Mango Astronaut Ale
ABV: 5.3 percent
Another ale in Rogue's line of doughnut-inspired beers, this one was inspired by Voodoo Doughnut's Mango Tango doughnut — a creation filled with mango jelly and topped with vanilla frosting and a tangy orange powder. The hot pink bottle sports a quirky, top hat-wearing astronaut.
Rogue Sriracha Hot Stout
ABV: 5.7 percent
Dubbed Rogue's Rooster Sauce, this stout pairs perfectly with spicy food. One of the ingredients is Huy Fong original hot chili sauce to give it the kick you'd expect from a fiery brew. The bottle mimics the hot sauce marketing down to its distinctive rooster.
Fremont Brewing | Seattle, Washington
Coffee Cinnamon B-Bomb
ABV: 14 percent
This B-Bomb is barrel-aged in American oak whiskey barrels and uses a blend of Winter Ale with Golding hops, coffee and cinnamon. Beer lovers enjoy a unique bourbon, oak, cacao, leather and dark coffee blend that brings a spicy chocolate coffee flavor and cinnamon whiskey aroma.
Coney Island Brewery | Brooklyn, New York
Kettle Corn Cream Ale
ABV: 5.5 percent
A combination of corn and honey malt gives it a biscuit and slightly spicy hop aroma. This craft is brewed with caramel syrup, so it finishes slightly sweet and is reminiscent of kettle corn, a popular boardwalk treat.
Cotton Candy Kölsch
ABV: 4.8 percent
Made of pureed strawberries, strawberry juice and Coney Island's own cotton candy flavoring, the light golden beer has a pink tinge and finishes with an unmistakable cotton candy taste. This craft is also available in cans at the brewery.
Ballast Point | San Diego, California
Indra Kunindra – Curry Export Stout
ABV: 7 percent
This India-style Export Stout gives unique beer lovers an explosion of South Asian flavors that include a burst of Madras curry, Kaffir lime leaf, coconut, cumin and cayenne. Available in draft and 22-ounce bottles year-round in limited quantities.
Cinnamon Raisin Commodore
ABV: 6.5 percent
A stout with some spice, brewers combined cinnamon and raisins with their dark, bittersweet American stout to blend the perfect amount of sweet and spice that leaves you with a roasted malt flavor.
Many of these beers are a limited-edition release, so if one of these strange brews sounds tasty to you, better grab one quick before it disappears!