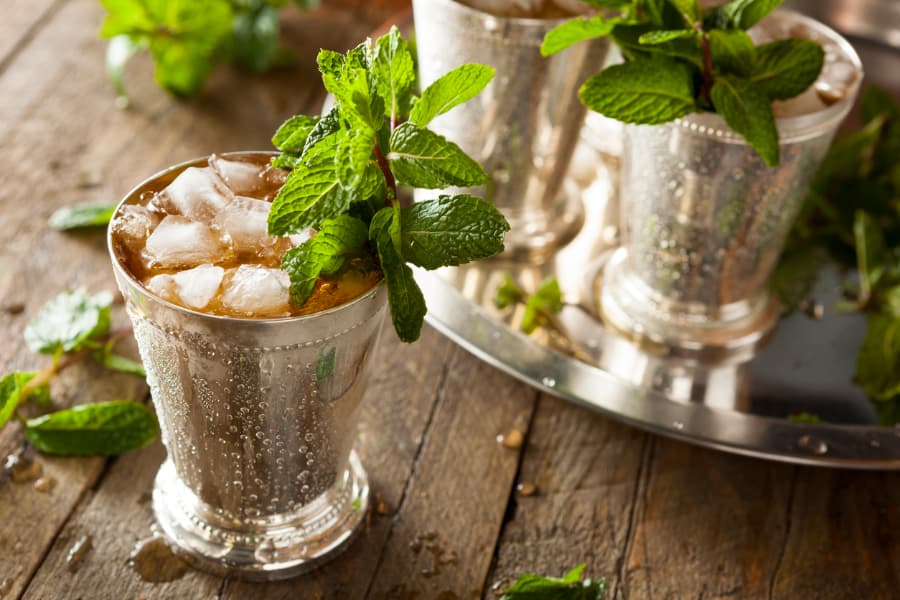 A mint julep is a refreshing and minty high-class cocktail that's commonly associated with the American South and its cuisine. Smooth bourbon, crisp mint, and loads of ice make it super refreshing with just enough sweetness to bring it from good to great.
May 30 is the official day to celebrate the mint julep drink. With fresh mint already plentiful and summer fast approaching, it's the perfect time to bring out the julep cups and stock up on bourbon and ice. To help you prepare for Mint Julep Day, Columbia Distributing in Portland, Oregon, breaks down what makes mint juleps so great, their history, and how to make them.
A Timeless Classic
The term julep originates in ancient Persia and made its way to North America by way of Arabia and Spain. It means rosewater or, more generally, any kind of sweet drink. The first record of the mint julep is from 1782 when it was prescribed to treat a sick stomach. From there, it quickly became a symbol of hospitality and a favorite in the American South.
In 1938, the mint julep was declared the official drink of the Kentucky Derby. Every derby season, more than 120,000 juleps are sold at Churchill Downs over the course of the two-day event. Traditionally, they're served in special silver Kentucky Derby glasses. Since 2006, custom-made "Thousand Dollar Juleps" are also available for – you guessed it – $1000. That sounds expensive, but all that money goes to support charities.
Make a Mint Julep
The best way to celebrate Mint Julep Day is, naturally, to drink one yourself! To make this timeless classic, follow our easy recipe:
Start by muddling fresh mint leaves in the bottom of your cup.
Add a teaspoon of sugar.
Fill the glass with crushed or powdered ice.
Pour bourbon over the ice until it's brimming.
Stir until the glass is frozen on the outside.
Garnish with a mint sprig and enjoy!
You can also celebrate by trying new and exciting variations on the classic recipe. One version from 1840 substitutes peach brandy and adds just a bit of pineapple to the rim. Another recipe compliments the sweetness of the mint with the tartness of blackberry juice. Blend your julep up in a slushie, or twist it up with squeezed cucumber or lime.
Do you have kids, or are your guests avoiding alcohol? Even non-drinkers can celebrate the day. Sugar, water, lime juice, lemonade, and crème de menthe syrup can be combined in a saucepan and poured over ice to create a delicious virgin imitation of the classic mint julep.
Celebrate Mint Julep Day
If you're hosting a party or just staying in, celebrate the mint julep with a delicious, cold, refreshing julep of your own. Columbia Distributing offers bourbon, brandy, and a variety of other alcoholic beverages to make your Mint Julep Day one to remember. To learn about our many delicious brands of bourbon or to find out whether we distribute to your area, contact us today.