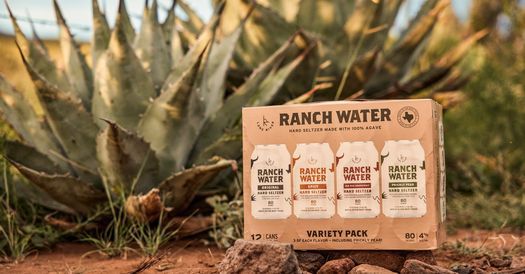 Whether you're the owner of a small convenience store or a bar that's packed nightly, it pays to have something for everyone to enjoy. That's why Columbia Distributing, serving Washington and Oregon as a premier non-alcoholic and alcoholic beverage distributor, offers products from Lone River Beverage Company. The popular brand has just released two new variety 12-packs, which are sure to make your customers excited for long weekends and lazy summer days. Here, we go over what new and exciting varieties Lone River Beverage Company has to offer.
Lone River Ranch Water Variety Pack
Ranch water is a simple, timeless cocktail consisting of tequila, lime juice, and soda water. These three ingredients combine to deliver a crisp, refreshing beverage that's synonymous with warm, sunny days. However, because of its rise in popularity, ranch water has grown to be a popular request year-round.
When it comes to Lone River Ranch Water, the beverage company takes it up a notch by offering a variety of flavors. Lone River Beverage Company uses 100% organic agave nectar, natural lime juice, and numerous other fruit juices to appease various tastes.
The newest Lone River Ranch Water Variety Pack comes with four refreshing hard seltzer flavors. Each 12-ounce can contains just 80 calories, three grams of carbs, and 4% alcohol by volume (ABV) per serving. The flavors in this 12-pack include:
Original: This hard seltzer flavor is popular for its light body and the subtle, natural flavors of agave nectar and lime.
Rio Red Grapefruit: This option builds upon the original flavor by adding a generous helping of Rio Red grapefruit juice. Rio Red grapefruit was first discovered in 1976 at Texas A&M University's Citrus Research Center by Professor Emeritus Richard Hensz, and it first became available publicly in 1984.
Spicy: When the summer heat isn't enough, this flavor features a healthy kick of jalapeño and pairs well with whatever you're cooking on the barbecue.
Prickly Pear: This exclusive flavor was inspired by the high desert of Far West Texas and the prickly pear cactus fruit found there.
Lone River Ranch Rita Variety Pack
As the name suggests, the Ranch Rita Variety Pack puts a delicious twist on original ranch water. With 140 calories, 5.8% ABV, and seven grams of carbs per can, this margarita-style 12-pack delivers a smooth mouthfeel and a touch of sweetness to brighten anyone's day. Flavors in this variety pack include:
Classic: Cracking open a can will bring you back to fresh margaritas at your favorite Mexican restaurant. With a hint of saltiness, this flavor features simple ingredients like carbonated water, organic agave nectar, and key lime juice concentrate.
Spicy: Kick up the heat with Lone River Beverage Company's sinfully spicy option. Combined with classic margarita flavors, the notes of jalapeño create a taste sensation like no other.
Mango: When it comes to margaritas, mango has proven to be an all-time favorite with customers. Mango makes for a natural addition to the 12-pack with its tart sweetness that pairs well with summer activities.
Blood Orange: This bold flavor is reminiscent of fresh, juicy orange slices that were meant to be enjoyed during blissfully warm weather. Blood oranges are like regular oranges, but their juice and skin have a deep red color.
Choose Lone River Beverage Company Products for Your Establishment
As a business owner, the needs and wants of your customers are your highest priority when deciding on your inventory. At Columbia Distributing, we're proud to provide an extensive variety of beverages to help appease your customers. Lone River Beverage Company meets and exceeds all of our expectations for taste and quality, and the new variety 12-packs are a testament to our commitment to having something for everybody to enjoy.
Columbia Distributing is the trusted source for the brands your customers demand, serving businesses throughout Oregon and Washington. For more information about Lone River Beverage Company, its new 12-packs, or our other offerings, contact us today.
Above image via Lone River Beverage Company