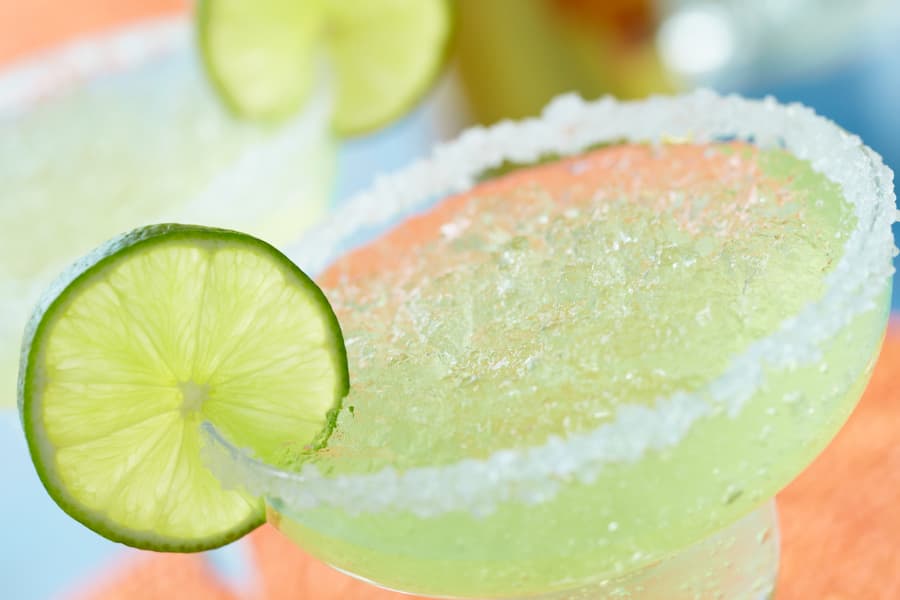 Margaritas don't have to be limited to the traditional ingredients of tequila, orange liqueur, and lime. Fruits, such as strawberries, mangoes, and more, can be added for extra flavor. Or you can make a simple syrup with unique spices to add to your margarita. They can even be served frozen instead of on the rocks. Once you pick your preferred brand of tequila, Columbia Distributing has a few recipes for you to try the next time you're looking to spruce up your margarita.
Strawberry Cucumber Margarita
This variation is incredibly refreshing, and the sweetness of the berry is complemented by the crisp, subtle flavor of the cucumber.
Ingredients
1 1/4 cups sugar
1/4 cup kosher salt
1/2 cup reposado tequila
Splash orange liqueur, such as triple sec
12 strawberries cut into quarters
1/2 peeled and seeded cucumber to garnish
2 cups ice, for blending
1 lime, quartered
Instructions
Make a simple syrup by combining sugar and water in a small saucepan over medium-high heat.
Bring to a boil and stir until the sugar is dissolved.
Remove from heat and allow the mixture to cool to room temperature.
Mix the remaining salt and sugar in a bowl.
Combine 3/4 cup of the simple syrup, tequila, orange liqueur, quartered strawberries, cucumber, and ice in a blender.
Blend until smooth.
Moisten the rim of a margarita glass with lime. 
Coat the rim of the glass in the sugar/salt mixture.
Pour your margarita and garnish with cucumber slices. 
Mango Lime Margarita
This margarita is excellent for a hot day, and the citrus from the limes gives it a zesty kick.
Ingredients
2 limes
2 tbsp. coarse sugar
Two 20-oz. jars of mango chunks, drained
Ice, for blending
1 1/2 cup tequila
1 1/2 cup triple sec
1/2 cup granulated sugar
Instructions
Zest the limes and combine with coarse sugar in a bowl; set aside.
Add the mangos, tequila, triple sec, granulated sugar, and ice to a blender.
Blend until smooth.
Wet the rim of the glass with a lime wedge and dip in lime zest/sugar mix.
Pour your margarita and enjoy.
The Harvest Margarita
This specialty margarita was created by Bobby Flay, and the unique simple syrup adds a depth of flavor thanks to a handful of pungent spices.
Ingredients
2 oz reposado tequila
1 1/2 oz. chilled spiced simple syrup, consisting of:

1 cup sugar
8 whole allspice berries
8 whole cloves
3 cinnamon sticks
1 inch fresh ginger, peeled and coarsely chopped

1/2 oz. freshly squeezed lime juice
A few dashes of bitters
Lime wedge, for garnish
Ice, for blending
Instructions
For the simple syrup, combine the sugar, 1 cup water, allspice, cloves, cinnamon, and ginger in a small saucepan.
Bring to a boil and cook until the sugar is completely melted.
Remove from heat and let steep for one hour.
Strain into a small bowl, cover, and chill in the refrigerator.
In a blender, combine tequila, simple syrup, lime juice, bitters, and ice.
Blend for 10 seconds.
Serve over ice and garnish with a slice of lime.
For Recipes and Tequila, Contact Columbia Distributing
Whether you're making a traditional margarita or mixing it up with unique ingredients, Columbia Distributing carries several brands of tequila that are perfect for margaritas. Contact us today to learn more about the brands we carry and distribute to businesses in Oregon, California, and Washington.