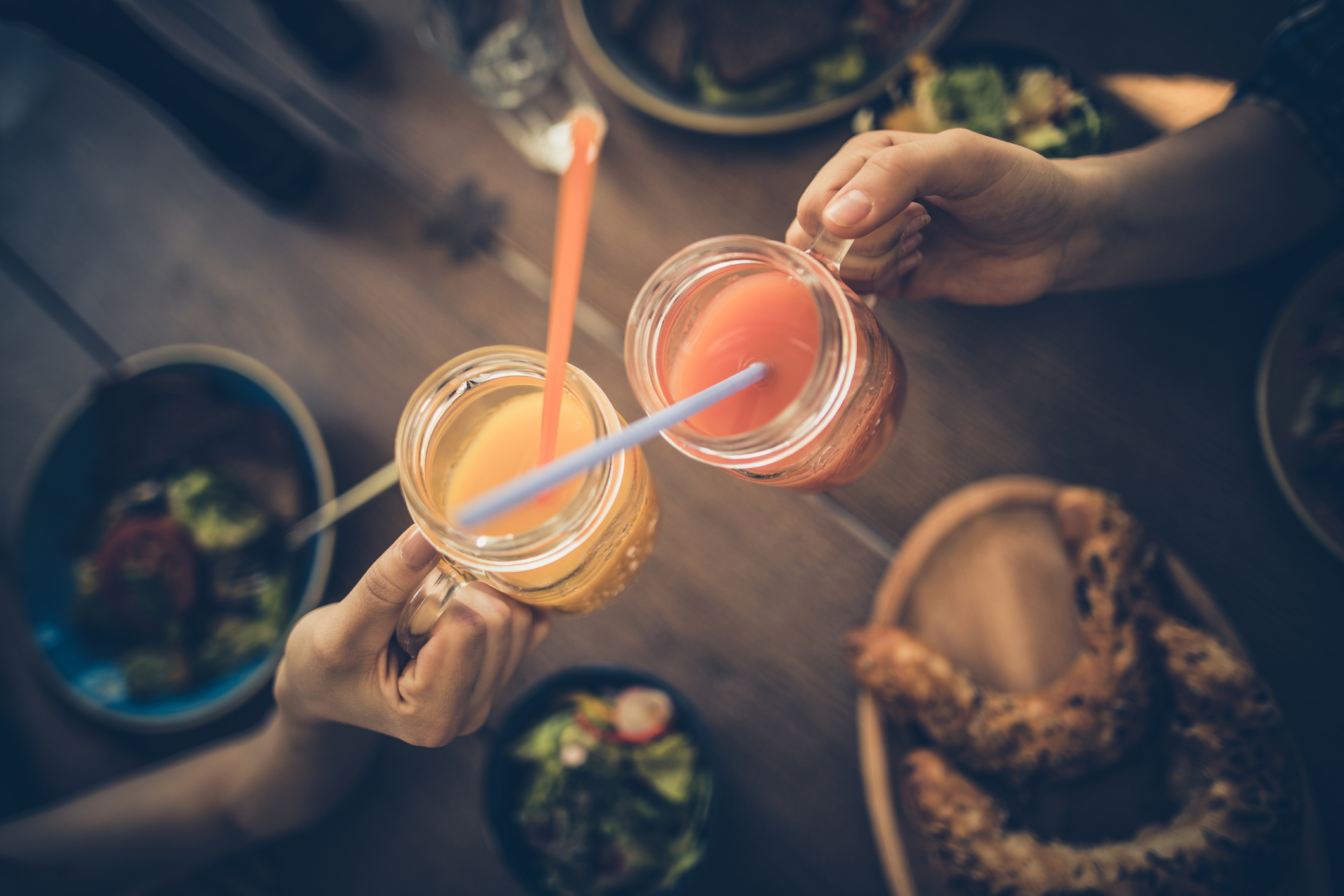 Congratulations, you're pregnant! While you await the arrival of your bundle of joy and sleepless nights, take time to become familiar with the laundry list of restrictions you'll need to keep your unborn baby safe during those nine months. Likely the most well-known restriction placed on pregnant women is the ban on alcohol consumption.
While you may not be able to come home after a long day and break into a bottle of vino, that doesn't mean that date nights, baby showers or even formerly boozy Sunday brunches now have to be a bore. Mocktails may not have the liquor, but these four versions of your favorite can be just as fun and tasty.
Ginger Sour
This recipe uses Canada Dry Ginger Ale in place of whiskey, and it is just as crisp and refreshing as the original. Bonus: the ginger ale can help cut down on nausea from that lovely morning sickness (but really all-day sickness) you may be experiencing. To make this virgin version of a whiskey sour, combine two ounces of lemon simple syrup, two ounces of ginger ale, and a quarter of a shot of grenadine, and pour over crushed ice. Feel free to garnish with a lemon slice and a cherry, and enjoy!
Non-Alcoholic Mint Julep
Dissolve one and one-half cups of sugar in two cups of water and three quarters cup lemon juice for an hour as your first step to making this refreshing drink the whole family will love. Mix until the sugar dissolves and then add a handful of fresh mint leaves. Most people would balk at the idea of a mint julep without alcohol, but that just means they haven't tried this recipe yet. Next, pour the sugar/lemon juice/water mixture over a pitcher of ice after you've discarded the mint leaves. Finally, add four cups of 7-Up and two cups Canada Dry Ginger Ale.
Cool as a Cucumber
This visually pleasing and crisp summer drink would be perfect for a barbecue, garden party or an afternoon baby shower. For each drink, add a half ounce of lemon juice, a few slices of cucumber and two or three mint leaves to an ice-filled shaker, and shake well. Once you've put that mixture into a glass, fill to the top with about six ounces of Canada Dry tonic water.
Rainbow Coconut Spritzer
These coconut mocktails might not have any alcohol, but they sure are pretty to look at and tasty to drink. To make them, simply fill glasses with crushed ice, add any amount of any fruit you would like, including but certainly not limited to berries, cherries, peaches and pineapple, and then add about four ounces of Vita Coco coconut water, followed by a splash of seltzer water such as Perrier or Pellegrino.
Being pregnant doesn't mean you have to miss out on the party or the fun. With mocktails these gorgeous and delicious, you won't even miss the alcohol. Cheers!