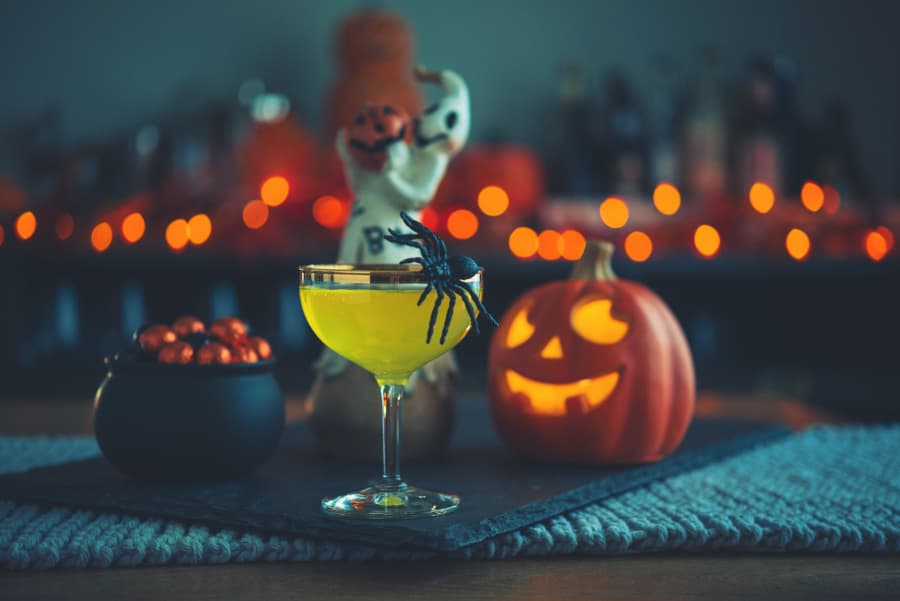 Few fruits define fall and the Halloween season more than pumpkins. From carving them up into your favorite spooky scenes to whipping up inspiring pumpkin pies, it's hard to imagine Halloween without them. That's why Columbia Distributing is spreading seasonal cheer by suggesting some of the most popular Halloween pumpkin drinks, which can all be made with the products we distribute to your local liquor store. Here are just a few ideas that will make this Halloween one to remember.
The Power of Pumpkin Puree
Whether you pick up a can at the store or make your own, consider pumpkin puree as your secret ingredient to unleashing a plethora of Halloween flavor into your cocktails this fall. For instance, with pumpkin puree, you can transform a traditional old-fashioned into a cocktail your friends will be begging for every Halloween. Simply add your favorite bourbon and Grand Marnier, finish it off with a shot of maple syrup, and enjoy while the kids are off trick-or-treating.
You could also use this transformative ingredient to create your very own pumpkin martini, a sweet yet savory treat that everyone at your Halloween party will love. For a taste experience akin to drinking a slice of pumpkin pie, simply pair vanilla vodka and cream liqueur with pumpkin puree, and garnish the glass with a cinnamon sugar rim. Stay on the pumpkin spice trend by combining pumpkin puree, pumpkin and anise liqueurs, triple sec, and whiskey to impress your taste buds.
Using the Whole Pumpkin
One of the trendiest takes on serving Halloween pumpkin drinks is by creating a pumpkin keg. This can be done by cutting off the top of a large pumpkin, removing its seeds and pulp, and rinsing it out thoroughly. Then, use an apple corer to place a tap in the side of the pumpkin's shell, and before you know it, you have a homemade keg that's perfect for your Halloween get-together.
Of course, no keg is complete without a beverage to serve inside. Beer lovers can fill it with a pumpkin-flavored variety, such as the Pumpkin Ale by Kennebunkport Brewing Company, or even a hard cider, like one from Angry Orchard or Avid Cider Company. You could even create your own Halloween punch by combining pumpkin spice vodka, apple cider, club soda, lemon sour mix, and ice. For a non-alcoholic take on this punch, simply omit the pumpkin spice vodka and replace it with pumpkin puree or a pumpkin-flavored syrup.
Something for All Ages
It wouldn't be Halloween without non-alcoholic pumpkin drinks ideal for any member of the family. One recipe not to be missed is pumpkin butterbeer hot chocolate, a creation inspired by Harry Potter. Creamy hot chocolate meets pumpkin puree, homemade butterscotch sauce, and butterscotch cream to make for a mug of magic perfect for a chilly Halloween night. Those of age can even add a shot of their favorite liquor, adding even more warmth and pizzazz to one of America's favorite nights of the year.
Find What You Need
Whichever Halloween pumpkin drinks you decide to make this year, you can find the ingredients you need from Columbia Distributing. You can take advantage of our extensive collection of brands across Oregon, Washington, and California, including alcoholic and non-alcoholic products to fit every taste and need. For more information, contact Columbia Distributing today.