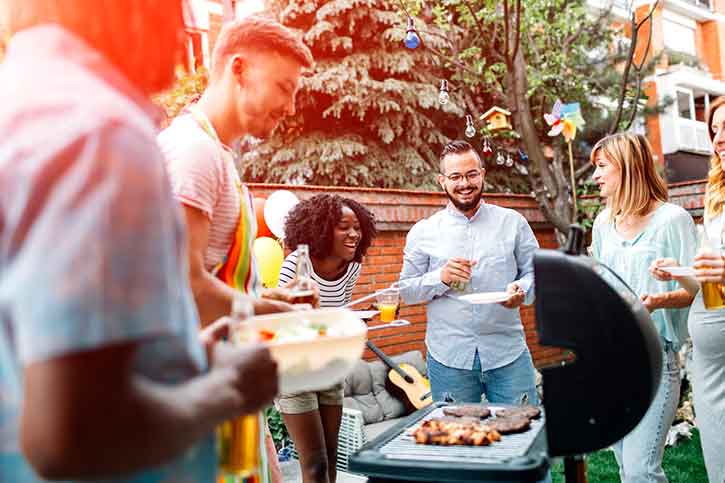 Americans have a love of barbecue that is legendary. Whether it's brats or burgers, Memphis style ribs, or pork shoulder mopped with traditional Eastern North Carolina vinegar sauce, there's a cooking style to meet every taste.
Like barbecue, craft beers aren't pigeon-holed into any one style or location. Craft beers pair with a variety of foods from grilled meats to desserts. Choosing the right beer for barbecue is an art. Eating delicious barbecue while sipping the perfect beer can make any meal memorable.
Let's look at four outstanding craft beer and barbecue pairings that can take your next barbecue to a new level of deliciousness!
1.    Memphis BBQ paired with Santa Monica Brewery Surf Ninja Imperial Stout
Memphis barbecue is big on pork and piles on the dry rub which is typically sweet with just a little heat. "Memphis-style" sauces are usually thin, tomato-based, tangy and sweet
American stouts such as Santa Monica Brewery's Surf Ninja Imperial Stout are the perfect beer for Memphis-style barbecue. They offer a malt-laden flavor that can clear the sugary tang and pair beautifully with the smokiness.
2.    Kansas City BBQ and Garage Project Ayinger Dunkle Weisse
Kansas City barbecue is cooked low and slow over hickory. The sauce is famous for "sticking to the ribs of both animal and man." Tomato-based with brown sugar or molasses, Kansas City sauce is a complex layering of sweet and sometimes spicy flavor.
The beer for Kansas City-style barbecue is a strong roasted malt brew like Garage Project Ayinger Dunkle Weisse. It offers a nice balance between malt sweetness, complementing the molasses, and hop character which emphasizes the spice.
3.    Eastern NC Style BBQ and Waddell's Scottish Ale
Famous for slow pit cooked whole hogs that spend a day over the coals, Eastern North Carolina barbecue uses a vinegar based sauce that lathers the hog, from first heat until it's finished. This all day low-and-slow basting gives the meat a deep rich tanginess with layer after layer of earthy spice.
Scottish ales like Wadell's are the perfect beer for barbecue cooked with a vinegar based mop sauce. It works great with slow-cooked proteins and offers a malty sweetness that pairs well with the sour tang of a vinegar-based sauce.
4.    The "Great American Burger" and New Holland Brewing Dragon's Milk
Who doesn't love a burger? It's a grilling staple! A properly dressed burger gives you four of the five basic tastes: salt (cheese) sour (pickles) sweet (ketchup) and umami (meat). The taste that's missing is bitterness and that's where the beer comes in!
New Holland's Dragon's Milk is a dark stout that features a roasty malt bitterness that mingles with deep vanilla tones. Because it's fermented in bourbon barrels, it also has a delicious oaky taste that compliments any burger.
As a basic rule, contracting flavors work exceptionally well to enhance each other. Much like wine, darker, more robust beers like stouts, porters and IPAs work well with grilled meats. Seafood or chicken often pairs well with light and crisp flavors like wheat or fruit beers.
No matter what grilled goody is your favorite, you can't go wrong pairing it with a delicious craft beer!