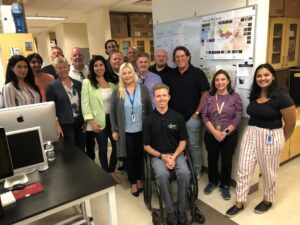 Here at Columbia Distributing, we believe in the power of philanthropy. By partnering with charitable organizations, whether they're international or located right here in our community, we know that we have the power to make a difference. "We're always supporting different causes throughout the year, and we give well over half a million to charitable organizations throughout our service area of Oregon and Washington," explains Lindsi Taylor, Director of Communications and Diversity, Equity & Inclusion Strategy at Columbia Distributing.
Primarily, we focus our philanthropic efforts in the areas of:
Health-Related Research & Services
Education Services & Youth Development
Economic Impact & Growth 
Environmental Stability 
Relief Efforts Within Our Service Footprint
Human & Civil Rights
In 2022, one of our major projects was a partnership with Wings for Life, a not-for-profit research foundation dedicated to finding a cure for spinal cord injury.
About Wings for Life
Wings for Life was created by Red Bull founder Dietrich Mateschitz and motocross world champion Heinz Kinigadner. The pair was motivated to start the charity after an accident left Kinigadner's son, Hannes, as a tetraplegic. Realizing that spinal cord research was drastically underfunded, Mateschitz and Kinigadner partnered with leading scientists to set up Wings for Life and underwrite new studies and clinical trials. Today, all donations made to Wings for Life fund new and ongoing research.
Columbia Distributing was first introduced to Wings for Life by one of its longtime suppliers, Red Bull. "We've worked with Red bull for a number of years, which puts a lot of emphasis on working with athletes who have experienced spinal cord injuries," says Taylor. "So, working with Wings for Life was a natural fit." In 2020, Columbia Distributing made a three-year commitment to support the charity.
Columbia Distributing is a platinum-level sponsor of Wings for Life, financially supporting cutting-edge research into cell therapies that may be able to promote spinal cord repair or slow progressive damage. Through the support of partners like Columbia Distributing, Wings for Life is sponsoring research at Drexel University College of Medicine in Philadelphia, Pennsylvania. The research team is attempting to develop a novel treatment method that will transplant nerve supports called glial cells to the site of a spinal cord injury. The goal of this innovative treatment is to provide new cells that can connect with the injured spinal cord and promote further recovery.
"Wings for Life has become very close to our hearts," Taylor explains. "They're working with a community of doctors to conduct incredible research towards finding a cure for spinal cord injury, while giving hope to many of our teammates who've been touched by it."
Wings for Life World Run
Each year, one of the charity's major fundraisers is the Wings for Life World Run. To build on our existing partnership with Red Bull and Wings for Life, Columbia Distributing participated in the 2022 World Run to further support the organization's research efforts.
Participants all over the world can sign up, and everyone begins the race at the same time. In Oregon, that meant Columbia Distributing employees began this year's run before dawn, starting at 4:00 a.m.
The race is open to anyone aged 18 or over, from beginners to professional athletes. Participants can set a personal goal and run as far as they'd like until a virtual Catcher Car passes them. While runners and wheelchair users can participate from anywhere, there are also Flagship Runs in multiple countries for those who want to run with a group. Groups of runners can register as a team and the results are posted on the World Run website.
Because Red Bull covers the administrative costs of the run, 100% of all entry fees go toward finding a cure for spinal cord injury.
This year's race, which took place on May 8th, 2022, had over 161,000 participants worldwide. Altogether, runners and supporters raised $4.9 million for spinal cord research.
Columbia Distributing employees will be participating in next year's Wings for Life World Run as well, which will be held in May 2023.
Learn More About Philanthropy at Columbia Distributing
In addition to Wings for Life, Columbia Distributing has supported health advocacy organizations such as the American Cancer Society, Ronald McDonald House Charities, and St. Jude Children's Hospital. We also encourage our teammates to volunteer in their communities as well, setting aside company time for each full-time employee to allocate towards volunteer efforts.
Organizations aligned with our focus areas are welcome to complete our Charity Partner Application. To learn more about our services, partnerships, and philanthropic giving, contact Columbia Distributing today.