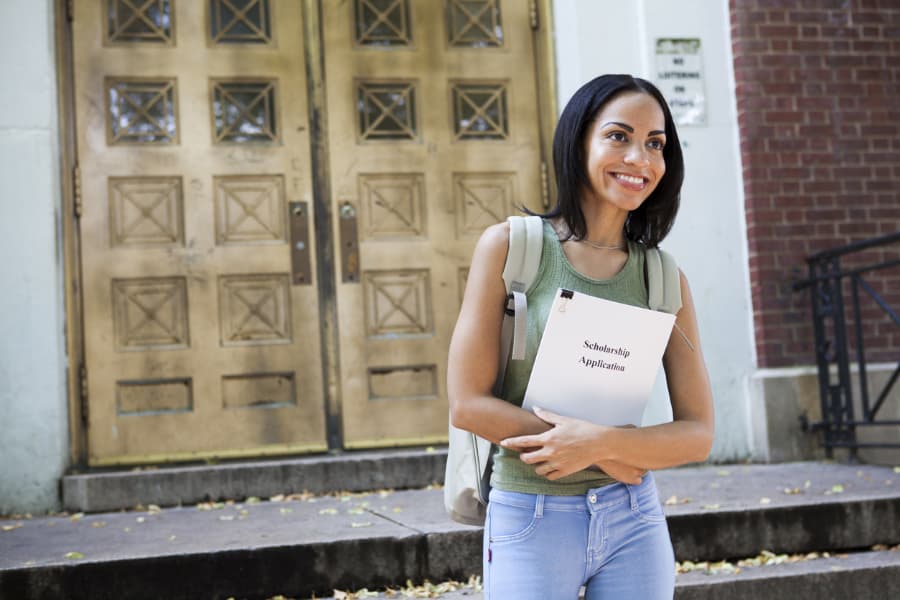 Philanthropy with its charity partners is not new to Columbia Distributing. "We are a 90-year-old company, and everywhere we've done business, we have also given back to the community," says Lindsi Taylor, director of corporate communications. The company also gives back to its employees and has awarded two $10,000 educational scholarships to dependents of full-time team members for the last four years.
Columbia Distributing Scholarship Program
For the 2022-2023 academic year, the scholarships have been awarded to Kannon Jacobson in Washington State and Sophia Mann in Oregon. Columbia Distributing has warehouses throughout Washington, and Oregon, and a Santa Rosa location in California. "We have a small footprint in California, so we combine Oregon and California applicants for one of the scholarships," says Taylor.
Recipients must be dependent children or grandchildren of full-time employees. In this case, a dependent is defined as a biological, step, or legally adopted child that lives in the employee's household or is primarily supported by the employee. However, dependents of the executive and senior leadership team members at Columbia Distributing are excluded from eligibility. The application process opens in the fall and is completed by early winter.
Scholarship applicants must be 26 or under and already be enrolled or plan to enroll in an accredited two- or four-year college, university, or technical school for the entire academic year for which the scholarship is awarded. "You can be a freshman in college. It's not open to only high school seniors looking to get into college," says Taylor. "And it's not only for college, but it can also be for a trade school. We didn't want to pigeonhole the scholarships to college because we know there are a lot of people who don't want to go to college and may want to go to a trade school instead."
Selection Process for Educational Scholarships
"We work with Scholarship America to administer the application process online," says Taylor. Using a third party to vet the applications ensures due diligence. Scholarship America works with the human resources department at Columbia Distributing to verify that employees and their dependents meet the criteria for participation.
"They also look at transcripts, recommendations, answers to essay questions, and resumes provided by applicants," adds Taylor. Applicants must have a grade point average of 3.0 on the 4.0 scale or its equivalent.
The third-party company provides 10 finalists to an internal group comprised of seven to 10 judges at Columbia Distributing. This panel of judges examines all information submitted with the applications and uses a standardized system to score each application.  "That is all rolled up to me," says Taylor. "I crunch all the numbers and come up with the averages, and the highest score is awarded the $10,000 scholarship."
The scholarships are a one-time award, so past recipients are not eligible to reapply. However, applicants are invited to try again the next year. "We do open it back up to people who have not been selected," says Taylor.
Value Placed on Education and Community
Columbia Distributing has a strong commitment to the community and provides accessible education for the workforce of tomorrow. Current employees at the company are not eligible for the scholarships, but the company makes other educational assistance available to team members. Recently, the company reviewed its philanthropic guidelines. "We took the pulse of our organization to understand where the collective energy is around various areas where we can give," says Taylor. "It all bubbles up into five focus areas for giving."
The five general areas include:
Health-related research and services
Education services and youth development
Economic impact and growth
Environmental stability
Human and civil rights
Volunteer Opportunities for Employees at Columbia Distributing
"We advocate, not only for giving a financial donation, but also we offer our employees volunteering hours," says Taylor. Every full-time teammate at Columbia Distributing has 12 hours of volunteer time that they are encouraged to use per calendar year. Employees go out on company time, Taylor emphasizes. "This isn't weekends, it's taking roughly a day and a half off to volunteer, on your own, to any organization with a 501(c)3 status," she says.
Company departments also volunteer together and make it a group activity. "Columbia Distributing allows our teams to give financially and also give of their time," says Taylor. 
Discover Philanthropy at Columbia Distributing
To learn more about the annual educational scholarship program for dependents of employees and other charitable projects, contact Columbia Distributing for more information.