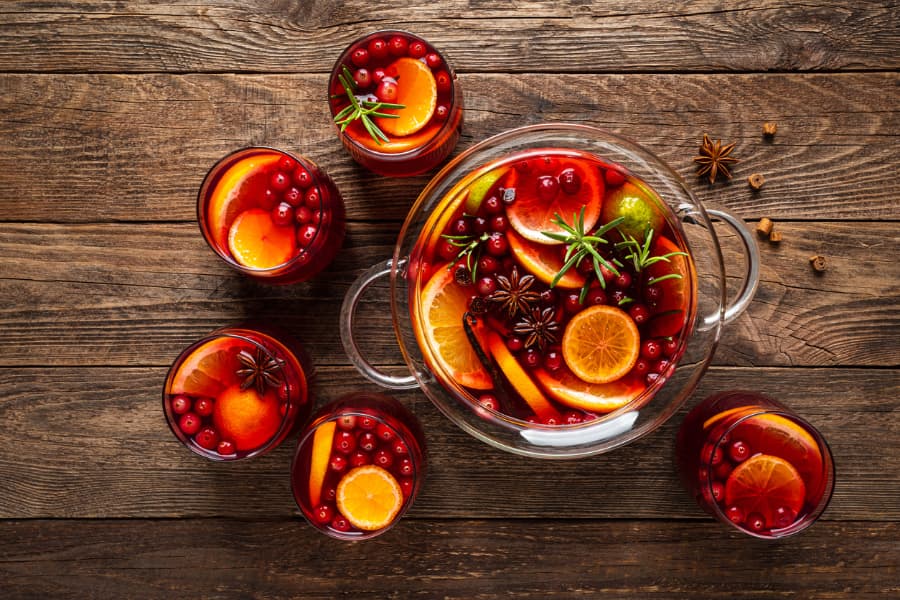 For many people, the holiday season is synonymous with party season. If you find yourself hosting a festive event this year, make life a little easier with these make-ahead cocktails. Communal bowls of cheer have been a holiday tradition for centuries, and Columbia Distributing's holiday punch ideas will allow you to easily prepare recipes in advance so you can spend more time with your guests and family. Find some of our favorite recipes here.
Mulled Wine
Sometimes called glögg, glühwein, or vin brulé, mulled wine is an international holiday classic. Many countries have put their own spin on this warm punch over the years, and it's especially popular at European Christmas markets. Make mulled wine at home by combining the ingredients below in a large saucepan:
1 bottle of Unshackled Cabernet Sauvignon
1 orange, sliced into rounds
2 cinnamon sticks
2 star anise
2 to 4 tbsp. sweetener (sugar, honey, or maple syrup)
Next, stir the mixture and cook on a very low simmer for 15 minutes or up to 3 hours. When finished, strain your mulled wine using a fine-mesh strainer, discard the oranges and spices, and serve! If desired, it's common to give this cocktail a little extra kick with a shot of brandy. Try Copper & Kings American Craft Brandy for a little extra warmth.
Sparkling Christmas Punch
If you're looking for a refreshing holiday drink, this punch is the one for you. Combining crisp sweetness with pleasant fizz, this punch is sure to be a hit. Start by filling a large punch bowl with ice, then top with the following ingredients:
Finally, simply stir your punch gently to combine the ingredients, and then serve it in your favorite party glassware!
Pomegranate-Ginger Paloma
This pitcher cocktail is sure to please a tequila-loving crowd. A spin on the traditional paloma, this yuletide twist brings the sweet and spicy holiday flavors of pomegranate and ginger to the party. To make this cocktail, combine the following ingredients in a large pitcher and mix well:
Chill the combined ingredients. When you're ready to serve, pour your paloma over fresh ice, top with Jones Ginger Beer, and enjoy!
Mix Up Something Sweet This Holiday Season with Columbia Distributing
Holiday get-togethers are a staple of the season. Whether celebrating with coworkers, family, or friends, these holiday punch ideas are great for serving crowds of any size. You can easily stock up on wine, spirits, mixers, and more by shopping with retailers that carry brands from Columbia Distributing. Offering a robust roster of beverages to Oregon, Washington, and California, Columbia Distributing has everything you need to make this holiday season special. Contact us today for more information.