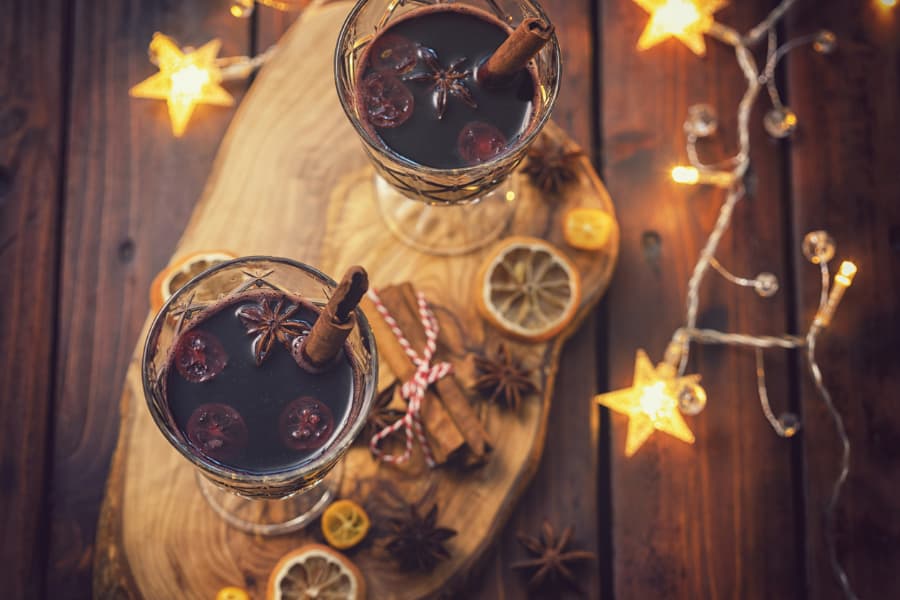 The days are getting shorter and the weather is cooling down, so why not curl up on the couch with a warm drink, or organize a holiday gathering complete with a few, delicious winter cocktails? If you want to spice up your holiday season, check out these winter cocktails that you can make with the spirits and liqueurs you'll find at one of the thousands of retailers working with Columbia Distributing.
Frosty Treats
When most people picture winter cocktails, they picture warm, citrusy drinks. And while we certainly have a few great warm cocktail ideas for you, one sure-fire way to spice up a holiday party is to introduce some cold and blended cocktails into the mix:
Gingerbread Eggnog: Combine eggnog, vodka, Kahlúa, a pinch of ginger, and molasses in a cocktail shaker full of ice. Line the rims of your cocktail glasses with molasses and dip them in cinnamon sugar for garnish. Pour the contents of the shaker out equally into your glasses, and then top them with whipped cream and drizzled molasses.
Mistletoe Margaritas: In a medium bowl, toss cranberries with a cup of lime juice. Drain out lime juice, and toss with granulated sugar. Pour onto a baking sheet to dry. Then, combine cranberry juice, tequila, triple sec, lime juice, and ice in a big blender. Blend the ingredients until they are smooth. Pour the contents of the blender into sugar-rimmed cocktail glasses and garnish with a sprig of mint and a couple of sugared cranberries.
Columbia Distributing carries a wide selection of spirits that will partner perfectly with cold and blended winter treats. Pay tribute to Frosty the Snowman with a few chilly drinks, or warm up with a few warm, winter cocktails.
Toasty Treats
If you're catering an event or organizing the family Christmas party, winter cocktails are a must-have. Having the perfect, warm holiday drink can bring any gathering to life. Bring out the serving tray and festive glasses and serve up one or both of these delicious favorites:
Rumchata Hot Chocolate: Bring milk to a simmer in a small saucepan over medium heat. Whisk in sugar and cocoa powder and stir until everything is smooth. Then, stir in chocolate chips and vanilla and cook. Be sure to occasionally stir the ingredients. Cook until the chocolate is completely melted. Stir in Rumchata, and then turn off the heat. Next, pour caramel into a small dish. Dip your drink cups in the caramel to coat the rim. Pour the hot chocolate into each glass, then top them with whipped cream, a sprinkle of cinnamon sugar, more caramel, and a cinnamon stick.
Irish Coffee: Fill your serving mugs with hot water and let them sit for 2 minutes. Pour out water and add light brown sugar to each mug. Pour in hot coffee and stir to dissolve the sugar. After the sugar is dissolved, pour in the whiskey. In a separate bowl, with a mixer or by hand, whisk cream until soft peaks form. The cream should be thick but still pourable. Top the coffee with cream by carefully pouring over the back of a warm spoon to form a thick layer on top of the coffee. Garnish with chocolate shavings.
Don't let the cold weather get you down. Get together a few friends and loved ones, sing some carols, and serve up some delicious, unique cocktails that are sure to please your winter-ready crew.
We Can Help Make the Winter Festive and Bright
Our portfolio of beverages is ever-expanding and we have just what you need to make your catered event or family party memorable. Check out the spirits we carry and contact us today to learn more about what we offer.