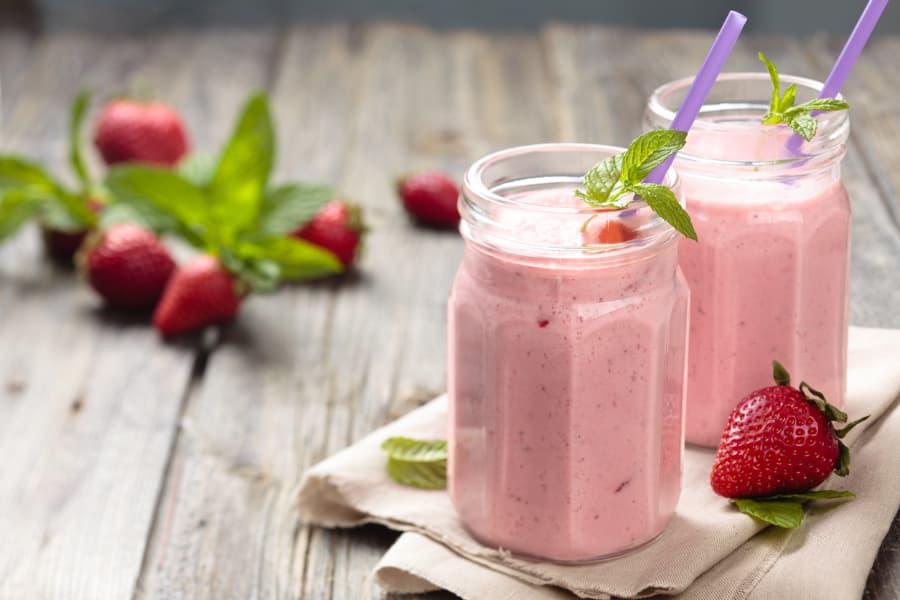 Tequila is made from a variety of brands and is the heart of many cocktail recipes, such as the ever-popular margarita. But did you know that it comes in a sweet, delicious cream liqueur? If you haven't tried Tequila Rose yet, you're in for a real treat. Here, Columbia Distributing discusses this delight and the many ways it can be enjoyed.
What Is Tequila Rose?
Tequila Rose (15% ABV) is a premium Mexican cream liqueur, which is a unique pairing. It's made with strawberry cream and a splash of tequila to create a sweet, delightful treat on its own, on the rocks, or in a cocktail. This beverage is perfect for those who prefer just a hint of alcohol. The fruity cream flavor dominates the beverage profile, leaving a subtle taste of tequila as an afterthought.
The original Tequila Rose is best served chilled. It's bottled in dark glass to minimize light exposure, ensuring each purchase is fresh and flavorful. Best of all, the floral print on the glass lets you know when it's ready to drink. Simply put your bottle in the refrigerator and wait for the roses to turn from silver to pink. As a general note, its freshness depends on how you store it. Tequila Rose should look smooth and pink when poured into a glass.
What Makes Tequila Rose Unique?
Tequila Rose tastes great on its own or as a drink ingredient with additional mixers and other types of alcohol. The flavor profile can turn almost any beverage into a fun, fruity delight. Plus, it's easy to vary the original recipe to suit your taste, offering new and exciting options for those in favor of this delicious liqueur. Tequila Rose goes especially well with coffee, chocolate, baked goods, and other types of alcohol, such as:
Flavored vodka
Coconut rum
Spiced rum
Amaretto
Coffee liqueur
Chocolate liqueur
Irish cream liqueur
Herb liqueur
Rhubarb liqueur
Bergamot liqueur
Jose Cuervo
Kahlua
With a beverage so versatile in your liquor cabinet, it's easy to find a fun way to enjoy it. It's the perfect drink to experiment with flavors that might satisfy your sweet tooth.
What to Mix with Tequila Rose
Tequila Rose is a great choice for Valentine's Day cocktails, spiked Christmas cocoa, and many decadent desserts. You can even pair it with a strawberry margarita mix to create an even fruitier take on your favorite recipe. In terms of mixers, just about anything goes. Popular Tequila Rose recipes include ingredients like:
Coconut cream
Vanilla ice cream or custard
Half and half
Almond milk
Earl grey tea
Orange bitters
Grenadine
Strawberry jelly and peanut butter
Other fruits, like melon and watermelon
While not made with real fruit, Tequila Rose naturally tastes similar to a strawberry milkshake. If you're unsure where to start, simply prepare a milkshake or smoothie, add a little of the liqueur, and enjoy.
Syrups and Toppings for Tequila Rose Drinks
Tequila Rose recipes incorporate several different syrups into the mix. When creating a concoction from scratch, think about how the syrup will play into the overall taste. Will it add greater depth to the beverage profile, or does it just need to offset some of the more bitter ingredients? Some add-ons to try in your drinks include:
Butterscotch syrup
Maple syrup
Date syrup
Crystallized ginger syrup
Chocolate syrup
Simple syrup (a tried-and-true-favorite)
Don't forget to finish your Tequila Rose drink with a festive garnish or topping. This helps make every glass as pleasing to the eye as it is to the palate. Get creative with toppings, such as:
Whipped cream
Springs of thyme
Fresh fruit slices
Chocolate shavings
Cookie or candy bar bits
Cinnamon
Sprinkles
How to Use Tequila Rose in Desserts
Tequila Rose can be incorporated into desserts in many ways. Whether you're hosting a birthday party or a casual get-together, preparing a treat that uses strawberry cream liqueur brings something special to the table. Tasty desserts with Tequila Rose can include:
Vanilla or chocolate pudding
Cupcakes
Cake
Buttercream frosting
Strawberry shortcake
Truffles
For an effortless dessert, try making chocolate-covered strawberries from fruit that's been soaked in the liqueur.
Stock Up On Beverages with Columbia Distributing
Let us help you with all your beverage needs. Columbia Distributing serves businesses across Washington and Oregon, ensuring the shelves are stocked for customers who like Tequila Rose cocktails and other drinks. We offer an extensive selection of craft beer, wine, spirits, and non-alcoholic beverages. For more information about the brands we carry, contact us today.