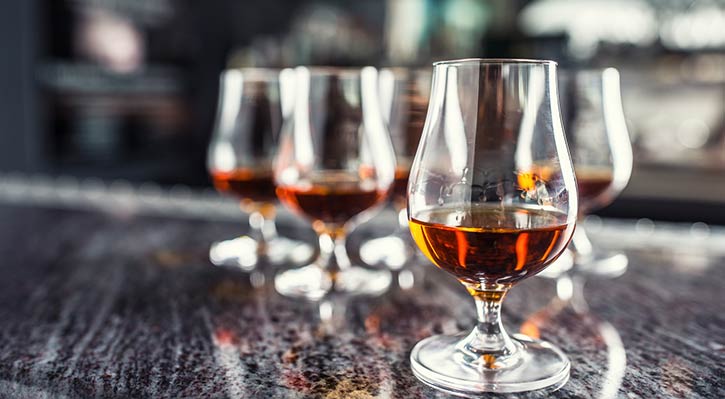 When you imagine brandy, images of after dinner drinks and sophisticated gatherings may come to mind. And while the spirit certainly can be savored in those circumstances, brandy has seen a resurgence in popularity over the last few years, making it more accessible than ever. If you're curious about brandy, but unsure about where to start, Columbia Distributing offers a few tips to help you explore everything you need to know before choosing a bottle or two you'll enjoy.
Understanding Different Types of Brandy
Brandy typically describes distilled spirits made from fermented fruit. Grapes are commonly used, but apples, pears and cherries are other popular options. French brandies are among the most popular types, including:
Cognac: Only brandy made in the Cognac region of France may be called cognac. It's characterized by its depth of flavor and notes of fruit and oak.
Armagnac: Originating from the French region of the same name, Armagnac offers a fruitier taste with hints of caramel and toffee. Its alcohol content is usually somewhat higher than cognac.
Other common brandies include Brandy de Jerez, a Spanish variation made with the same grapes that create sherry, Calvados, a French apple brandy, and Pisco, originating from South America. You'll also want to try American brandy – while these varieties were once considered inferior to their French counterparts, a number of high-quality options are available to sample today.
The Aging Process
Age is more than just a number when it comes to brandy. The spirit is aged in wood barrels, which impart their own flavor notes, as well as deepening the spirit's color and aroma. Each bottle should bear one of the labels below, letting you know how long the brandy was aged:
Very Special (VS): Aged at least two years
Very Special Old Pale (VSOP): Aged four or more years
Extra Old (XO): Aged a minimum of six years
Hors d'âge: Aged at least 30 years – the French term means "beyond age"
Serving Brandy
If you prefer your spirits straight or are opening bottle that's aged for a longer period, you'll enjoy sipping brandy neat from a snifter. These glasses feature a wide base that allows alcohol to escape, accentuating the spirit's scent while the narrow mouth brings the activated aromas to your nose. In general, brandy is best when served at room temperature.
If you prefer cocktails to drinking spirits neat, brandy is a key ingredient in several delicious mixed drinks. The drinks below will bring out the best in less aged brandies but can be made with whichever type you prefer.
Sidecar
This classic brandy cocktail is easy to make and refreshing any time. You'll need:
2 ounces brandy (cognac or Armagnac preferred)
1 ounce orange liqueur
¾ ounce lemon juice
Lemon twist for garnish
Pour all the ingredients into a cocktail shaker with ice. Shake well and serve in a chilled cocktail glass.
View Carré
Looking for a sophisticated cocktail for elegant occasions? You can't go wrong with the Vieux Carré.
1 ounce brandy
1 ounce rye whiskey
1 ounce sweet vermouth
¼ oz Benedictine
2 dashes each of Angostura and Peychaud's bitters
Combine ingredients over ice in a cocktail glass. Stir to combine.
Brandy Milk Punch
Rich, creamy and delicious, milk punch makes a great holiday treat.
2 ounces milk
2 ounces heavy cream
1 ½ ounces brandy
1 ounce simple syrup
½ tsp vanilla extract
Nutmeg to taste
Shake up ingredients with ice, then strain into a chilled glass and top with nutmeg.
Your Source for High-Quality Brandy
There are many different ways to enjoy brandy, and now that you know more about this spirit, you're prepared to find the varieties you enjoy most. To learn more about brandy and the other spirits we offer, contact Columbia Distributing today. Our experienced team will help determine which spirits are best suited to your needs, as well as guide you through our large selection of alcoholic and nonalcoholic beverages.