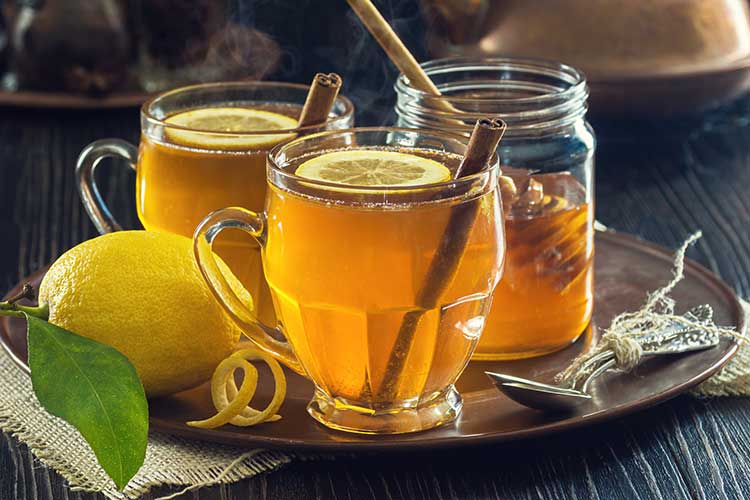 When cold and flu season rears its head, many people turn to cough syrup and other over-the-counter remedies to find relief. However, did you know there's a traditional drink that's been consumed for over two centuries and is said to help alleviate cold symptoms? It's called the hot toddy.
What's a Hot Toddy?
The hot toddy is a mixed drink traditionally made of alcohol, water, honey, lemon juice, herbs and spices. While recipes may vary, the hot toddy is usually drunk as a nightcap, as a way to warm up in wet or cold weather or as needed when cold and flu symptoms kick in.
Each ingredient in a hot toddy provides its own health benefit. The alcohol serves as a decongestant, while the honey helps soothe sore throats. The lemon juice provides a healthy dose of vitamin C. Plus, the water provides much-needed hydration, while the herbs and spices you choose to incorporate can boost the immune system and help clear up a host of other symptoms.
Modern Twists on a Classic Cocktail
While the hot toddy was traditionally made from whiskey, modern takes on this old-timey beverage can call for apple cider, tea and other unique ingredients. Here are some hot toddy recipes perfect for the colder months:
Apple Cider Rooibos Hot Toddy: This recipe combines apple juice, lemon juice, cinnamon, fresh ginger and rooibos tea for a hearty kick.
Healing Hot Toddy: Juniper berries, chili flakes and anise set this nonalcoholic hot toddy apart from the pack.
Hot Apple and Cinnamon Toddy: Reminiscent of warm apple pie, this hot toddy recipe uses apple cider, cinnamon, lemon juice, cloves and ginger.
Beat the cold season by adding a hot toddy recipe to your winter drink menu. Find everything you need to recreate your favorite hot toddy recipe from Columbia Distributing. We offer a range of alcoholic and nonalcoholic brands to meet your specifications. Contact us today to learn more.