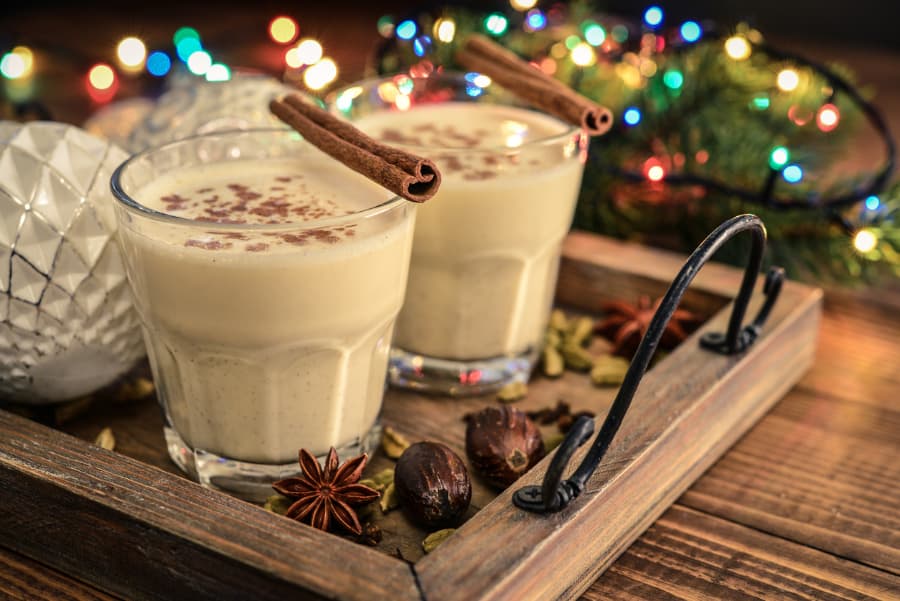 When you think of classic holiday cocktails, eggnog drinks are surely at the top of that list. For years, eggnog has been at the center of holiday traditions around the world. If you're looking for some new ways to sip on eggnog this season, we have you covered. Here, Columbia Distributing, a premier Northwest beverage distributor, discusses both classic and inventive ways to enjoy eggnog with some of the alcoholic beverages we distribute across the West Coast.
Enjoy Eggnog the Classic Way
Eggnog made its first appearance in the American colonies as far back as the 18th century when both eggs and rum were abundant. Offering rich warmth, this creamy drink became a staple of the holidays, especially with the addition of flavors that embody the winter season like cinnamon, nutmeg, and vanilla bean. To make a traditional eggnog base, follow these steps:
1. Begin by whisking these ingredients in a bowl until combined:

2 large eggs
1 egg yolk
½ cup sugar

2. Heat 2½ cups of milk and ½ cup of heavy cream in a medium saucepan over medium heat. Do not boil.
3. Remove from heat.
4. Whisk 1 cup of the hot milk mixture into the egg mixture.
5. Whisk the egg mixture back into the saucepan.
6. Cook over medium heat, stirring occasionally until the mixture has thickened and the temperature reaches 165 degrees.
7. Strain this mixture through a fine-mesh strainer into a large bowl.
8. Stir in ½ tsp of vanilla extract and ¼ tsp of grated nutmeg.
9. Let cool at room temperature for one hour.
10. Cover and refrigerate for at least two hours.
11. Whisk ½ cup more of heavy cream in a large bowl until stiffened.
12. Slowly whisk the whipped cream into your chilled eggnog.
Now, whisk in ½ cup of The Real McCoy 5 Year Single Blended Rum or Copper & Kings American Craft Brandy, pour into glasses, garnish with additional nutmeg and a cinnamon stick, and enjoy the fruits of your labor!
Inventive Eggnog Variations
The great thing about this base eggnog recipe is you can mix up a batch ahead of time, store it in your fridge, and make it your own when you're ready to imbibe. Try one of these eggnog variations for something new this holiday season:
Butterscotch Eggnog
Not a fan of the traditional rum or brandy? Substitute Dunrobin Blended Scotch Whiskey for eggnog with an interesting twist.
Maple Bourbon Eggnog
If you're looking for a rich, creamy drink with sweet, Southern flair, this is the eggnog for you. Simply substitute ½ cup of maple syrup in place of sugar and Belle Meade Bourbon as your spirit of choice. You can even go the extra mile and cook up some crispy bacon to use for a garnish.
Add Your Spin on Eggnog with Columbia Distributing
Eggnog is a labor of love, but it lends itself well to a variety of flavors and allows you to prepare something more traditional or get creative this holiday season. Whether your spirit of choice is rum, brandy, scotch, or bourbon, Columbia Distributing can easily help you achieve the festive flavor you're thirsting for. To explore all the options Columbia Distributing has to offer the Northwest, check out our robust roster of products or contact us today.