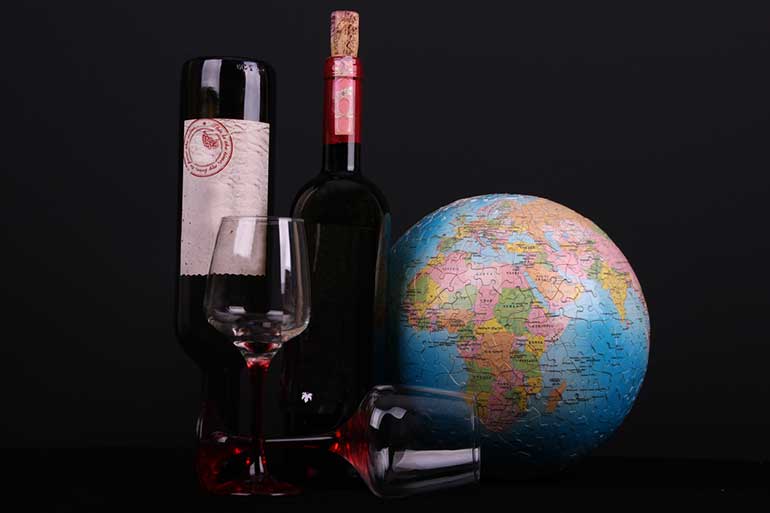 Dozens of countries across the globe grow grapes and produce wine, but which can be called the best of the best? While you'll find standout wines from every country, Columbia Distributing has identified the top three wine countries in the world. Chosen for their extensive history and notable varietals, these nations offer timeless wines and exciting new options to explore. Whether you're new to wine or an experienced connoisseur, we'll cover the essentials on grapes and wine from each of these countries.
France
Competing with Italy for the wine region with the highest production in the world, France's rich history in cultivating grapes and winemaking dates back to Roman times. Its wide range of flavors is as diverse as the climates and landscapes of each of its regions and sub-regions. Here are some quick facts:
Main Regions: Champagne, Bordeaux, Burgundy, Alsace and Rhone Valley
Major Grapes: Sauvignon Blanc, Gamay, Pinot Noir, Cabernet Franc, Cabernet Sauvignon, Chardonnay, Syrah and Merlot
Our Brand to Try: We carry creations from Clos du Bois Winery & Tasting Room, which feature French-style, elegant winemaking and homegrown grapes.
Italy
France's closest rival, Italy sits at the top of the list as one of the most food-friendly wine countries on the planet. Its unique topography allows Italy to harvest roughly 350 different varieties of grapes, and in 2018 alone, it produced over six billion bottles. Here's what else you should know:
Main Regions: Tuscany, Veneto, Sicily, Lombardy, Abruzzo, Apulia, Umbria and Piedmont
Major Grapes: Prosecco, Pinot Grigio, Trebbiano Toscano, Merlot and Sangiovese
Our Brand to Try: All Rosatello Wines – Rosso, Rosé, Moscato and Sparkling Rosé – are made from grapes that grow in Italy and offer sweet and refreshing tastes.
Spain
With 2.9 million acres of vineyards, Spain consistently makes the list of one of the most popular and active wine countries. It's famous for a Mediterranean climate that produces excellent quality and premium flavors. Here are some more useful tidbits:
Main Regions: Riojia, Penedès, Priorat, Ribera del Duero, Valencia, Navarra and La Mancha
Major Grapes: Garnacha, Monastrell, Bobal, Tempranillo and Airén
Our Brand to Try: Red Guitar produces two Spanish-style wines that celebrate the culture they came from – Traditional Sangria and Old Vine Tempranillo Garnacha.
Explore a World of Wine
Whether you're seeking wines from around the world, craft beer or nonalcoholic drinks, you'll find everything you need at Columbia Distributing. We offer customers throughout California, Oregon and Washington a premier selection of beverages, and our portfolio is always expanding. Contact us today to learn more about our products and commitment to customer satisfaction.