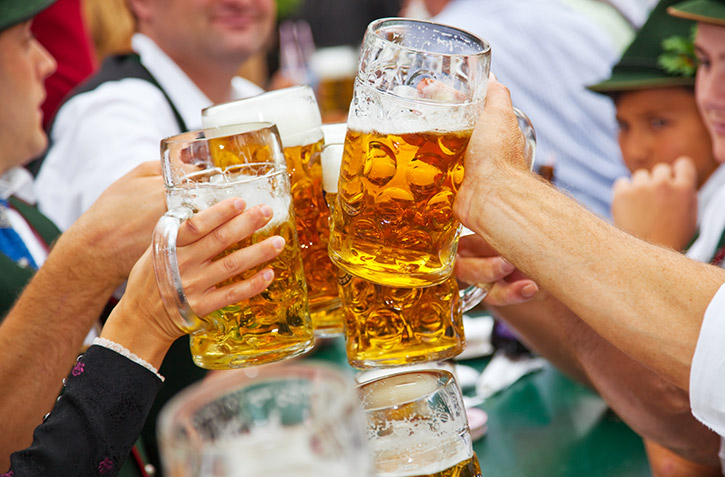 What would you say if you could travel to Mexico, Germany, Ireland and Japan all in one day? With a cold import beer in hand, now you can. Columbia Distributing – one of the largest beverage distributors in the U.S. – offers a large selection of import beers from all around the world. Relax, take a sip and be transported to lands far away.
Belgium
First on your trip around the world is Belgium. Welcome to beer country – there's over 180 breweries in this relatively small European country. From pale lagers to lambic beers, there are plenty of brews for you to choose from. Some Belgium breweries include Maredsous, La Chouffe, Duvel and Chimay.
China
You might not think of China as a major exporter of beer, but beer in this Asian country has seen an increase in popularity over the last century. You'll most likely come across pale lagers with varying degrees of hop bitterness from brands such as Lucky Buddha and Tsingtao.
England
Back in the U.K., England is brewing up a variety of English beer styles, like bitter, mild, brown ale and old ale. You're also likely to come across stouts, porters and India Pale Ales (IPAs) in this beer-brewing country. Brands include Fuller's, Newcastle and Foster's.
Germany
Head east to Germany, and you'll run into some delectable German beer. As part of German culture, these types of brews are only allowed to use water, hops and malt. Wheat, pale and dark beers are common, and can be found by brands like Warsteiner, Konig Ludwig and Bitburger.
Ireland
Next on your world travels is Irish beer. Lager and stouts account for the majority of beer brewed in Ireland. Just saying the words, "Irish" and "beer," probably has you thinking about a tall glass of Guinness. Other Irish beers to try include Murphy's, O'Hara's and Kilkenny.
Japan
In Japan, Pilsner-style lagers are the most commonly produced beer. You should have no trouble finding pale-colored, light lagers from GINGA KOGEN, Sapporo and Asahi.
Mexico
For the final stop on your international brew tour, visit our neighbor to the south. Mexico is famous for extremely pale cerveza – the Spanish word for beer. In addition to Corona, Mexican beer brands include Dos Equis, Tecate, Sol, Modelo Negra and Modelo Especial.
Take your customers on an international beverage journey with imported beer from Columbia Distributing. To learn all about the brews we distribute, contact us today.