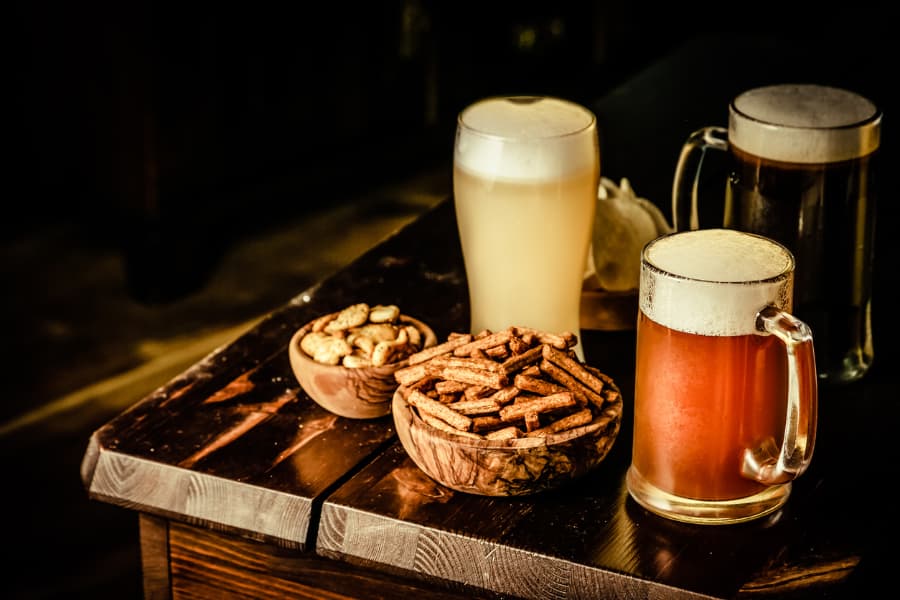 Craft beer's rise in popularity over the past couple of decades has brought an abundance of styles with it. That means finding the perfect brew is easier than ever when the weather transitions from hot summer days to cooler fall evenings. From IPAs to stouts, there's no shortage of selection to suit any mood. Here, Columbia Distributing explores different selections to satisfy your palate from Portland, Oregon; Santa Rosa, California; and Seattle, Washington.
Oregon Beers
Portland, Oregon, is a great source of craft beers to match any season. One of the top brands in the region is Migration Brewing. This brewery delivers a broad selection of beers, including the aggressively hoppy Fresh Outta Portland IPA, which is perfect for a hot sunny day with its herbal, pine, resin, and citrus flavors.
If you're looking for something a little less hoppy, but still perfect for warm days, Migration Patio Ale might fit the bill. Layers of passion fruit, pineapple, and grapefruit give this American pale ale a light and dry mouthful, making it perfect for sipping while spending time outdoors.
For when the weather turns chilly, Migration Brewing's Westward Frankie is for you. This imperial stout features deep flavors of chocolate, coffee, and roasted grain.
California Beers
The Russian River Brewing Company in Santa Rosa, California, is another brand that crafts tasty brews perfect for matching any weather, mood, or temperature.
For early fall days when it's warm and you need something refreshing, try their Sanctification Brett beer. Technically, this is neither ale nor lager. The base recipe is for a golden ale, but then primary fermentation is done with 100% Brettanomyces, which is a wild yeast that gives the beer some sour notes.
If it's a hoppy beer you're looking for to pair with a warm day, Russian River has you covered with their Happy Hops American IPA. This brew features an immense hop flavor and aroma with only a mild bitterness.
For pairing with cooler and rainy days, look no further than Russian River's Supplication. This brown ale is aged in pinot noir barrels sourced from local Sonoma County wineries. It's aged for about 12 months with sour cherries, Brettanomyces, Lactobacillus, and Pediococcus added to each barrel. The flavors from the cherries, pinot noir, and oak balance each other out while the Brett adds a little funkiness to the brew.
Finally, when the autumn weather really starts to turn cold, you'll want a full-bodied brew that you can sip while sitting next to a fire. Russian River's Consecration is perfect for that. This dark ale is aged four to eight months in cabernet sauvignon barrels with black currants, Brettanomyces, Lactobacillus, and Pediococcus. This all translates to rich flavors of chocolate truffle, spice, tobacco, currants, and a hint of cabernet.
Washington Beers
When the weather starts to turn cooler in September and October, many beer drinkers seek out pumpkin beers. One Pacific Northwest brewery worth checking out that offers a pumpkin ale is Ghostfish Brewing Co. in Seattle. The brewery's Lunar Harvest Pumpkin Ale features a mix of fall spices and pumpkin puree, all blended seamlessly with the natural spices and fruity esters brought out from the Belgian yeast used to make the ale.
If you're not quite ready to dive into the flavors of fall, Ghostfish offers up their Grapefruit IPA. Brewed with a blend of Cascade and Horizon hops, and then dry-hopped with Altus hops, this American IPA is a citrus bomb. Its lively and bright flavors with pungent grapefruit aroma are sure to be refreshing on warmer days.
When the nights turn cool, you'll want a brew that's darker and has a fuller body. The Watchstander Stout from Ghostfish is perfect for sipping around a campfire. Dark roasts of malted millet, buckwheat, and brown rice give this brew hints of dark chocolate, toasted marshmallow, and coffee.
Find the Perfect Brew Today
Whether you're clinging onto the last bits of summer with a citrusy IPA or looking to curl up under a blanket with your favorite stout as autumn starts to settle in, Columbia Distributing has you covered. We serve Oregon, Washington, and California with a variety of beers, ciders, liquors, and more. Contact us today to find your perfect brew.