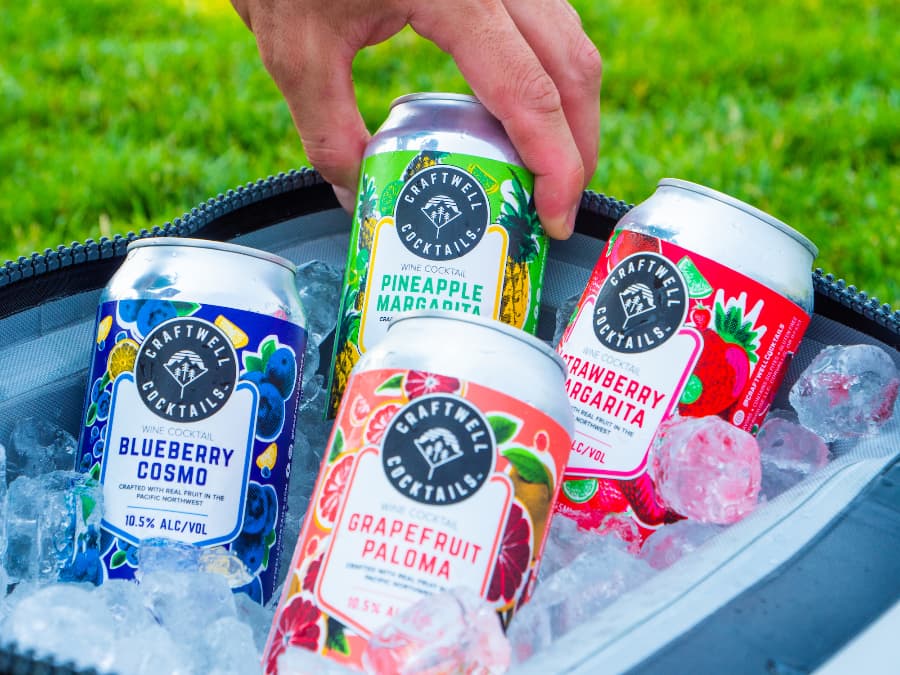 If you're from the Pacific Northwest, you might be familiar with Craftwell Cocktails. Produced by the team at 2 Towns Ciderhouse in Corvallis, Oregon, this innovative line of wine-based cocktails pushes the boundaries of cocktails in a can. Columbia Distributing, the go-to distributor of non-alcoholic and alcoholic beverages in Oregon and Washington, is proud to carry the Craftwell Cocktails brand for bars, retail locations, and more. Here, we dig into the history and flavors of this popular brand and why you should keep it in stock at your establishment.
The History of Craftwell Cocktails
Craftwell Cocktails began as a vision of 2 Towns Ciderhouse, a craft beverage producer specializing in cider. Founded on the idea that focusing on integrity and process could create a better cider, the team started experimenting with other fruits. Before long, they came up with Craftwell Cocktails, which delivers a fruit-forward alternative to beer and traditional cider.
Today, Craftwell Cocktails offers a variety of wine-based cocktails, conveniently packaged in ready-to-drink cans. Whether poured over ice or consumed straight from a chilled can, the mission at Craftwell Cocktails is to always keep a refreshing craft cocktail within easy reach.
Several Flavor Profiles in Cans and on Draft
All Craftwell Cocktails are gluten-free, making them a great option to have on hand at your establishment. Each 12-ounce can contains two servings of fruit, and some flavors are even available on draft. The lineup of canned cocktails includes:
Blueberry Cosmo
The brand's take on the classic cosmopolitan cocktail is infused with blueberries from the Pacific Northwest. They provide a rich, tart flavor profile that's complemented beautifully with hints of California-sourced Meyer lemon.
ABV: 10.5%
Calories per serving: 140
Carbs per serving: 10g
Pineapple Margarita
Comprised of Costa Rica Gold pineapple, key lime, and agave nectar, this flavor achieves the right balance between zesty mouthfeel, fruit forwardness, and sweetness.
ABV: 10.5%
Calories per serving: 140
Carbs per serving: 10g
Strawberry Margarita
This cocktail in a can features sun-drenched strawberries, key lime, and agave nectar. The combo comes together to deliver a sweet, robust taste with a pleasant finish.
ABV: 10.5%
Calories per serving: 150
Carbs per serving: 11g
Grapefruit Paloma
This reimagined version of the classic Paloma is made with ruby red grapefruit and agave nectar. Customers always come back for more thanks to the sweet and tangy flavor and thirst-quenching abilities.
ABV: 10.5%
Calories per serving: 140
Carbs per serving: 10g
Peach Mojito
The Peach Mojito cocktail tastes like summer in a glass. Pacific Northwest peaches, fresh mint, and key lime make for an unforgettable and refreshing cocktail.
ABV: 10.5%
Calories per serving: 130
Carbs per serving: 11g
Peach Mojito is also available on draft, with a lower ABV of 8.5%.
Why Stock Your Inventory with Craftwell Cocktails?
As a business owner, you know how important it is to have several options to meet the tastes and preferences of your customers. Offering a selection from Craftwell Cocktails is a great way to expand your options beyond traditional hard ciders. Plus, keeping the brand in stock gives your customers a new brand to explore when they are seeking gluten-free alcoholic beverages.
Cocktails in a can are becoming a more popular choice with consumers, which makes it a good idea to keep them in stock at your establishment. A Nielsen report found that wine cocktails increased in dollar volume by 102% between March 2020 and March 2021. Plus, this emerging segment of the beverage industry shows no signs of slowing down!
Explore Craftwell Cocktails and Other Cocktails in a Can
With the popularity of cocktails in a can surging, Columbia Distributing is available to help you explore Craftwell Cocktails and other brands to help meet the needs of your customers. We distribute products to bars, restaurants, convenience stores, and other retail establishments throughout Oregon and Washington. To learn more about Craftwell Cocktails or the other brands we offer, contact us today.
Above image via Crafwell Cocktails