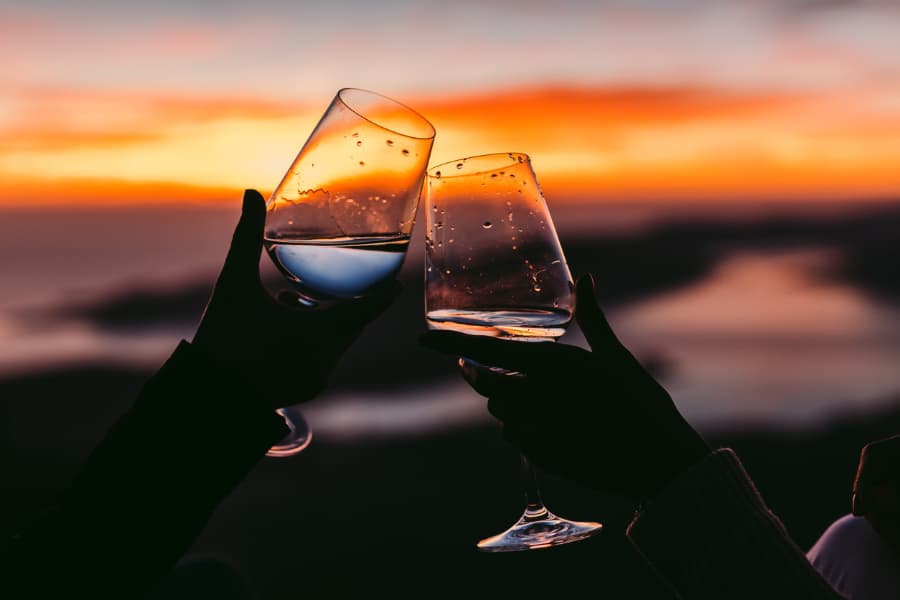 Whether you're heading to your favorite bring-your-own-wine restaurant or creating an intimate dinner at home, date night calls for having romantic wines at the ready. From setting the tone for the evening to bringing out the best in your meal, you'll also impress your partner with the exquisite tastes found across your collection. Here are just a few ideas on which romantic wines are sure to make your date night one to remember.
Characteristics of Romantic Wines
What makes a wine romantic? For starters, the flavors and aromas a wine gives off can make or break your evening. Consider what type of cuisine you'll be enjoying to ensure your selection pairs well with the menu. For instance, a spread of seafood like crab, prawns, or grilled fish would go great with California's Meiomi Chardonnay. Just heading out for a chocolate-filled dessert? Try any plate with the 7 Moons Red Blend.
The color of the wine can also have an influence. If you're a fan of red wine, figuring out the selection for your date night just became a whole lot easier. The colors red and pink symbolize love, intimacy, and romance, so it's hard to argue that a Cabernet Franc, Merlot, Syrah, Pinot Noir, or sparkling rose wouldn't be a wise choice. In addition, red exudes confidence, which is a helpful trait to portray when trying to wow your date during your romantic evening.
Signifying an Important Night
If your romantic evening is commemorating an important event, such as the night you two met, when you had your first date, or your wedding anniversary, consider investing in an aged wine. Why? Typically rare and more valuable than more recent vintages, older wines can actually be some of the most romantic wines you can find. Whether you show up with the 2014 Reserve to Kalon Vineyard Cabernet Sauvignon by Robert Mondavi Winery or a collector's edition bottled over 50 years ago, choosing an aged wine for your romantic evening will serve as just one way you can prove how much your partner means to you.
On-the-Go Options
Perhaps your romantic evening will be taking place at a concert or show, or maybe you're looking to make the most out of the last night of your camping vacation. Whether you'll be tailgating or taking in the sunset on a mountaintop, you'll need romantic wines that can travel with you and are easy to stash in your cooler.
In the Columbia Valley area of Richland, Washington, Barnard Griffin has perfected date night for the adventurous types. It offers three delectable wines served in 375 ml cans, including Chardonnay, Sauvignon Blanc, and Rose. That means no matter where your romantic evening takes you, you'll be well prepared to share a drink with the one you love.
Get Ready for Date Night
Whether your romantic evening is spontaneous or a night you've been planning for a long time, you can rely on Columbia Distributing as your source for the most romantic wines found on the West Coast. Supplying retailers, bars, and restaurants across Oregon, Washington, and Northern California, we make finding your favorite romantic wines as convenient as possible. For more information or suggestions for your date night, contact Columbia Distributing today.