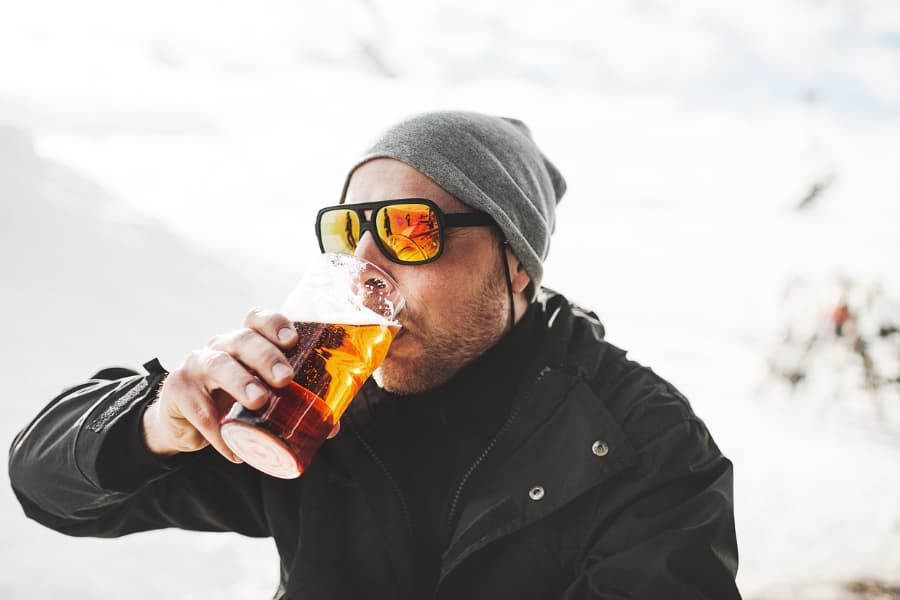 Thinking of winter conjures up images of snow, roaring fires, and Christmas trees. When you're gathered inside to stay warm, there's nothing better than enjoying a nice drink with friends and family. To make the atmosphere even more special, certain flavors and mixes are a must in the winter months. Try these craft brews and cocktails provided by Columbia Distributing this winter to see for yourself how naturally they pair with the season.
Fresh and Minty
The minty flavor of candy canes can be easily adopted into beer or cocktails for a sweet and refreshing taste. For craft beer, try the Ballast Point Victory At Sea Peppermint. This porter is characteristic of typical winter beers, dark-colored with strong flavors. Brewed with Caffe Calabria coffee and vanilla, a touch of peppermint is added for a cool finish.
If you're looking for a minty cocktail, you can't go wrong with a Snowshoe Grog. This simple cocktail contains only two ingredients, peppermint schnapps and your choice of bourbon or brandy. Easy to make, this drink will be sure to warm you up.
O Christmas Tree
Spruce trees are one of the oldest Christmas tree varieties in the world. Their needles can also taste good, which is why some breweries have made craft beers incorporating their flavor. The Alaskan Spruce IPA has a hop-forward flavor with notes of citrus, pine, and resin, matching the character of a spruce tree. The Dogfish Head Pennsylvania Tuxedo is a pale ale made with handpicked fresh spruce tips to complement the doughy malt backbone for an even feel.
Go Nutty
With all of the nutcrackers that pop up in the winter, there may be no better time to enjoy a handful of nuts. If you'd rather pass on the pecan pie and enjoy the flavor from your drink instead, then try a Shiner Holiday Cheer beer. It's an Old World Dunkelweizen brewed with peaches and roasted pecans for a sweet and savory mix of flavors.
If you'd rather have a spirit, try the Tanqueray Almond Cocktail. This cocktail utilizes the pine needle taste of gin with the almond flavor of amaretto for an aromatic drink that is simple to make. Finish it off with a maraschino cherry garnish.
Sweet Like Honey
The sweet taste of honey is a common feature of winter craft brews and cocktails. The Almanac Lavender Honey Brett Saison is made by aging their farmhouse ale in oak barrels with lavender and honey, so you get a blend of herbal and sweet flavors. The Saison style of brewing creates strong spice notes with the possibility of wood accents from the barrels.
Or, cap off your night with a Milk and Honey Cocktail. As the name suggests, all this cocktail consists of is milk and Benedictine, an herbal liqueur that is made from 27 herbs and spices sweetened with honey. You can serve a Milk and Honey either cold or warm, depending on your mood.
Enjoy Your Winter Craft Brews
Whatever your taste buds enjoy, there should be a flavor out there that brings out the feeling of winter. The large inventory of craft beers and spirits kept in stock by Columbia Distributing will help you serve your guests with a variety of winter drinks. Check out our list of brands that we provide in Oregon, California, and Washington to dive deeper into the types of drinks available to you. With help from one of the largest distributors in the Pacific Northwest, you'll be able to find the perfect drink to enjoy the winter season.