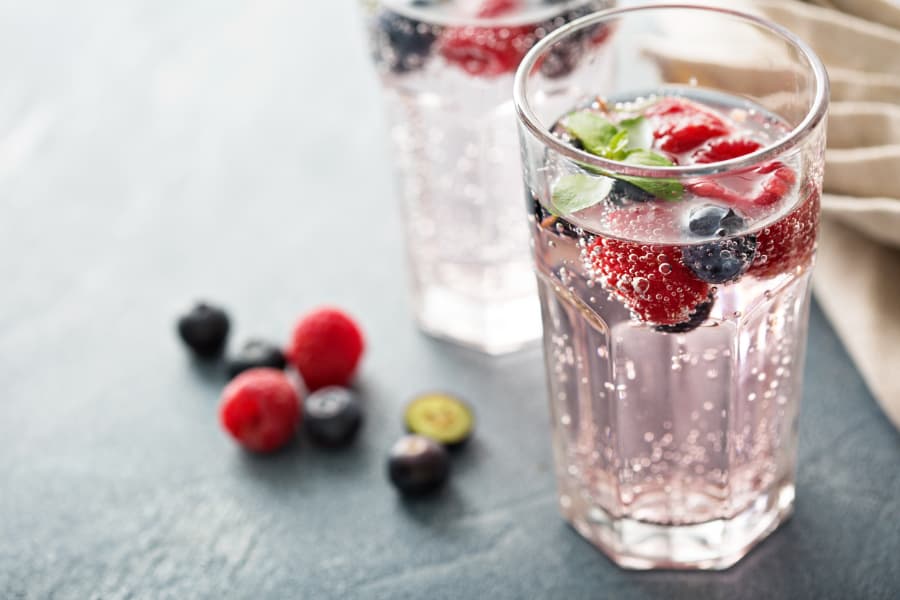 There's something extra refreshing about a cold soft drink on a hot day. The carbonation mixed with delicious flavors makes for a beverage that you want to come back to time and time again. Though many of the soft drinks we love are chock-full of sugars that make you feel slow and bloated, you can still get the refreshing zing of a soda without the sugar. Sparkling water is perfect for those looking to get that satisfying zing of soda without the sugar crash. Best of all, you can add virtually whatever you want to it to give it a customized flavor fit to your liking. Columbia Distributing carries an assortment of sparkling water brands, and here are a few ways to enhance yours.
Add Fresh Fruit, Vegetables, and Herbs
One great way to enhance your sparkling water is to add fresh fruits to your glass. Think strawberries, blackberries, raspberries, kiwi – they all make for great additions. Pick your favorite and toss them in the glass before pouring your sparkling water, and then garnish with a spring of mint for an extra bit of freshness.
Another popular combination is cucumber and basil. While many enjoy the sweetness that fruits afford, there are also plenty of people that enjoy the more subtle flavors of cucumber and add a basil leaf or two to make for a great tasting drink.
Mix Sparkling Water with Lemonade or Juice
Another fantastic way to improve the flavor of your sparkling water is to combine it with other types of beverages. One very popular combination is sparkling water and lemonade, as it combines the freshness of citrus with carbonation. But don't stop there – try mixing sparkling water with your favorite fruit juice, or try a combination of multiple juices until you find the perfect blend to satisfy your cravings.
Top Off Your Favorite Cocktail with Sparkling Water
While juices and fruit are an excellent way to add an extra bit of refreshment to sparkling water, they can also be used in all kinds of cocktails. Whether it's gin, vodka, rum, whisky, or tequila, sparkling water is used all the time to top off your favorite cocktails. The next time you're making a few cocktails at home, be sure to add sparkling water to enhance your favorite drinks.
Providing Alcoholic and Non-Alcoholic Beverages to the Pacific Northwest
Whether you're looking for something satisfying and non-alcoholic or you're mixing up a few cocktails, Columbia Distributing provides beverages of all kinds to California, Oregon, and Washington. With dozens of alcoholic and non-alcoholic brands to choose from, you'll never run out of fun, unique combinations. We also provide beverage services for other businesses as well – visit our Retailer Portal for more information.
For More Ways to Enhance Your Drinks, Contact Columbia Distributing
When we reach for a drink, we want it to satisfy our thirst. Whether you're looking for a delicious cocktail at night or you want to add an extra kick to your favorite juice, sparkling water is the perfect beverage. For more great drink ideas, contact Columbia Distributing.