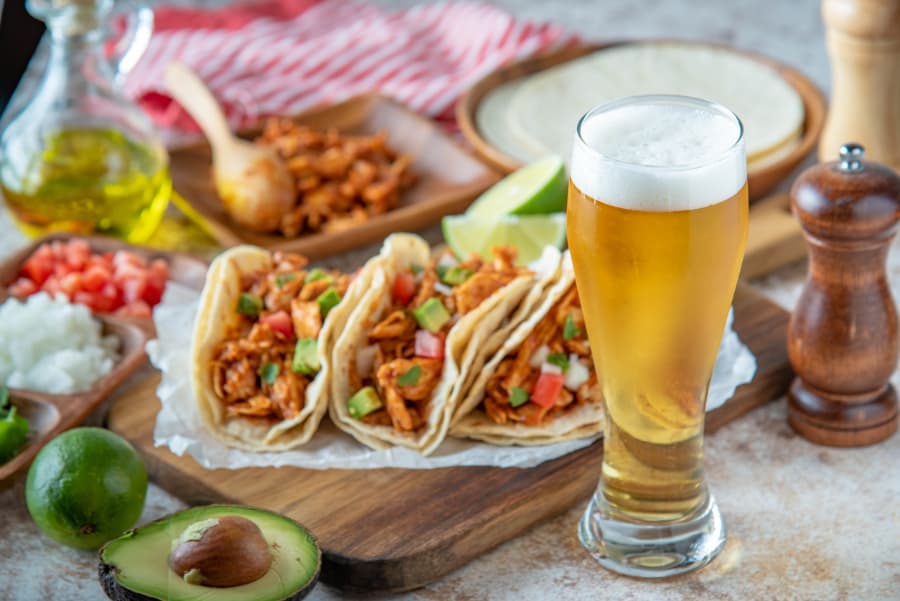 The next time it's taco night in your home, don't instantly reach for the traditional, salted-brim margarita. Instead, try a Mexican lager to compliment all the delicious flavors of your favorite tacos. With a vast selection of beers in our lineup, Columbia Distributing discusses some great Mexican lagers to pair with your tacos.
Why Choose Mexican Lager?
Mexican lagers are largely enjoyed with tacos since they're easy to drink, good at washing down the spice, and act as a palate cleanser. The first considerations to make when matching a Mexican lager with your tacos are:
What protein or base is my taco going to use?
What sauces and garnishes am I going to enhance my taco with?
Am I using soft or hard shells?
Will there be a lot of spicy flavors?
After you have the answers to these questions, you are ready to choose which Mexican lager to pick up from one of our retailers in the Pacific Northwest.
Suggested Pairings
Not sure where to start? Give one of Columbia Distributing's favorite pairings a try:
Pacifico & Seafood Tacos
For tacos with a base of light and bright seafood like grilled fish or shrimp, try pairing it with a refreshing Pacifico. The citrus and fruitiness in Pacifico enhance fish or shrimp tacos, specifically ones that utilize lemon, lime, or fresh pineapple salsa. If you like beer-battered fish or shrimp for your tacos, you can even try battering your seafood with a Mexican lager. The carbonation in beer creates a light and airy batter that enhances light and flaky fish.
Victoria & Beef or Pork Tacos
Beef and pork tacos come in all different styles and flavors: carne asada or carnitas, ground or shredded, spicy or sweet, al pastor or chorizo, and so many other variations. Overall, these dark meats pair well with darker Mexican lagers like the one from Victoria. Darker Mexican lagers have notes of caramel malt and toasted nuts, which connect with the flavors in the meat. On top of the complementary flavors, the lack of hops in Victoria makes it smooth to drink, and the malt eradicates heat, which allows you to enjoy spicier tacos.
Corona Premier & Chicken Tacos
Like all proteins that can be served in various ways, chicken is another that can be prepared as either a savory or sweet meal. Although bursting with flavor, chicken is considered to be a milder protein than some others. Because of this, bigger beers are needed to bring out the underlying and exotic flavors in the chicken. Corona Premier is citrusy and crisp, which can bring great things out of savory chicken tacos. For a rich and sweet chicken mole taco, Corona Premier with its extra hops and bright citrusy flavors will lessen the density of the tacos.
Try Serving a Mexican Lager for Your Next Taco Night
What makes taco night great is the ability to experiment with different ingredients and flavors to make your own unique creation. Next time you're experimenting and creating one of your favorite tacos, try pairing it with a Mexican lager to enhance its flavors and take it to the next level. To learn more about our great beer selection and how to find a retailer near you in the Pacific Northwest, contact Columbia Distributing.