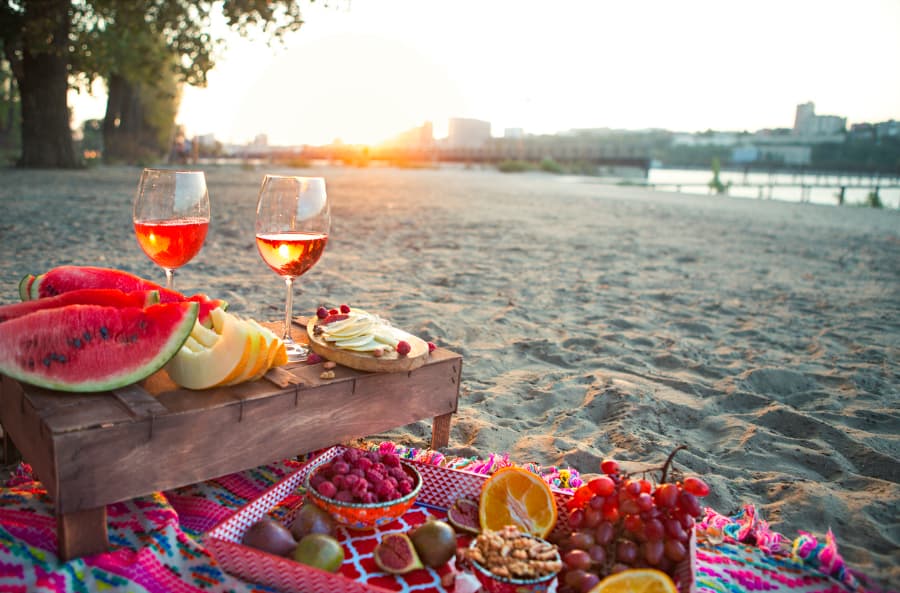 Wine and cheese nights have been adapting over the years. With an interest in health-conscious eating on the rise, people want to indulge mindfully when they savor a glass of their favorite vintage. Your next wine party could be the perfect opportunity to try some healthier snack options for your guests. A surprising number of health foods pair beautifully with red and white wines, and your guests will love feeling good about their food choices. Columbia Distributing wants to help you find the perfect array of healthy wine snacks so that your next party will be the talk of the neighborhood.
Great Snacks For Red Wines
Red wines are so versatile that it is easy to pair them with dozens of healthy treats that will make all sorts of picky palates happy. A merlot is perfect when paired with a small goat-cheese-and-candied-walnut salad. For the calorie-conscious guests, you can offer low-sugar raspberry vinaigrette dressing. If you are expecting vegan guests, you can whip up a charcuterie board with dark chocolate brittle, pistachios, grapes, and rainbow carrot sticks and pair it with a pinot noir. When entertaining friends who love meat and cheese but are trying to watch their cholesterol, prepare a salmon ceviche. Serve it on a bed of lettuce instead of a tortilla, and pair it with a bold Shiraz. No matter what kind of red wine your guests find appealing, there is a vegetarian, vegan, or calorie-conscious pairing option that will leave them satiated and happy.
Great Snacks For White Wines
White wine is the perfect drink for an afternoon gathering with friends. Light snacks pair well with these crisp, fruity wines, and you can prepare a table of healthy snacks so delicious you won't have any leftovers to spare. A Fiano pairs perfectly with a personal-size cauliflower pizza, which is deceivingly healthy. If you're expecting a large party, pour the Chardonnay with a big bowl of butter-free or olive-oil-popped popcorn for everyone to munch on as they sip. Add savory seasonings, like garlic, rosemary, thyme, or curry powder, and no one will miss the fats.
A Sauvignon Blanc brings out the best in scallops, making it a great choice for elegant appetizers. Toss some scallops on a bed of arugula lettuce with tomato and honey-lime vinaigrette for a refreshing bite. If you plan on serving a number of different white wines, a large charcuterie board with grapes, crispy udon noodles, bell pepper hummus, freshly cut carrots, and olives will keep your guests full, and it provides a great communal space to share taste notes and enjoy one another's company. White wines are the perfect cool afternoon treat and they pair so well with fruits and vegetables that you will have new snack ideas for years to come. Don't be afraid to get creative!
But What about the Wine?
No wine party is complete without a great selection of favorites and exciting new varieties to try. Whether you're hosting a private party or purchasing for a restaurant, bar, or catering service, you'll find wines for every preference at Columbia Distributing. Along with our selection of wines, our brand portfolio also includes other alcoholic and nonalcoholic beverages available to customers throughout Oregon, Washington, and California. Contact us today to learn more.