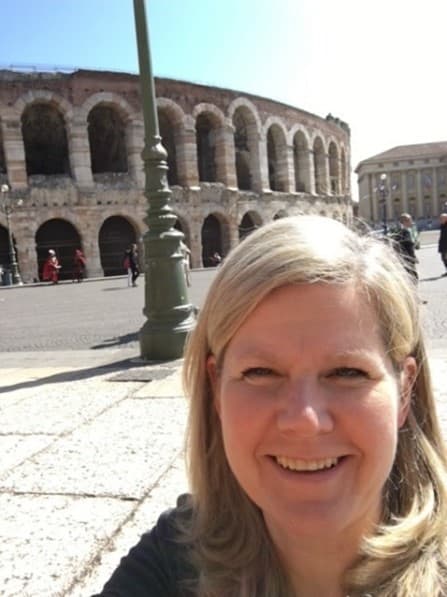 It's a team effort to supply retailers across the Pacific Northwest with refreshing beverages from the top brands in the industry. At Columbia Distributing, we couldn't do the work we do without our amazing employees – and no one knows that better than Michelle Rose. As senior vice president of human resources, Rose is responsible for overseeing the HR teams in Kent, Washington, and Wilsonville, Oregon. Here, Rose highlights some of the programs and initiatives that make Columbia Distributing a great place to work.
A Typical Day in the HR Department
Rose has worked at Columbia Distributing for nearly seven years. While no two days are alike, she typically begins her day at the Wilsonville office or in one of Columbia Distributing's other locations. The company has more than a dozen sites across Oregon and Washington.
Rose responds to messages and reviews departmental and business dashboards to get a sense of how the company is performing and meeting its goals. She works closely with her HR staff and other business partners to move different projects forward. While that can mean a lot of hours on phone calls and in meetings, Rose makes sure to dedicate time to be in the field. Once a month, she spends a day with one of Columbia Distributing's merchandising teams out on the job.
An Inclusive Company Culture
As a leader of Columbia Distributing's HR team, part of Rose's role is to help foster a culture of inclusivity. She notes that the company views collaborative efforts through the lens of inclusivity, always looking for ways to engage employees across every department and level of seniority.
This approach benefits both the employee and the employer. "Teammates who feel more included are more likely to be engaged and enjoy their jobs," Rose explains. "We see more participation and the generation of diverse ideas and perspectives when people feel included."
Rose works with her team to review policies and procedures to ensure they are structured with inclusivity in mind. She stays connected with her colleagues to look for both signs of success and areas of improvement across the organization.
For example, Columbia Distributing recently began using the chat feature in Microsoft Teams to support frontline merchandisers when they are out in the field. This helps everyone stay connected to resolve issues quickly. The company is also using an employee culture and engagement survey to get feedback from employees and increase participation in departments and roles where engagement has historically been low.
While there's always room to grow, Rose is proud of the organization's collegial work environment. "Columbia Distributing expertly blends a culture of high execution and accountability with warmth, humor, and compassion," she says. "It's a unique combination – something I have never seen anywhere else."
Opportunities for Training and Growth
Another aspect of Rose's work is to help employees advance in their careers. She explains that Columbia Distributing recently launched a new performance management system to help the company take a long-range look at its future talent. This system incorporates employee performance review information and career profiles, utilizing these insights to inform long-term succession planning.
To support the career development of those who are new to the industry, Columbia Distributing recently revived its Beer Careers internship program. Rose notes the company is also working to launch a structured mentorship program, as well as comprehensive training plans for each department.
Learn More About Columbia Distributing
If you're looking for a supportive and welcoming work environment, the team at Columbia Distributing encourages you to explore our distributing career options. "Columbia Distributing is a great place to grow your career while working with the best people in the world," says Rose.
When asked what advice she would give to prospective employees, Rose simply says, "Bring your talents and positive energy, and watch your hard work pay off."
Columbia Distributing currently has open positions in Washington and Oregon. Contact us today to learn more about becoming a member of the team or our upcoming hiring events.