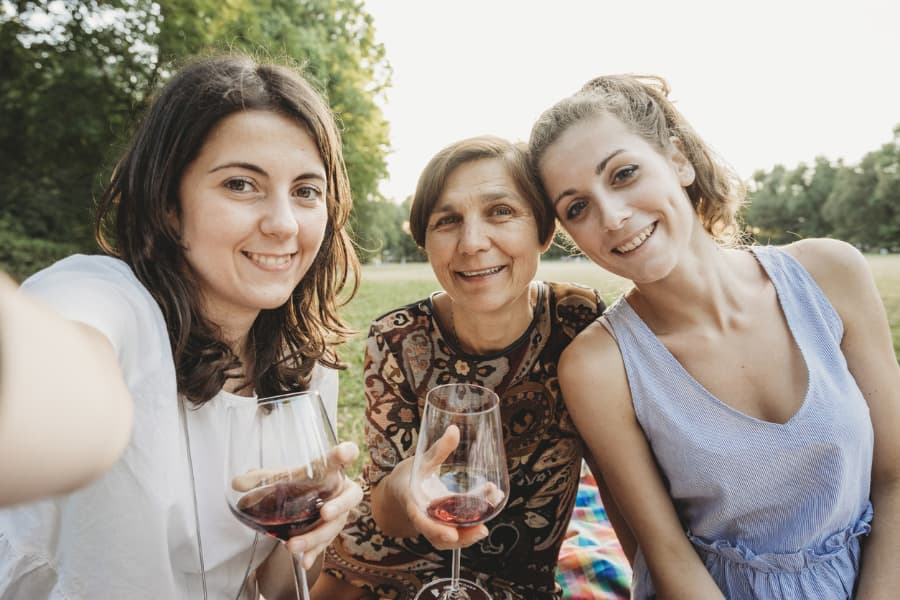 Mothers provide us with so much support and love that it can be difficult to find the perfect gift for Mother's Day. Besides the usual bouquet of flowers, a bottle of wine can be a great choice – especially if it's rosé. Not only is it delicious, but rosé also has abundant health benefits, so you can feel good giving Mom something that tastes good and is good for her. As a beverage distributor that serves customers across the Pacific Northwest, Columbia Distributing explains why rosé makes an amazing Mother's Day alcohol gift.
The Health Benefits of Rosé
Like red and white wines, rosé offers numerous health benefits when consumed in moderation. If your mother has shied away from wine in the past to stay healthy, be sure to tell her about the following advantages when you purchase her a bottle of rosé:
The alcohol in rosé contains compounds and antioxidants that thin out inflamed blood vessels and reduce the risk of heart attacks.
The polyphenols in rosé increase good cholesterol levels.
The potassium in rosé lowers blood pressure, regulates heartbeat, and balances both metabolism and water ratio in the body. 
Rosé is of the lowest-calorie alcoholic beverages available.
Other anti-inflammatory properties in rosé may mitigate the risk of getting rheumatoid arthritis.
Anti-aging compounds in rosé provide a higher resveratrol level that minimizes the risk of heart disease and protects the brain.
Types of Rosé Wines
Not only does rosé have an abundance of health benefits, but it also comes in a variety of flavors and blends. This wide selection of brands can help your mother grow her wine palate, further making rosé an ideal gift. Three common types of rosé wines include:
French Rosés
Popular Provencal French rosés are made of tart, citrus fruits that have limited skin contact for lighter colors and a delicate feel. Their crisp flavor makes them ideal for drinking with meat, seafood, and vegetables.  Provencal rosés are sourced from Grenache, Cinsault, and Mourvèdre grapes, but there are also French rosé varieties that use other grapes like Tavel, Chinon, Touraine, and Anjou.
Italian Rosatos
The rosé options of Italy are as diverse as the nation itself. In Northeastern Italy, delicate styles abound, such as Chiaretto of Lombardy and Veneto and Ramato of Friuli. Cherry-pink Cerasuolo d'Abruzzo is a great choice from Central Italy, while the richly flavored and full-bodied wines of the Puglia, Sicily, and Calabria regions are excellent options in Southern Italy.
Spanish Rosados
Growing in availability in the United States, Spanish rosados are typically deeper in color and made using Grenache and Tempranillo grapes. As with French rosés and Italian rosatos, Spanish rosados come in a variety of styles, including Navarra, Rioja, and Txakoli.
Making the Right Rosé Choice for Mother's Day with Columbia Distributing
With such a wide array of styles and health advantages, rosé can make the perfect Mother's Day alcohol gift for a mom who loves wine or simply wants to try new alcoholic beverages. To provide your customers with a great selection of rosé wines to choose from, partner with Columbia Distributing. For over 80 years, we've provided more than 20,000 establishments in California, Oregon, and Washington with local wine from domestic vineyards, including Columbia and Napa Valley. We also distribute imported brands from Canada, New Zealand, and more. Find a wide variety of wines in our warehouse, including Cabernet Sauvignon, Tempranillo, and Syrah. Contact us today for more information.