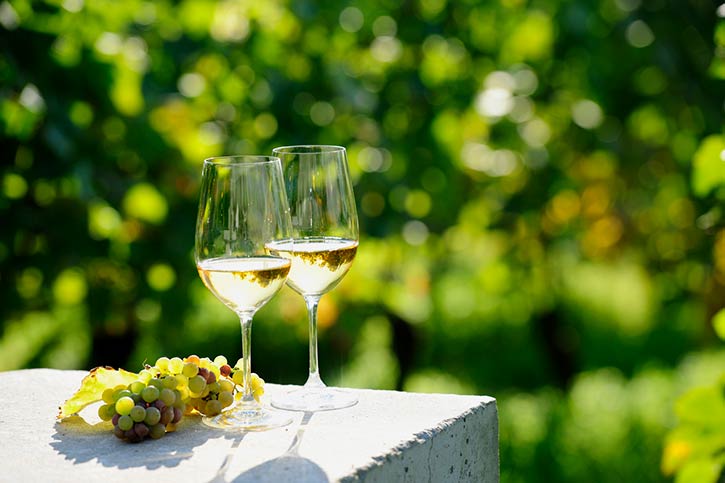 Since its first mentions in the 15th century, Riesling has become one of the most respected and coveted white wine varieties in the wine collecting community. With its bold aromas and versatile pairing options, Riesling is an ideal wine to have on hand to serve your guests or customers. As one of the largest beverage distributors in the country, Columbia Distributing has all the essential information you need about Riesling to decide if this wine is right for you.
Taste Profile
Riesling wine is characterized by high levels of acidity stemming from the naturally acidic grape used to make it, as well as the citrus fruits that are commonly infused for flavor. Popular fruit notes in Riesling include pineapple, lemon, pear, and lime. These flavors have an intense aroma that will often hit your nose before the glass reaches your lips. Because of the powerful acidity and flavors, a large amount of residual sugar remains in the wine during the fermentation process. The sweetness left by this residual sugar helps cut acidity and create a more balanced and pleasant drinking experience.
Riesling Regions and Varieties
Despite Riesling's status as one of the six noble grapes and the wine's popularity, Riesling grapes grow in just a few regions. Only 89,000 acres of Riesling vineyards produce these grapes today, with the majority located in:
Germany: As the home of Riesling, it's unsurprising that thirteen German growing regions are home to more than half of the grape's total acreage worldwide.
Australia: The two largest Riesling-producing regions in Australia are known for creating dry wines with pronounced lime and smoky flavors.
United States: The U.S. is the third-largest grower of Riesling grapes, with the majority coming from Washington, California and the Finger Lakes region of New York.
France, Austria and New Zealand also boast thousands of acres of Riesling vineyards, contributing to the production of the wine throughout the world.
While Riesling is traditionally one of the sweeter wine varieties you will find, demand for a drier version that embraces its acidic profile is also strong. This caused Riesling wine to be split into two different categories:
Sweet Riesling: This classic Riesling profile features a high level of sweetness that mixes with acidity for balance. The ABV of sweet Rieslings tends to be lower because the residual sugar has not been converted into alcohol.
Dry Riesling: Dry Rieslings contain less residual sugar for a drier and more acidic taste. Certain regions specialize in creating dry Riesling, including France and Austria.
Food Pairings
Riesling is a versatile wine that can be paired with a multitude of different foods. However, it is best known as the perfect wine to serve alongside spicy dishes. If you want to serve Riesling at your next party, prepare a meal with duck, chicken, or pork that features plenty of spices. Asian and Indian dishes that use cayenne pepper, madras curry, teriyaki, and soy sauce are all excellent choices. Roasted vegetables, including bell pepper, eggplant, and red onion also pair well with the wine's sweetness and acidity.
Creating a cheese board? If so, Riesling is the ideal partner for a number of soft cheeses. Look for less-pungent varieties to avoid conflicting flavors or overwhelming the nose of the wine.
Your Pacific Northwest Riesling Distributor
Connoisseurs agree: Rieslings should be part of any wine collection. And whether you're ready to explore new varieties or want to sample Riesling for the first time, Columbia Distributing can help you choose the wines you'll enjoy most. With a large selection of alcoholic beverages, including beer, wine, and spirits, as well as a diverse assortment of soda, juice and other nonalcoholic beverages, you'll find everything you need in our ever-growing collection of brands. To learn more, please visit your nearest location or contact us for additional information.