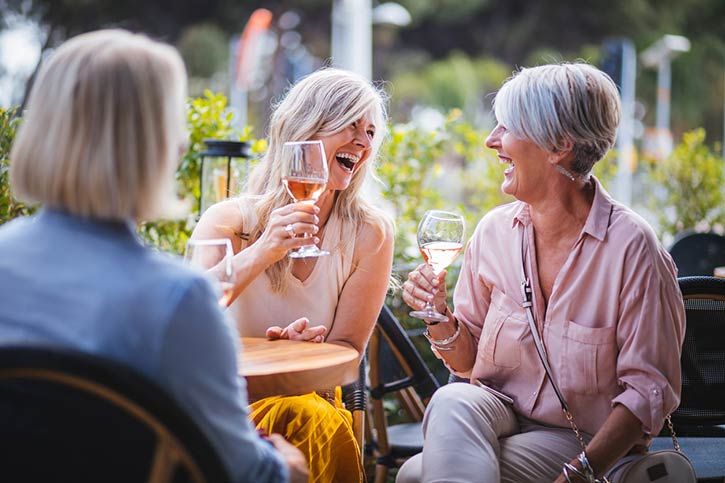 Spanning 150 miles, Oregon wine country is home to over 500 wineries. The trail follows the Willamette Valley, where the mild maritime climate provides ideal conditions for growing the revered Pinot noir grape, as well as Pinot gris, Pinot blanc, Chardonnay, Riesling, Melon, Gewürztraminer, Sauvignon blanc and other varieties.
At Columbia Distributing, we're proud to be a distributor of fine wines, including those sourced right in our own backyard. Here's just a small taste of the wineries and wines that Oregon has to offer.
Del Rio Vineyards
The grapes used to create the wines produced at Del Rio Vineyards grow under the oversight of a fourth-generation farmer, and the property itself has a similarly lengthy history. During a visit to the tasting room in the historic Rock Point Sage Hotel, guests can sample a Premier Wine Flight that includes a variety of the winery's best reds and whites, or opt for a fully red or white tasting experience. Be sure to check out the award-wining Rose Jolee, and pack a picnic to enjoy the stunning grounds and views on-site.
Willamette Valley Vineyards
Located in Turner Oregon, Willamette Valley Vineyards earned the title, "One of America's Great Pinot Noir Producers," from Wine Enthusiast Magazine. The winery sources its barrel-aged Pinot noir from the hand-picked vineyards that sprawl across 500 acres. Visit the Estate Tasting Room to try their award-winning Pinot noir, and take in breathtaking views from the patio and lookout tower.
Youngberg Hill
Family owned and operated, Youngberg Hill is an Oregon wine country bed & breakfast and winery situated in McMinnville. Set on a 50-acre hilltop, the winery uses organically grown grapes to produce award-winning wines, including Pinot noir, Chardonnays and Syrah. In addition to their notable wines, Youngberg Hill is home to a bed & breakfast that offers guests stunning views and luxurious amenities – all within close proximity to other Oregon wineries.
Domaine Drouhin
Situated on 225 acres atop Dundee Hills in Dayton, Domaine Drouhin harkens back to the legendary vineyards of Burgundy. With fine winemaking in the Drouhin family's DNA, this winery produces elegant Pinot noir and Chardonnay wines in the French tradition. Visit the tasting room and terrace to sample their hand-crafted wines.
Brooks Wine
Brooks Wine utilizes biodynamic farming practices to produce Rieslings, Pinot noir and aromatic whites. Located in Amity, Brooks Winery and Tasting Room offers daily tours, seated tastings and more. You can even explore the vineyard from an all-terrain vehicle and learn the history of the vines.
Argyle Winery
Founded in 1987, Argyle Winery places an emphasis on sparkling wines. This Dundee winery produces sparkling wines, Chardonnay, Pinot noir and Riesling. The estate covers over 400 acres, complete with varying elevations, soil types and microclimates that make each grape varietal unique. Visitors can sample wines at the Tasting House, see one of the biggest wine libraries in the region, take a class on sparkling wine or find a moment to relax in the Argyle garden.
Get a Taste of Oregon Wine Country
You don't need to take a road trip through the Willamette Valley to experience Oregon wine country. Columbia Distributing offers a selection of Oregon wines, so you can have your own tastings at your bar, restaurant, or other establishment. Contact us today to learn more about the Oregon-produced wines we distribute.