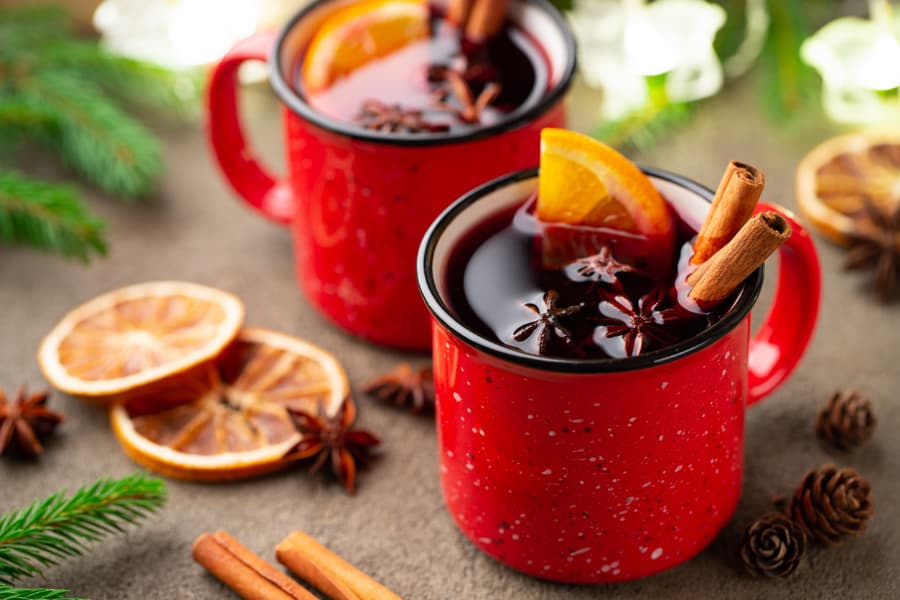 As a kid, you probably enjoyed a piping hot mug of hot chocolate to warm you up on a chilly winter evening. But now that you're older, you can introduce alcohol into the equation with mulled wine. A classic favorite for winter, mulled wine has a long history and is part of many traditions around the holidays. If you are looking for a delicious new drink that's perfect for sipping while staying cozy inside, learn more about mulled wine from Columbia Distributing.
Types of Wine to Use in Your Recipe
While mulled wine can contain a wide variety of ingredients, you have to start with the wine itself. This will make up the majority of the taste, and some varieties of wine work better than others. Mulled wine is made with red wine the majority of the time. Common types of red wine that are used include merlot, malbec, and syrah for their fruity profile. Try a Clos Du Bois Merlot, which offers a black cherry aroma and blackberry-mocha flavor for a light and toasty taste. The Del Rio Syrah features raspberry, blackberry, and plum flavors with notes of black pepper and mocha to accentuate the spices in your mulled wine. You really can't go wrong with any red wine variety, so pick your favorite and try it out.
Adding Ingredients
After you pick out your type of wine, it's time to add the ingredients that will give the mulled wine a complex and tasty flavor. There are a wide variety of ingredients you can use in your concoction, but they mainly fall into two groups: spices and fruit. Here's a look at some options and their benefits:
Cloves (and red wine) have antioxidants to help boost your immune system and stave off colds
Nutmeg to help with detoxing
Cinnamon to help fight inflammation
Vanilla to give it a warm and comfortable feel
Apple, bitter orange, fig, and raisins to sweeten
As you try out different recipes, you'll eventually figure out the ingredients you like the best, so that you can craft the perfect drink to serve to friends and family.
Making Mulled Wine for Winter
Preparing mulled wine is easy, and you can make large batches fast whenever you're entertaining over the holidays. First, combine your wine and ingredients into a pot. Heat the mixture to a simmer so the flavors fuse together, stirring every once in a while to aid the process. After the wine is warm throughout and the flavors have had a chance to mingle, strain the contents, and serve hot or refrigerate to give the flavors even more time to infuse. Garnish your mulled wine with a stick of cinnamon or orange peel and serve it with foods like candied almonds and cookies for a sweet snack.
Stay Warm with Mulled Wine
Mulled wine is one of the signature drinks of winter and is great for enjoying with friends while watching the snowfall outside. The hot blend keeps you warm and helps you relax at the same time. With so many possible combinations of wine, spices, and fruits, you can try something new every time you make a batch. When looking for the right wine to include as your base, check out the long list of alcoholic brands offered by Columbia Distributing. As one of the largest beverage distributors in the Pacific Northwest, we will be able to stock you with the wine that you desire. Contact us to learn more about the types of beverages we offer.