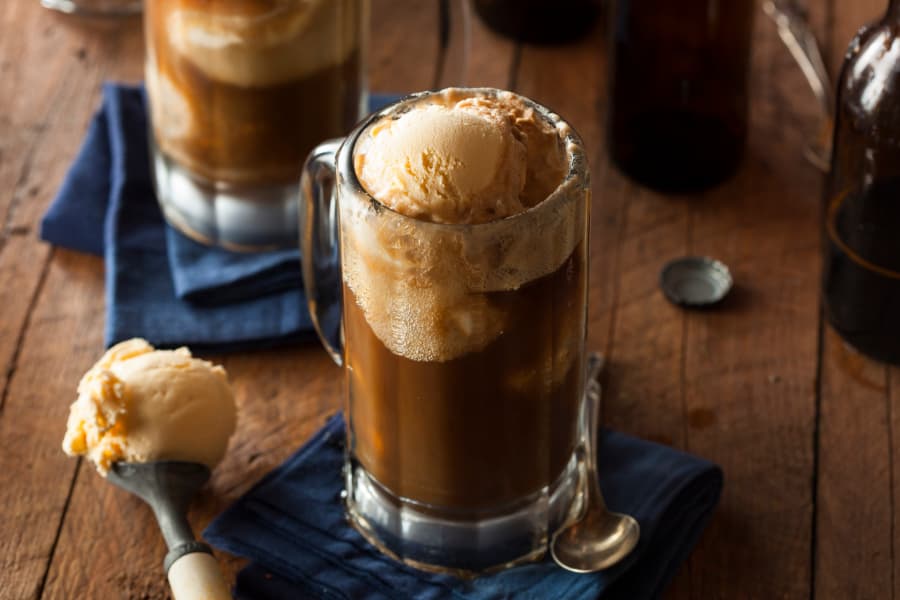 Is there any dessert as quintessentially summery as an ice cream float? They are a staple of country fairs, picnics, and summer events, as well as kitchens everywhere. If you're bored of the same old soda, though, why not try a grown-up twist? Here, Columbia Distributing, which serves the West Coast, suggests these five great recipes for alcoholic ice cream floats the next time you're looking for a cool, sweet treat.
Kalimotxo Float
Pronounced cali-MO-cho, this drink originates in the Basque Country of northern Spain. While the Basque people are intensely proud of their ancient cultural traditions, Kalimotxo is a newer custom that has emerged more recently and is now one of the most iconic drinks in Spain.
The traditional Kalimotxo cocktail is made with equal parts of red wine and cola. Turn it into a float by adding a dollop of chocolate ice cream. If you're feeling creative, you can try variants of cola beyond the classic – we love cherry!
Boozy Affogato
Another international favorite is a boozy Affogato. It's a coffee-house classic with its origins in Italy. The name Affogato means drowned – a reference to drowning a scoop of gelato in hot espresso. To make this boozy variation on the Italian favorite, follow these steps:
Scoop vanilla gelato into a heavy, heat-proof glass.
Immediately pour over half a cup of espresso and one ounce of almond amaretto.
The ice cream will melt into the coffee, creating a dessert that's delightfully sweet, bitter, and creamy.
Ice Cream Piña Colada
If you can't make it to the tropics this summer, you can still create your own escape. Relax and stay cool with a treat that'll make you feel like a tourist in your own home. This tropical float is made with pineapple juice and white rum poured over a scoop of pineapple coconut ice cream. Top it with whipped cream and garnish with shaved coconut and a slice of fresh pineapple.
Salted Caramel Stout
In a salted caramel stout, the smooth, mellow flavor of aged bourbon is a perfect complement to the creaminess of ice cream, and it's as American as it can get. For a simple, but delicious, dessert, fill your glass with salted caramel ice cream. Then, pour your favorite bourbon whiskey to fill in the gaps and enjoy the sweet and smoky combination.
Twisted Root Beer Float
Finally, we'd be remiss if we didn't include a boozy variation on the timeless classic: the root beer float. This tasty treat was invented in the 1890s, when Chicago coal miners started dropping ice cream into root beer. It's been an American favorite ever since.
To booze up the classic, simply pour a shot of vanilla vodka and lots of root beer over a scoop of vanilla ice cream in a tall glass. Drink in a glass mug with a red-and-white straw for a vintage diner experience.
Beverages for a Sweet Summer
Next time you want to sweeten up your summer, try an alcoholic ice cream float with beverages from Columbia Distributing. We offer a wide variety of alcoholic beverages and non-alcoholic options that'll be perfect in one of these recipes or a concoction of your own invention. For more information or to find out whether we distribute to your area, contact us today.