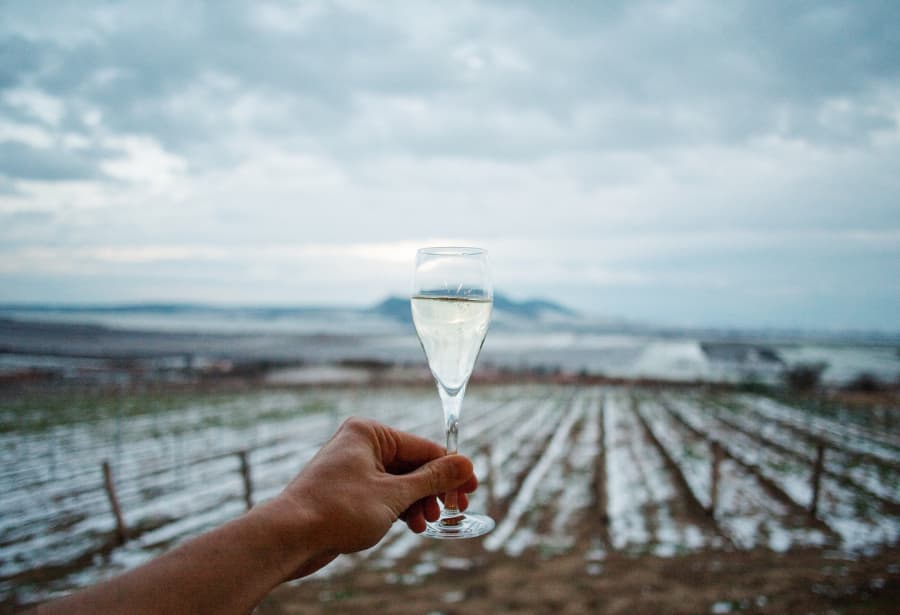 If you're a fan of dessert wines, sweet blends or moscato, ice wine might just be your new favorite treat. How is ice wine made, and why should you give it a try? Columbia Distributing offers a brief overview of everything you'll need to know about this decadent beverage before pouring a glass of your own.
What is Ice Wine?
Ice wine, as the name implies, is made with help from ice. Other wine grapes are usually picked in warmer temperatures during the fall, while ice wine grapes, on the other hand, are picked during frigid temperatures after the grapes have frozen on the stem. These conditions produce a sweeter wine and unique flavors due to the higher concentration extracted during pressing thanks to the natural freezing process. Alcohol content can vary from as low as 6% to an average around 10%.
Because ice wine requires a particular set of climate conditions to be created, it comes mostly from colder countries, such as Canada and Austria. It's also particularly prominent in Germany, where it's believed ice wine first gained popularity during the 18th century.
What Does Ice Wine Taste Like?
Ice wine is the perfect beverage for anyone with a serious sweet tooth – but that doesn't mean you shouldn't expect a sophisticated, complex taste. These wines are incredibly sweet, but well balanced, boasting rich, syrupy notes of citrus and tropical fruits.
Yet ice wine is light, refreshing and never too heavy. You might notice hints of lychee, papaya and pineapple, as well as the delectable sweetness of honey.
How Should I Serve Ice Wine?
To best enjoy ice wine, make sure it's been properly chilled before serving. Its sweetness pairs well with desserts and even makes a great after-dinner treat on its own. Serve it with a fresh, juicy fruit plate and encourage guests to swirl slices in their glass and savor the wine's aroma to unlock more complex flavors.
Are you a fan of sweet and savory combinations? If so, pair your ice wine with a selection of hard cheeses, or serve it with a pungent blue cheese. Ice wine also makes a great complement to the rich, decadent flavors of pâté.
Try Ice Wine Today
Ready to expand your wine experience with the irresistible sweetness of ice wine? Columbia Distributing is proud to offer ice wines from Inniskillin and Jackson-Triggs, as well as a variety of other fine wines, beers, spirits and other beverages to customers throughout the Pacific Northwest. Contact us online to learn more.