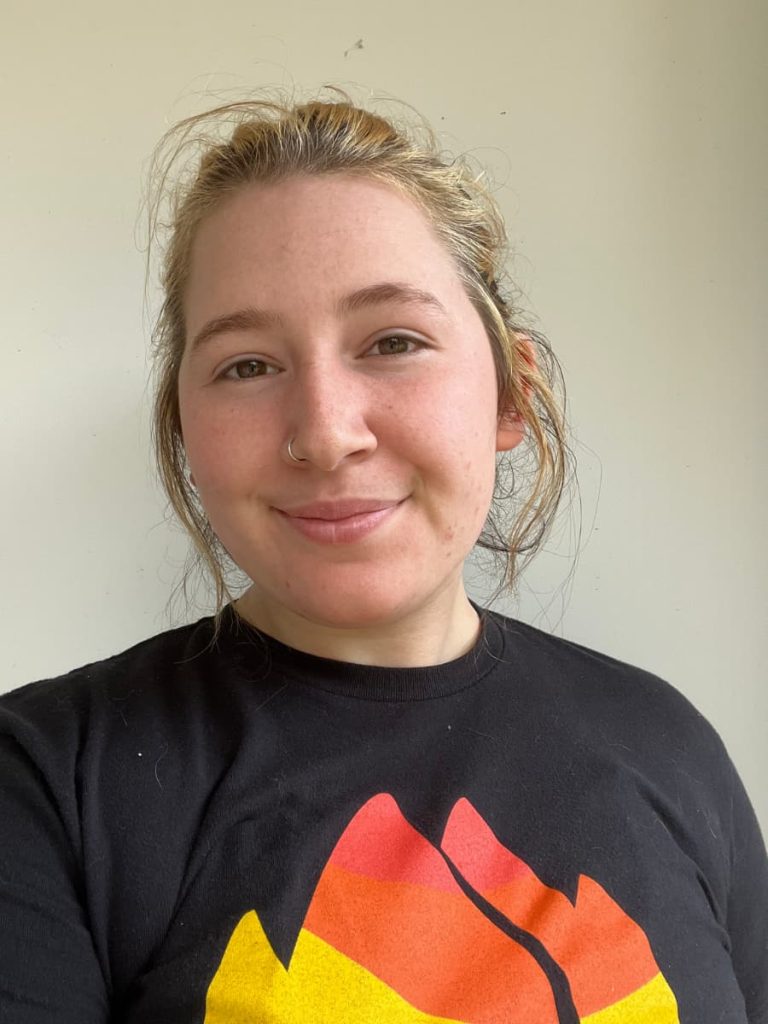 We spoke with CarlieJo Schirmer, who is one of three merchandising supervisors at the Springfield, Oregon, branch of Columbia Distributing. This hard-working college student describes her role in the company. We also talked about company culture and how it positively affects her day-to-day life. Find out how the work ethic and friendly company culture exhibited by our merchandisers attract new employees to pursue careers with Columbia Distributing. We distribute a large variety of beverages, including craft beer, wine, and spirits throughout Washington and Oregon.
What Is the Job of Merchandising Supervisor?
Schirmer's role is supervising the merchandising team. These are the workers you see organizing bottles of kombucha on the shelves at the grocery store, or stocking the cooler when you purchase a six-pack of beer at a convenience store. Columbia Distributing works with a variety of beverages and brands, and merchandisers are assigned a route or schedule to take care of several stores throughout the day.
"We have two kinds of days: load days and merch days," says Schirmer. "On load days, the drivers drop fresh product on pallets from the warehouse, and it's our job to put new stock on the shelves. On merch days, we work with what we already have in the store, re-arranging products on the shelves and doing displays."
As supervisor, Schirmer sends her team their routine every night and makes sure they complete their notes, which is information given to sales representatives about stock, backstock orders, and depleted stock. Schirmer is responsible for her team, following their routes, answering questions, and handling any problems throughout the day. Merchandisers drive their own vehicles from store to store, rarely visiting the warehouse or company offices, so the supervisor must communicate effectively with employees in the field.
Exploring Schirmer's History with Columbia Distributing
Starting as a merchandiser with the company at age 18, Schirmer was first hired in 2020.
"I took over the lead position in the merchandising department, and then after that, I became a supervisor. I've been a supervisor for about a year now," she explains.
In addition to working 40 hours per week, Schirmer attends college full-time, something she's been doing since she started working at Columbia Distributing.
Do You Receive Support for Professional Development?
When asked about professional development opportunities at the company, Schirmer says Columbia Distributing does an amazing job. Referencing her quick rise from merchandiser to lead to supervisor, Schirmer praises the professional development offered at the company.
"I've been in college since I started, and my boss is very encouraging of that. They're helpful with the schedule when I need to take an in-person class," she says. "We look for people who have that extra little drive, and if they look like they will do well, we get them anywhere they think they can go."
Workplace Culture at Columbia Distributing
Describing the workplace culture as inclusive, Schirmer says, "I'm a part of the LGBTQ+, and never once have I gotten weird looks or been afraid to say the word girlfriend." The company is proud of its equity statement, which embraces diversity, equity, and inclusion as core values. The Springfield branch of Columbia Distributing supports the nonprofit organization Youth Era, which works to empower young people with direct service, training, and advocacy.
"The friendly culture is the No. 1 thing that draws people toward us," says Schirmer. "I've hired three merchandisers who used to work for another company because when we see them out in the field, we ask how they are doing. The culture we have here at Columbia Distributing is something I don't see at a lot of other places."
Grow Your Career at Columbia Distributing
Schirmer has nothing but words of encouragement for job seekers who are considering applying to Columbia Distributing. "Even in our entry-level positions, we want to see you go places, we want to give you the skills to make it farther into the company," she says.
For more information about careers at Columbia Distributing, contact us today.